+1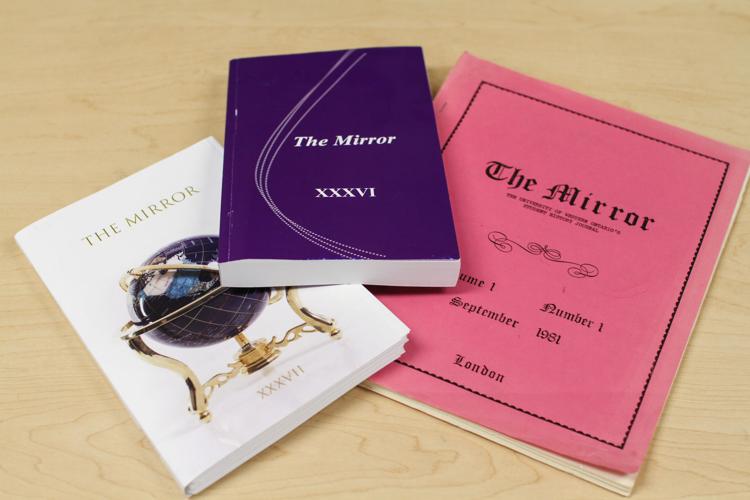 As Canada's oldest undergraduate history journal, the goal of the Mirror is to educate readers about the importance of history.
The journal was first published by Western's history department in 1980 meaning this year's edition will be its 37th issue. With deep investment in the publication, assistant editor Sarah Lawson first got involved with the Mirror in her second year when a representative visited one of her classes.
Lawson appreciates how the journal represents a wide range of historical viewpoints. Her favourite part of the editing process is reading other students' papers.
She explains, "You get used to your own writing style, and you get used to the way you write your own papers, so it's really interesting to see how someone else crafts their essay and puts it together."
Roughly 100 submissions are submitted every year from various Canadian universities, 12 essays were selected to be published in April. Topics range from Nazi Germany and the Vikings, to subjects that have become more prominent in the last few decades such as women's sports and indigenous history.
The Mirror also has a large circulation and is widely acclaimed across Canada. Once published, copies are sent to institutions such as McGill University and the University of Ottawa, where they are kept in library archives.
This year free copies of the publication will be distributed on Thursday, April 6 from 11 a.m. to 2 p.m. at the entrance of Stevenson Hall.
Lawson also mentions how this year's issue aesthetic has changed compared to previous editions.
Instead of the usual purple cover, the editorial team opted for a crisp, white cover with an image of a globe to represent how all the submissions discuss different regions in the world. On the back cover, readers will find images of cameras, which are symbolic of how the essays capture events throughout history.
Lawson stresses the importance of reading the Mirror, explaining that it's an opportunity to showcase the excellence and achievements of the authors. Even as an editor, she appreciated the opportunity to learn about unfamiliar topics.
Reading the journal can also be very beneficial for students. "I think it's important for students to be educated in history because then you know where you're going for the future," says Lawson.
She adds that it's important to understand the development of various countries, issues and groups throughout history in order to have a better understanding of the present.
Lawson hopes that as more students read the Mirror, they will be subjected to fewer misconceptions and stereotypes about historical events, allowing them to apply this knowledge to contemporary times.
For more information on the Mirror, check out the website for Western's History Society.
+1