The 'original' Homecoming weekend on Oct. 1 saw thousands of students attending street parties on Broughdale Ave. and other student areas despite the University administration's efforts to curb the festivities. 
However, tickets issued by London Police Service on the day were fewer than in previous years with only 54 handed out this year as opposed to 76 tickets in 2015 and 213 tickets in 2014. 
According to LPS media relations officer Sandasha Bough, Broughdale Ave. attracted more students on the Oct. 1 weekend than on homecoming weekends in past years.
"We had a greater number of students than we have in the past… However, we noticed that those individuals tended to remain in the backyards and inside of the residences," she said.
More Paramedic units are on the street today. >7000 ppl on the streets. Please everyone be responsible. #dontinviteus2urparty @westernu

— Middlesex-London EMS (@MLEMS911) October 1, 2016
Similar to previous years, LPS was involved in Project LEARN (liquor enforcement and reduction of noise), an initiative designed to curb bylaw infractions and and combat common party-related incidents.
This year's Project LEARN numbers saw an increase in the number of criminal offences compared to last year from 23 to 33.
Three criminal charges were also handed out on the Oct. 1 weekend while last year no criminal charges were laid on Homecoming weekend as part of Project LEARN.
+1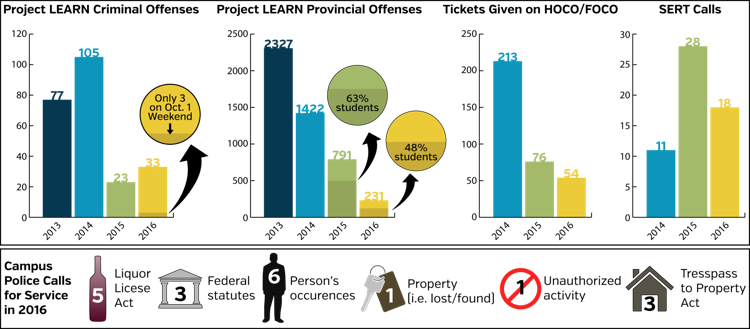 Additionally, 791 provincial offence notices were issued in fall 2015, with a substantial drop to 231 provincial offence notices this year.
Bough said a lot of warnings were given this year as the students were well behaved.
"But all in all the students were very well behaved and very respectful towards the police this year, in fact thanking the police for being out there and for the way they were handling the situation," she said.
According to Bough, LPS prepared for the festivities based on the situations and operational plans used for past homecoming weekends.
"Even though we were aware that Homecoming weekend was actually switched, we were aware that there was a possibility that there would be the same amount of students there for Reunion weekend, or FOCO. We were prepared just in case those officers were in fact needed," she said.
LPS was aware that in the past students start collecting on Broughdale early in the morning so there were also patrol cars patrolling the streets around Broughdale in the morning.
Campus police held down the fort on campus as they received 19 calls for service on Reunion weekend.
"This was similar to past years; the game was very quiet. The rest of campus was good, most students were off campus on Broughdale so there was nothing out of the ordinary," said Jean-Claude Aubin, operational leader of campus police.
Five were liquor license offenses and six were person's occurrences which can be criminal or non-criminal involving suspicious persons, trouble with persons, disturbances assaults or sexual assaults. There were three federal statutes which usually involves drug use. 
In addition, SERT calls received on campus went down from last year from 28 to 18 this year. Of the 18 calls to SERT, 13 were alcohol related.