Even after the timer on your Snap runs out, Snapchat still has access to the photos you've sent.
You might think, "I never signed up for this!" Actually, you did. 
Snapchat is popular because of the ability to quickly send a "Snap" of something to a friend that lasts from one to 10 seconds and then allegedly disappears from your device and Snapchat's servers. However, that's not entirely true.
Snapchat's terms and conditions state that their company and other third parties can "host, store, use, display, reproduce, modify, adapt, edit, publish, create derivative works from, publicly perform, broadcast, distribute, syndicate, promote, exhibit, and publicly display that content in any form."
When informed about this, second-year economics student and Snapchat user Jonathan Wong says he would "trust the terms and conditions just because of the huge population that uses it," thinking the company wouldn't want to deceive their users.
Unfortunately, this is a popular mentality many students have that makes it easy for companies to include ambiguous details without much commotion.  
Professor Sam Trosow, jointly appointed to the Faculty of Law and the Faculty of Information and Media Studies, explains people don't read the terms thoroughly because "they want to be able to immediately begin enjoying the product the way it has been represented to them." 
The problem lies in the app's description, where Snapchat advertises that unless someone screenshots a Snap, it will not be stored. 
Once you agree to Snapchat's terms and conditions, you automatically allow them and their business partners a license to your content. You ultimately have ownership over your content, but Snapchat is able to use it in any way they'd like.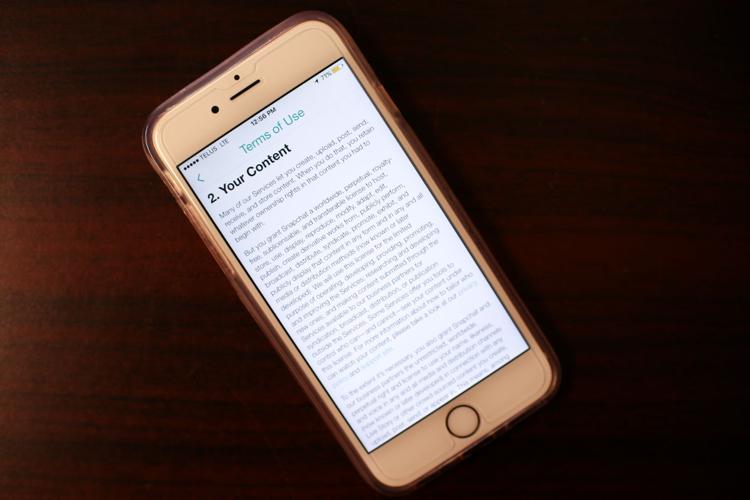 "They aren't routinely going to exploit that commercial value at your expense, but they sort of have an opening to do that if they want to," Trosow says. 
Additionally, if for any reason your content causes damage — such as defamation, copyright infringement or harassment — Snapchat can hand over your information by request of the government or the law. 
A threatening Snapchat post at a college in Massachusetts exemplifies Snapchat's information storage. A Snapchat user posted an alarming photo to the Worcester Polytechnic Institute's unofficial Snapchat account. With the help of Snapchat's legal department transferring over the user's data, police were able to determine whether or not the threat was real. 
Trosow explains that agreeing to the terms and conditions transfers the licence of ownership to Snapchat.
"Even though you retain the ownership of the photograph, you granted away one of the important instances of ownership that you own," he says.
He continues by saying it is important to take your Internet privacy as seriously as your privacy in the outside world.
"People don't realize the permanency of what appears to be an illusion," says Trosow. "It's just on the screen, but it's just as real as if it's in a scrapbook." 
Trosow indicates the vast wealth potential for Snapchat and its partners with the collection of user data. Snapchat, like any social media company, can bring in immense profits from all of their data collection.
When asked for clarification of their terms and conditions, Snapchat declined to comment.
It's especially important to be aware of what you're agreeing to. Next time you're asked to check the box beside "I have read these terms and conditions," it might be best to actually read through them in case your selfies come back to haunt you.