High-achieving high school students from across the country visited Western last Thursday as part of the Shad program at Western.  
Founded in 1980, Shad has become a popular choice for keen students looking to get a taste of university life as they live on campus for a month over the summer.
The program has taken place at 12 host university campuses across Canada in the month of July. This year marks the first time Western has been offered to participants as a host campus. 
"We are thrilled to be coming to Western," Shad President Barry Bisson said.
"Shad helps identify and foster top talent and Canada's future leaders.  And it goes without saying that many of these leaders will choose to come back to Western for their studies."
The fact that this was Western's inaugural Shad program definitely made logistics more challenging.
Despite this, Shad Western's strong leadership team had experienced people working to ensure success, according to program assistant Danielle Perro.
"Our staff team had quite a few Shad alumni ... a few are also sophs," she said. 
A typical day at Shad offers participants the opportunity to learn by attending classes and labs. Students were taught by university professors, business leaders, entrepreneurs and innovators, who help them set aspirational goals and envision their own extraordinary potential.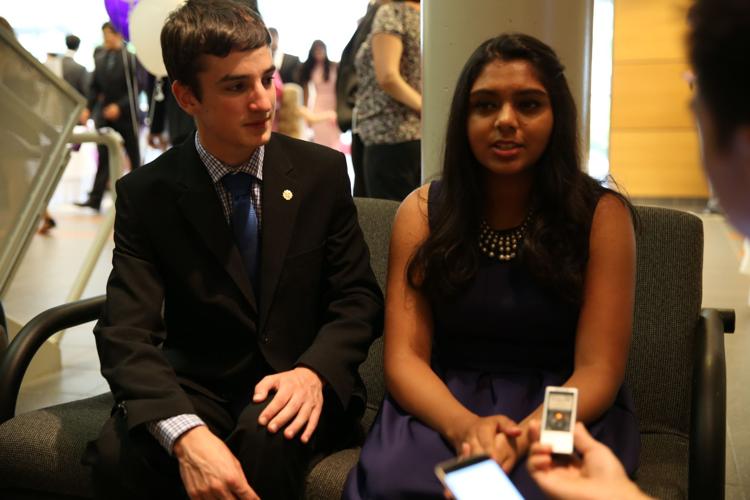 Each year, Shad adopts a specific theme built around current economic and social problems that the students collaborate on to develop a unique innovative product or service that addresses the issue.
This year's theme was improving food security for Canadians. Western's cohort started working on their projects on July 5 and presented their efforts at the program showcase on July 28.
As part of the engineering and design challenge, teams were taught how to build a business and marketing plan, and design and build working prototypes.
Winning projects advance to national judging and results are celebrated each fall.
"Being a really science-oriented student, I learned a lot about marketing and finance through putting this project together," Shad student Susie He said. "We also learned first-hand how to start a business and experienced all the work it takes."
Grade 12 Shad students Twinkle Mehta from Mississauga, Ontario and Nathan McNally from Nova Scotia were presented with research internships from Dr. Greg Kopp, associate dean for Graduate and Postdoctoral Studies after winning a design contest held at the Boundary Layer Wind Tunnel on campus.
"At Shad, everyone is so well-rounded and good at pretty much everything ... it's good to stay humble and learn from them," Mehta said.
One of the most unexpected aspect of university life for the two was the walking distances on campus.
"I knew Western was big, but I didn't think Perth was that far from main campus," Mehta said.
The Shad program selects around 50 students per campus annually and applications open in mid-September.