Western is set to receive the largest portion of a new $328 million investment in research facilities across the country, with $69 million dedicated towards Western's Compute Canada Major Science Initiative 2.0. 
The Canada Foundation for Innovation (CFI), a government-funded organization, is awarding over $328 million to national research facilities within Canada.
Compute Canada MSI 2.0, a collaborative group of advanced research computing organizations, was among one of the successful candidates. The organization, of which Western is the administrative institution, is set to receive over $69 million to support their research operations and maintenance. Western was also the lead institution for Compute Canada's 2012-17 operations grant.
+1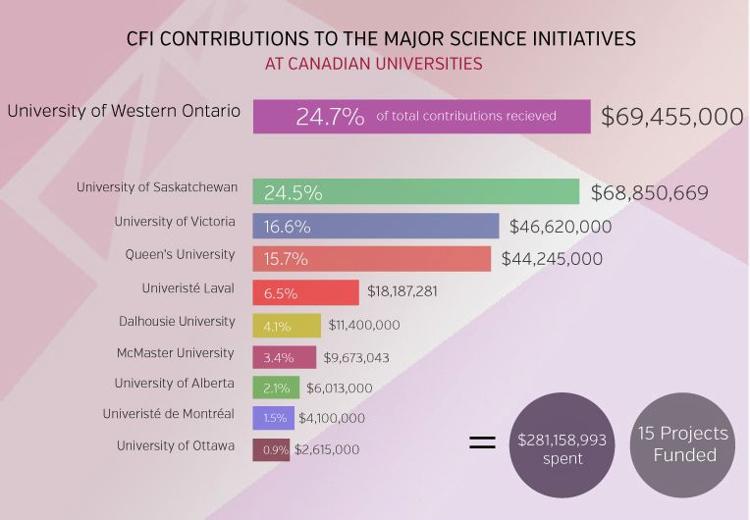 Compute Canada is a national non-profit that leads advanced research computing platform in Canada with academic and industrial researchers, such as SHARCNET, one of the regional partners located at Western. Other computing facilities that are also a part of the Compute Canada organization are located across Canada and include ACENET, Calcul Québec, Compute Ontario and WestGrid. 
Michael Bauer, Western computer sciences professor and scientific director at SHARCNET, said that each of these groups provide computing resources and are also funded by CFI.
Applications from the research at Compute Canada include fields such as theoretical physics, computational fluid dynamics, engineering, design and bioinformatics.
"Research applications vary enormously," said Bauer. "There's all sorts of disciplines so it's a wide-ranging set of computing services that support researchers from many different disciplines."
Created by the Canadian government in 1997, the CFI does not focus on a specific research field. Instead, the organization's purpose is to fill the gap in funding for research infrastructure, equipment and tools.
"There was no funding organization in the country that did this," explained Malorie Bertrand, communications officer for CFI. "So one of the reasons that we were established was that we were losing a lot of our best and brightest researchers to other countries that have more up-to-date equipment."
Forty-one institutions submitted an intent to apply for the CFI funding. Out of the 41, only 21 were eligible to apply with 17 projects successfully receiving funding.
According to Bertrand, successful national research facility candidates must provide an environment with highly specialized equipment and resources with scientific and technical personnel. The facilities must also be fully operational with an annual operational and maintenance cost exceeding $500,000.
Proposals for the funding was based on scientific excellence, international competitiveness, need for funding, governance and management operations.