Gazette News​ ​ ​

Western University's University Community Centre (UCC), Social Sciences Centre (SSC) and Western Support Services Building (WSSB) were evacuated shortly after 1:30 p.m. on Thursday due to London Police Service's (LPS) investigation of a "suspicious device" in the UCC. 

#WesternU UCC/SSC/WSSB have been evacuated as police investigate a suspicious device in UCC. Updates to come when available.

— Western University (@westernu) May 18, 2017

LPS asked people to move to a "safe distance" away from the buildings.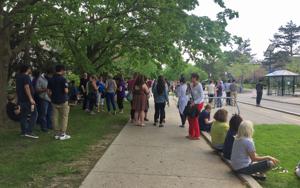 Individuals waiting outside the evacuated buildings. 


Around 2:30 p.m. individuals were allowed back into the evacuated buildings as no threat was found.

UPDATE: UCC all clear. No threat found. Evacuees may re-enter the building. #westernu

— Western University (@westernu) May 18, 2017

LPS media officer Sandasha Bough is scheduled to address the media on the matter shortly. 

This article will be updated as new information comes in.