Cup of Joe
A coffee story

Coffee is a university student's most loyal companion; it gets us out of bed every morning, keeps us awake between lectures and pulls us through long nights of studying during exams.
Between our own Keurigs and lengthy lineups at the Spoke, Tim's and Starbucks, our campus' consumption adds up to about 60,000 cups of coffee consumed every day.
As much as coffee is our livelihood, its impact extends far beyond keeping students awake. As the world's second most valuable commodity exported by developing countries, coffee farms around the world allow many to support their families.
Maria Fiallos, owner of Las Chicas del Cafe coffee in St. Thomas, Ontario, shared her experiences with coffee farming in Nicaragua. She grew up on her family coffee farm and now roasts coffee near London for her own label.  
"[Small coffee growers] are literally selling their coffee so they can put food on the table that night. Coffee is their daily livelihood," she says. Fiallos is one of the 100 million people around the world directly involved with the coffee industry, with around 25 million employed on farms alone.  
Helen Schreyer, a first-year science student who participated in an Alternative Spring Break program in Nicaragua, provided insight on the disconnect between the way we consume coffee and its source country in the Bean Belt.  
"I think we see coffee incredibly out of context here. Seeing the importance of coffee in Nicaraguan communities made me realize that we don't really make the connection between growing coffee and the brand name plastic cups we drink it in."
Schreyer adds that, "Coffee is an art, one which every community is wholly dedicated to."
The complexities and considerations in the harvesting and processing steps create bean flavours unique to every growing region.
The exporting and roasting steps allow for new, cross-region blends to be created.
Fiallos explains that "coffee is beautiful in every form, when you're walking in the plantations and you see the trees, when it's drying on the patio and you get to play with all of these beans, every step along the way."
While students like Schreyer have been fortunate enough to witness coffee processing first-hand, the average Western student might not know the six steps of coffee processing.
See our infographic below to learn more about how your coffee gets from its plantation to your cup every morning: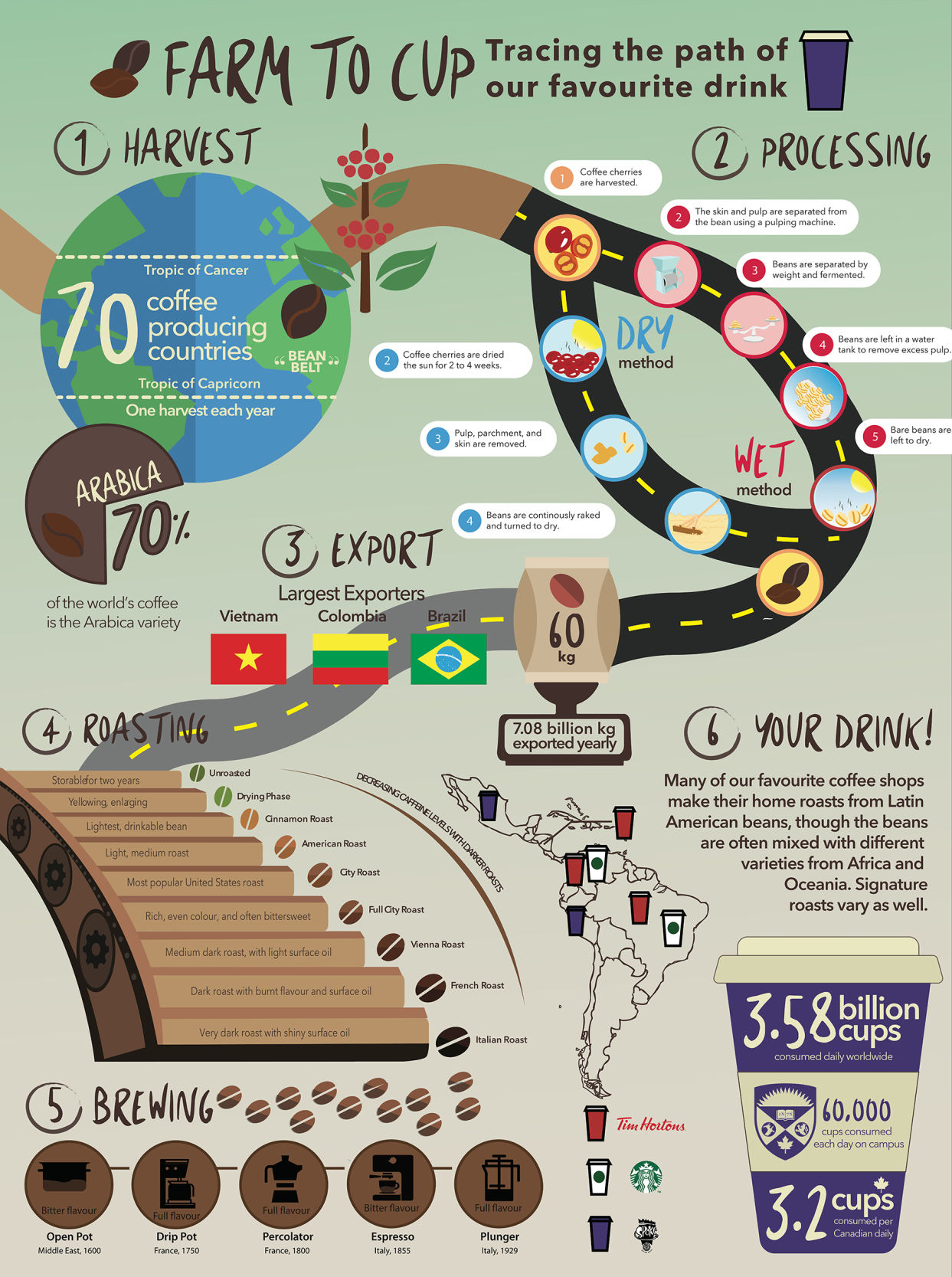 Gazette Graphics