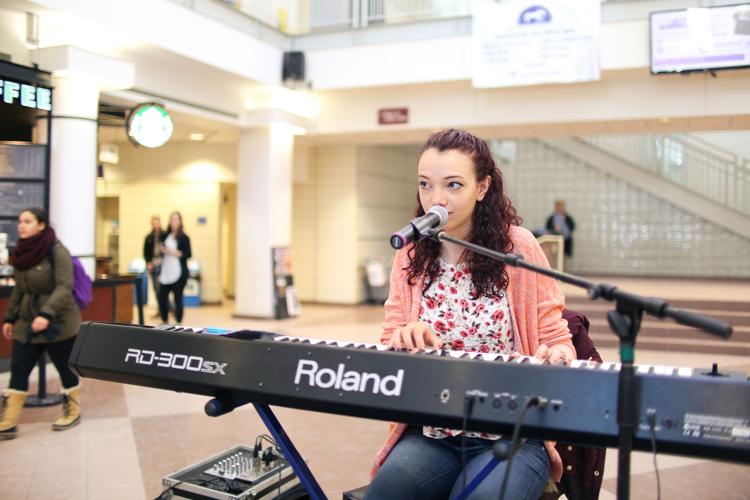 Hesitant at first, young musician and songwriter POESY decided that auditioning for CTV's new show, The Launch, was the next step in her music career. She filmed an audition tape singing in her pajamas and the rest is history.
Before she was POESY — an old English word for poetry — she was Sarah Bothelo, a creative writing student at Western University.
POESY dreamt of becoming a superstar ever since she was nine years old, and her passion hasn't changed since. As she got older, her music taste expanded as she dabbled in everything from the classic rock sounds of Queen to the mainstream pop of Lana Del Rey. POESY found herself fascinated by the world of professional music-making: she fell in love with performing on stage and with the idea of writing and expressing her feelings and emotions through song.
At first, she says she felt ashamed to tell her friends, parents and teachers her dream of becoming a musician.
"I was just scared that people were gonna think that it wasn't a real thing," POESY says.
After Fergie, the award-winning singer, songwriter and judge on the The Launch, said she had "chills" while listening to POESY sing, POESY claims she felt validated in her feelings and desires to follow her passion. 
"In the beginning stages of filming it, I think I had this front that I was really confident in my music and in myself," POESY says. "But it still wasn't really a fully realized thing until after I had that experience."
Since her debut on The Launch, the 22-year-old's shy personality turned into booming confidence as her music career quickly blossomed.
POESY's songwriting is very autobiographical. She explains that writing music is therapeutic and helps her cope with her emotions. 
"Usually, when I write music, it's because I suck at talking to people in real life," says POESY. "I can't really write something that I haven't experienced or watched one of my friends experience."
POESY has a lot of current goals she's focusing on in order to expand her career. More than anything, she wants to reach people with meaningful messages through her songs, hoping to incite positive change.
"I want to be someone who's real and who can mess up and who can be imperfect and awkward and weird sometimes but can also convey following your heart and following your dreams," she says.
One of POESY's dreams during her undergraduate program at Western was to become successful enough to be asked to headline for O-week.
"I think it's cool to go back and play where you got your start," says POESY. "People are so enthusiastic about you being there because they remember when you were just playing at Call The Office or The Spoke or something."
POESY explains that her overnight success after her appearance on The Launch actually required months of training, hours of recording and a lot of jumping through hoops to get to where she is. She works hard and tries to expand her career by exposing herself to different styles of music and by discovering how she can improve herself. 
In addition to singing, POESY also models, dreaming of one day being featured in a magazine with a written article of her own.
Although she struggled with validation of her music at first, she persevered by working hard and by keeping a strong support system, which helped her dreams come true. 
"There's so much negativity in this industry and there's so much rejection, and it's really easy to let that discourage you and make you want to give up, so you need at least one person who believes in you," she says.
The young artist is hopeful of her music career and continues to strive to be the best she can, while keeping in mind that she always has room to grow.
"The most important thing," says POESY, "is that people who go to Western who have an unconventional dream of where they want to go after, I think they should just feel confident to do that and know that it also counts," says POESY.