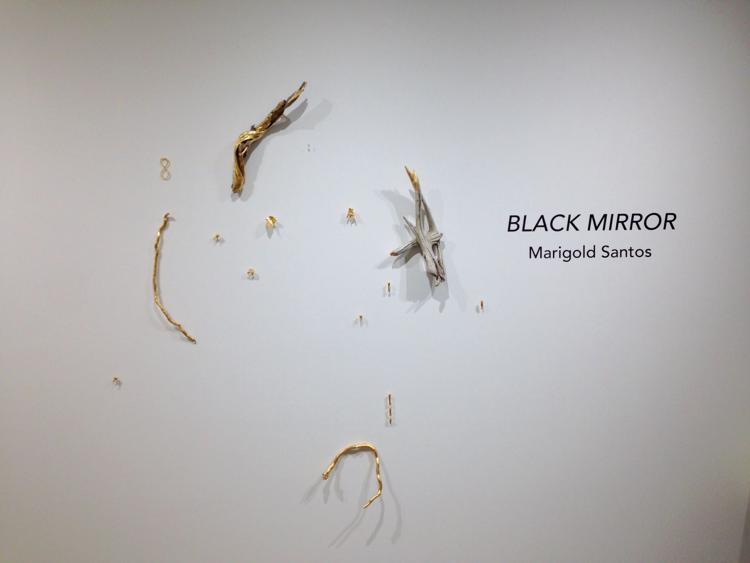 Marigold Santos' multimedia solo exhibition at DNA Artspace, Black Mirror, is a supernatural experience. A disembodied hand grasps an arthritic twig and a lock of black hair simultaneously; amorphous, robed figures haunt various ink drawings; and toothy constellations of sea shells and molars glitter in gold leaf.
Toto, we're not in Kansas anymore. 
"I've always been interested in the idea of personal magic, or accessible magic in the sense that any person has the ability to tap into another world," Santos says.
Black Mirror explores how narratives of past and present are told and re-told, becoming part of a personal myth. Selfhood becomes fragmented and re-invented.
Santos' family immigrated from the Philippines to Canada in the late 1980s, and it is this personal history that informs themes of hybridity, selfhood, identity and home.
"Being a woman, an artist, in my thirties and Filipino-Canadian are just some aspects of my identity that I embrace and am extremely proud of," she states. 
Interdisciplinary by practice, Santos employs a wide range of media to conjure an imaginary landscape that is at once mystical and sinister. Black Mirror was previously shown at Hamilton Artists Inc. in Hamilton and at PITH Gallery in Calgary, both in 2015.
This London iteration, however, is a new combination of select works from these prior shows. This exhibition history reflects Santos' belief in perpetually mutable dualities rather than absolute binaries.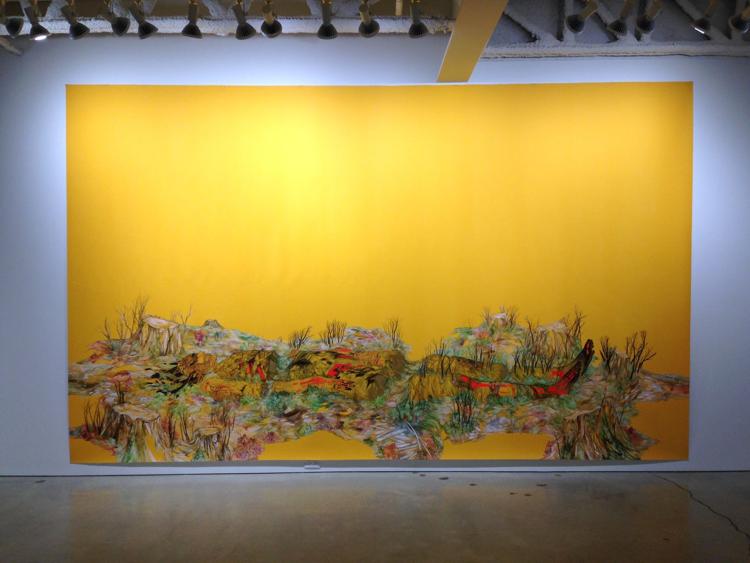 Body and landscape are woven into each other in the massive painting titled Re-Grounding that takes up nearly an entire wall. Its golden yellow colour depicts a segmented, genderless figure lying down. Tree stumps appear as muscle tendons while the figure's thighs sprout trees below a craggy torso. The anatomical landscape exemplifies Santos' artistic focus on plurality and permeation. 
Owing to its sheer size, Re-Grounding is not only massive, but immersive too. Framed by two Constellalchemy installations on either side, which consist of intuitive clusters of various gold leaf objects, the painting has a commanding presence in the exhibition.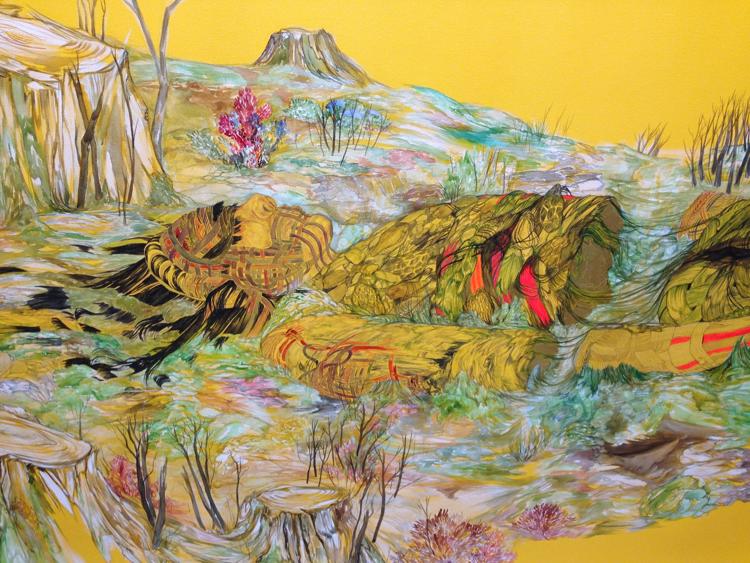 Re-Grounding, along with every other work in Black Mirror, is not without a foreboding quality.
Santos credits "childhood games, folklore, mysticism and the occult, horror films and narratives" as sources of inspiration. Specifically, the artist references Aswang creatures, which come from Filipino folklore.
Santos' ink drawings, Shroud (scales) and Shroud (infinity) cast light on these creatures. Robes of inky nebulae, seemingly sewn from the very fabric of the universe, reveal only the Aswangs' outlines. Each figure hides behind an unruly bouquet of flowers, with a single protruding hand in the foreground.
Hands feature prominently in Santos' artwork. Functioning as tools, the artist highlights how "fingers and hands create secret signals, they can conjure the dead, they can tap into another world, they can communicate to a chosen group, with meaning only some understand."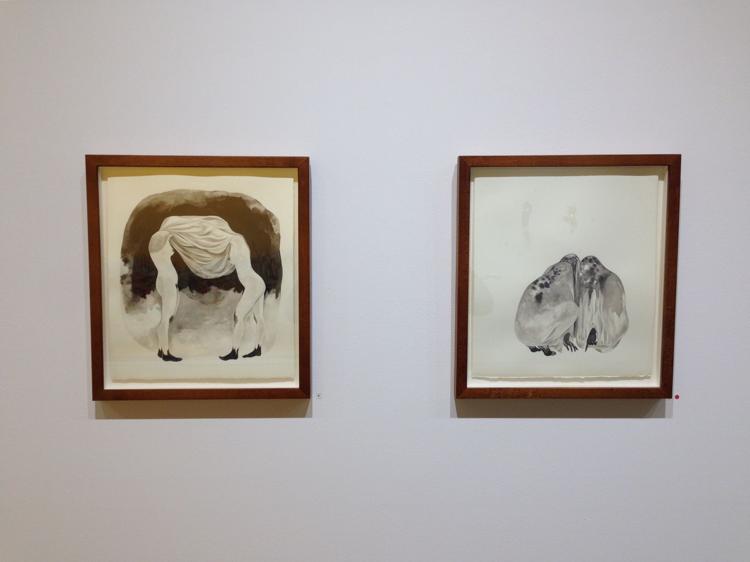 The idea of concealed knowledge is a strong undercurrent in Black Mirror. The ink drawing Shroud (overhead) depicts two nude females with a robe over their heads connecting one to the other, while Shroud (crouching) shows three fully hooded figures crouched and making delicate hand gestures.
What secrets are being divulged in these two drawings? Santos' artworks speak to each other in such a way that exhibition visitors might imagine whispered chants echoing throughout the space as they wander through Santos' mythic universe. 
Much of the artwork is centred around moments of change — everything is shown mid-transformation. Process and mutability is favoured over a finished state of being. But this changeability easily leads to the unknown, the unidentifiable, the unsettling.
Although Re-Grounding and the Constellalchemy installations glimmer with invitation, the artworks on the opposite wall are decidedly darker both aesthetically and thematically. With shadows and secrets lurking in inky peripheries, all that glitters may not actually be gold.
Black Mirror is open until Feb. 20. DNA Artspace, located downtown at 123 Dundas Street, is open Tuesday through Saturday, 11 a.m. to 5 p.m. Admission is free.