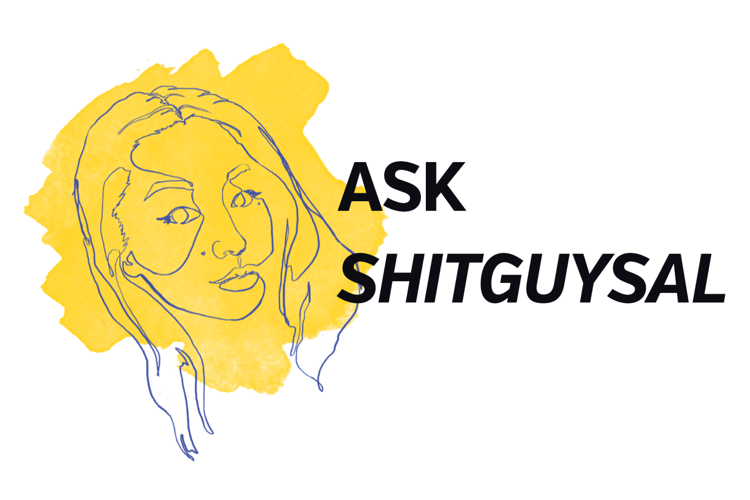 It's February, and life is tragic. You've slipped down University College Hill in the midst of a torrential blizzard, the girl at The Spoke made your bagel wrong, and now, you've come to the realization that you are single for V-Day... Again. Lucky for you, Shitguysal's here to answer all your questions about love and loneliness. As a devout shit guy, full-time guru and part-time bar star, I am here to serve justice to Western University's single community and answer any burning love inquiries they have. So save your money and spare yourself the premium SeekingArrangement membership — I just might have the answers to why no one loves you and what you can do to fix it.
Question:
Hey Shitguysal,
I'm a final year Ivey student about to graduate. I've worked so hard for my entire academic career to get to this point, and because of that I have never had a girlfriend or even been with a girl.
I'm terrified to graduate university as a virgin, and so have been trying to get more social over the past few weeks. I have really tried to get out of my comfort zone and talk to girls, but last Friday at the bar, I went up to try to talk to a girl. She wasn't very responsive and when I left I noticed her and all her friends pointing and laughing at me. I know I'm not the most attractive or charismatic guy, but I really think I have a lot to offer. How can I make a girl like me?
Thanks,
Anonymous
Answer:
Hey pal — thanks for writing Shitguysal. I'm sorry to hear about your troubles at the bar. Considering that your game plummeted faster than your Bitcoin stock, I am definitely worried about your future. But fear no more, Shitguysal's here with the answer.
I understand that your demanding career at Ivey made it hard for you to really pursue love. I mean between all the free lunches with CEOs, beer tasting and simply dealing with all that money, power and respect, life can get pretty hard. However, I suggest three life changing rules that will get girls coming to you faster than you can say "My dad will sue."
First, stop focusing on your spreadsheets and more on your bed sheets. Girls can smell King Richie's stained, Star Wars-themed bed sheets from kilometres away. The minute that you stop acting like you live in your mom's basement and put away that Axe cologne that you've been wearing since you were in Grade 6, the more likely that love will come your way.
Second, advertise that you are in Ivey. I mean, a lot. Like don't even introduce yourself by your name or even tell them about yourself. Us girls on a student budget have less than a cent left in our meal plans and we are just trying to secure our drunk muck. If we hear Ivey, we hear wedding bells.
Lastly, show them Kylie Jenner's baby video. Don't question it. Just do it. You're guaranteed a woman will beg for your love faster than you can say Goldman Sachs.
Best of luck XOXO,
Shitguysal
Question:
Hey Shitguysal,
Basically I gave this guy two chances to tell me he didn't want to hang out anymore, but both times he said he still wanted to hang out. After the last time I asked, I left the ball in his court and after a week and a half I still haven't heard anything. What should I do?
Sincerely,
Anonymous
Answer:
Wow friend, that sounds like quite the dilemma. Here we are, putting ourselves on Tinder, lowering our expectations and lighting our pride on fire — and for what? We can't even get a text back from men who are holding a big fish? I got two words for you: GAS IT. Clearly homeboy here has a case of whiplash: he seems like he's trying to gas you and then oh, here he is swerving back into your lane. Honestly, sounds like this guy wears Reeboks and faded dad jeans from Marks Work Warehouse. Those shoes shoulda said "gas me" from the start.
If a guy is this scared about telling you his true intentions (aka he wants to gas you but he got the ol' case of a cat got his tongue), he probably isn't worth the struggle. He sounds like the type of guy who would amp you up to go to all-you-can-eat sushi and then just take you to the Loblaw's Asian section instead. AIN'T NOBODY GOT TIME FOR THAT.
XOXO,
Shitguysal
Question:
Hey Shitguysal,
I got ghosted a few weeks ago by a guy I like, and I'm wondering how to get back at him. How do I ghost the ghost?
Sincerely,
Anonymous
Answer:
While it may be tempting to get back at him for his spooky ways, I suggest that you stop what you're doing and put this typical, vengeful ex-ting act to rest! In the end, you're only giving him the satisfaction. Whether you homie hop his entire house (or block) or post up a hot selfie with an obviously spiteful Taylor Swift lyric, your mind is just going to be on him. Unfortunately, we know that his mind won't be on you (hence, the ghosting). It's tough love my anonymous pal, but it's what Shitguysal deals with best. I have a feeling that this guy probably texts his mom asking what shirt he should wear the next day, and, at the very best, seasons his chicken with salt and pepper. He also probably eats egg whites drunk after the bar. Good riddance — his ghosting ways spared you. Now take the high road and go find yourself a new seasoned BADDIE.
XOXO and with some extra dabs,
Shitguysal
Question:
Hey,
It's my fourth year and to be honest, I'm really looking to be wifed. I think I have a lot to offer, however, I'm just super shy. How do I get better at talking to men I find attractive without turning red? Or in other words, how do I get from the friend zone to the END zone?
Thanks,
Anonymous
Answer:
Wow anonymous, those are some powerful words. "Friend zone to the END zone." I feel it.
I have three words for you: live, laugh, roll one and smoke 85. In other words, why are you sitting here feeling sorry for yourself?! Feminists did not pave the way for us future ladies just so we could sit here and rot away with all we have to offer. I say, grow some balls and seize the daddy of your dreams.
Go out to dollar beers, sift through the dirties, find one who doesn't smell like the Weldon Library bathrooms and wife that boy. The only thing that is holding you back from a possible sugar daddy is your mentality. Plus, 95 per cent of Western's boy population is vulnerable and despo, as you can probably note from their Tinder bios about finding their Tinderella.
You can get from the friend zone to the END zone by just doing you and being bold. Don't beat around the bush, twiddle your thumbs and drop melancholic subtweets hoping he'll notice you. Go up to him and ask him to grab a bite at the Spoke. But, word to the wise, preferbs only go for them meal-planned up sweeties because let's be honest, us girls on OSAP and student budgets ain't got time for that — especially when we are also funding our Ceeps Thursday habits.
Be a shit guy always,
XOXO Shitguysal
Question:
Hello,
I'll get right into it. I am a trans woman who has been on hormones for a couple years now, but I haven't had "the surgery." On top of this, I am bi. How big a deal is this really for cis men and women? Am I going to just be scaring people off, or are people more open minded than I think?
Thanks for your help,
Anonymous
Answer:
Thanks for writing, anonymous! As for your inquiry, I am a firm believer that you need to embrace who you are, and do you 100 per cent. Life is too short to be anybody else or to live to please someone! I would say that anyone who is worth having in your life and who is NOT a shit guy would be accepting of this part of you. As someone once put it nicely, those who matter don't mind and those who mind don't matter!
XOXO Shitguysal