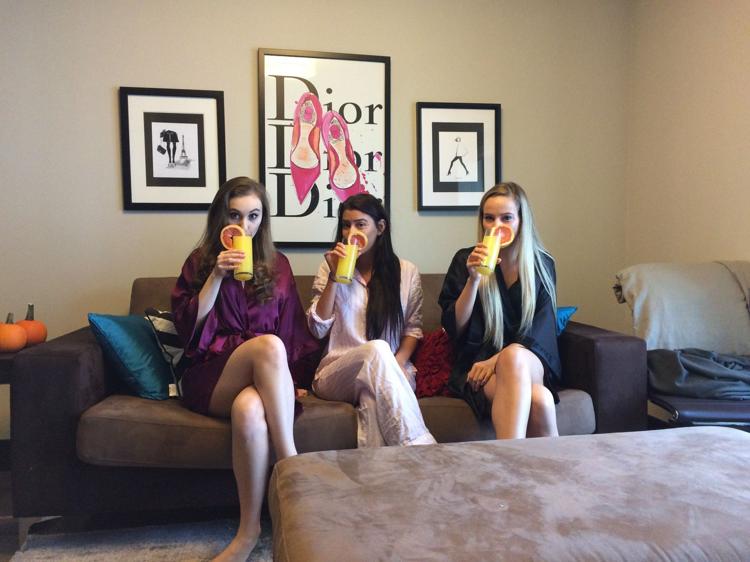 Moving out of residence and into a new house or apartment certainly has its perks: heightened independence and no restrictions on guests or Saturday night shenanigans, to name a few.
However, it also means giving up a few things, like social events organized by residence staff, floor bonding in the lounge and soph support just down the hall 24/7. Transitioning from first year to upper years isn't always easy, but bonding with the people you live with is one way to ease some of the stress and regain that feeling of being home away from home.
Cook together
This can be as simple as nachos or as complex as the new vegan avocado brownie recipe you found on Pinterest. Sharing a meal or indulging in comfort food with your roommates can build a sense of community and make transitioning to cooking for yourself a lot less daunting — give yourself extra points if you go out and shop for the ingredients together.
Workout together
Differing class and work schedules can make it tough to spend downtime with your housemates, but if exercising is already part of your daily routine, going with a roommate kills two birds with one stone. In fact, a 2016 study in ScienceDaily shows that having a workout partner increases the amount of exercise you do. Working out with your roommate could improve your fitness routine and establish rapport with your new roomie.
Wine and cheese night
For those who aren't into wine and cheese, try beer and burgers. You can make it as classy or not as you want; the key here is good food, good drinks and good company. It's also a cheap way to spend a Saturday night when you don't want to wait in line at The Ceeps. Make it a potluck, and have everyone bring something new to try. This pairs nicely with a screening of your most recent Netflix addiction.
Study date
Studying together is another way to incorporate roommate bonding into your everyday grind. Studying in a group means you'll always have someone to watch your stuff at Weldon Library, and you'll have a group to cram with rather than going solo. Even if you're not all studying the same thing, studying with the people you live with can help build routine, and explaining what you're learning to one another helps with fact retention.
Try something new
Trying out a new class, like rock climbing at Junction Climbing Centre or hot yoga at Moksha Yoga London, gets you out of your comfort zone and breaks up your usual routine. Having this kind of experience with the people you're living with will also give you a chance to let your walls down and get to know each other on a more carefree, genuine level. If you want something a little less physically demanding, try scouting out a new coffee shop, walking through Covent Garden Market or checking out a seasonal festival at Victoria Park.
Late-night real talk
Whether it's after a night out on Richmond Row, a tough midterm or just a long day of classes, those 2 a.m. chats you will inevitably have with the people you live with are bonding gold. Talking about your issues and being a good listener cultivates comfort and support in your relationships. Remember to treat your roommates with respect and they'll be there to have your back as well.