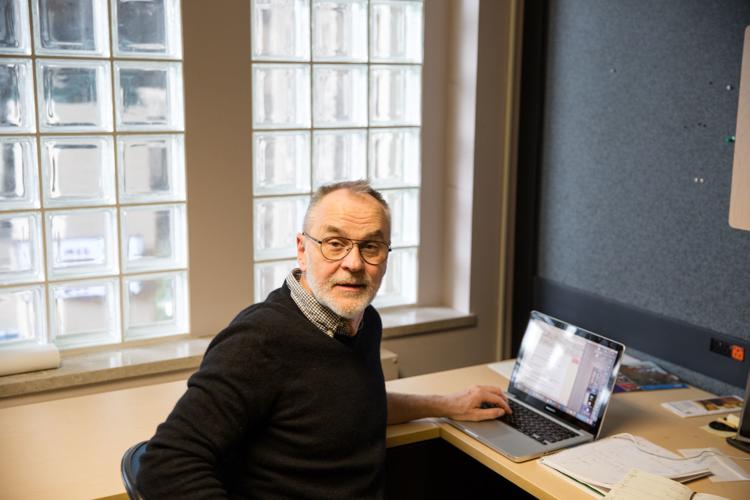 Daniel MacIvor is not precious about creative work. This year's writer-in-residence says one must put in the work instead of just dreaming.
The playwright, screenwriter, actor and producer's position gave anyone curious about their work the opportunity to come in and have a chat with him. One day of the week, he's sequestered in a cubicle in the Arts and Humanities building while on another, he takes hold at the London Public Library.  
MacIvor first came to the position after delivering a talk to professor Kathryn Mockler's poetry class last year. He was wooed over dinner with Mockler and English professor Steven Bruhm, during which he fell in love with the "Chaucerian" qualities of the Forest City. Namely, their full-on imitation of UK London with the Covent Garden and Thames River. Now at the end of his eight-month term, MacIvor says the position granted him a new understanding of the writer's approach.
"The work that you get is a very small part of the conversation that you're going to have," says MacIvor. "It's not about, 'How do I set this scene?' or 'How do I get this out there?' It's about me hearing them and responding."
According to him, most people he saw weren't looking for how to improve. It was more to have a conversation on the subjects they were writing about, which often involved personal traumas. 
"I can't even articulate it fully yet. I think I'm going to need some time away before I can. Somehow it makes me realize what writing is. I've become so used to writing being my job, but it's so much more than that for people," says MacIvor.
That being said, MacIvor revealed he didn't have many students come by for creative work. Instead, they preferred to discuss their options in creative careers. He attributes these to the many different directions students are pulled in during their time here. McIvor often finds that they discuss expectations and futures in the arts with a dose of realism. 
"I think it's important to express that I'm not depressed in a garret writing with a feather," says MacIvor.
While his student conversations have been much more practical than idealistic, he remains impressed with their dedication. He says that one of the changes he has noticed since his time in school was that there has been a shift to "DIY" focus for anyone aspiring to the creative fields. Now, he recommends one find like-minded individuals to generate art together. 
"People will see that. They'll see the work and not just your ambition," says MacIvor. 
He has also seen this practicality in the academia he has surrounded himself with this year. Other than Vivian Foglton, his secretary, he has not met with a lot of other faculty here. He sees a lot at stake for them to keep their position or to get a new position, something that clashes with the collaboration he encourages in students and community artists.
"Not a lot of potlucks. It's not chummy," says MacIvor. "I can't tell you how different it is to be here than at the library."
He describes the library as a "real cross-section of humanity," filled with people who have nowhere else to go, as well as those who are full-tilt into teh artistic community. It's where the bulk of his artistic conversations in London took place and where he feels most grateful to have been of service. 
To the students who feel that they are too busy being students to focus on their artistic endeavours, he recommends treating those endeavours like any other important part of your life: "I think that you have to understand that the whole person is important and you have to value and tend to the brain, the mind, and you have to tend to the spirit. That is the creation time."
Despite his reservations, he stresses the importance of the writer-in-residence for facilitating these artistic conversations. Previous residencies, stretching all the way back to 1972, have included Gary Barwin, Emma Donoghue and Alice Munro. But his is the first year the position may be in jeopardy: MacIvor says the funding models had changed. Previously, the Canada Council for the Arts would match the university's funding, but MacIvor had to apply in competition with other writers to get his.
"It may not be able to exist the way it has for the past 45 years. It's valuable for the artist, valuable for the people who participate," says MacIvor.
As for the man himself, he'll be continuing on his collaborative libretto with Rufus Wainwright called Hadrian, a script for Canadian filmmaker Bruce McDonald entitled Winter, as well as his in-development musical with the Barenaked Ladies' lead singer, Steven Page.