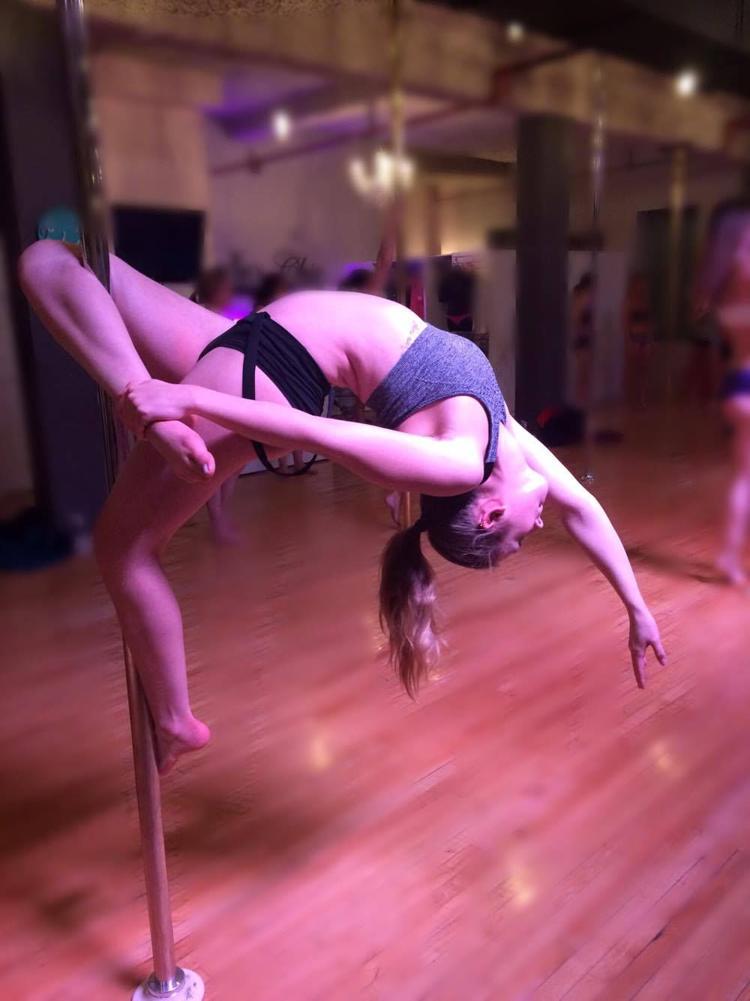 Emily Van Eerd's name is called over the speaker.
Under dim lights at Bay City Music Hall in Hamilton, over a hundred people watch. Emily takes the stage beside a silver pole. For four minutes, she tells a story through spins, flips and swings — she's pole dancing.
"My mom came to my first competition and cried. She loved it, and she's super accepting," Emily says. "My dad just jokes that he could do it better," she adds, laughing.
Only 10 months before, the third-year criminology and women studies student walked into a pole studio for the first time. Her passion sparked after a friend asked her to try a few free classes at London's Studio Chic. When the five free classes were up, she bought a membership.
"At first it was about exercise," Emily says. "My grades improved because I was out of the house, I was awake and I had so much energy. I just wanted to get my school stuff done, so that I could go and do pole."
In beginner classes, Emily says the first half is spent doing a workout to warm up your muscles and activate your core. The second half is when participants get to try tricks, like spins; the kind of stuff you imagine when you think of pole dancing. The class ends with more strength exercises. For example, studio goers can practice holding their body weight up on the pole.
But months into it, pole started to mean more to Emily than honing her athleticism. She played sports in high school, but her studio friends started to become a second family. Emily points out that anyone can have a conversation with you if you're a ballet dancer, but it's easier to talk about pole to people who already get it.
"When you're all doing something like that together, it makes for a very tight-knit family," She says.
So far she hasn't had a negative reaction from anyone. It helps that the pole community is made up of mostly young people and students. She says the odd time a real-life exotic dancer will join a class to learn new skills, but everyone is welcome.
"You realize there's nothing wrong with what they're doing and nothing wrong with what you're doing," Emily said. "It's super disorientating because it's the opposite of what you've learned."
While Emily only has one competition under her belt right now, this year she plans to dance at four competitions — the next one will be the North American Pole Dance Championships in Chicago in June.
For friends and other students who may be curious, she always says pole is worth trying once.
"I tell everyone you have to try it once because you definitely have expectations when you hear the word pole dancing, but it's not what actually happens in class," she says.
But for Emily, she has no plans to stop anytime soon.
"The more I do it, the more I want to do it," she said. "I can't see pole not being a part of my life at any point."