Most of us dreaded getting hand-me-downs, but third-year MIT student Jen Lee says she looks forward to receiving hers from the women in her family who share the same passions for fashion and vintage designer pieces.
It's incredible to hear the story each item of clothing holds, being passed through generations and across countries. Jen and her family of savvy shoppers have gathered a collection of pieces that perfectly demonstrate how looks can come back in style years later. 
In this look, Jen drapes a long line, open, romantic jacket over her more structured outfit. The sweater is flirty and fun as it sways down to her knees allowing body to her look.
The salmon colour of the jacket adds a pop of colour to the look and accentuates the Fendi label on her T-shirt. The shirt? You guessed it — a passed down item from her mother. Previously bought at a Fendi store, Jen's mom may have spent a little extra money on the simple shirt but it's proof that a designer piece rarely goes out of style.
Sticking with structure and functionality, Jen wears a belted pair of pleated shorts with the T-shirt tucked in. The shorts with the longer length of the sweater add dimension to the outfit. Throw on a simple or statement belt and it creates a split between two items blending together and looking like one.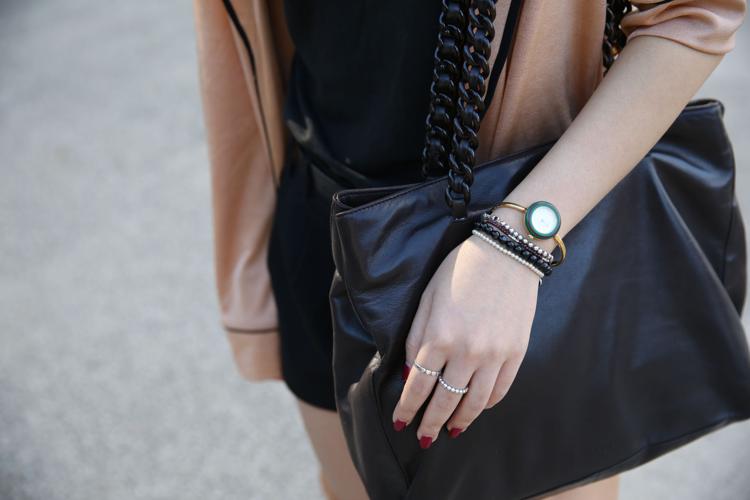 Jen's accessories are unique and stand out. Each piece has been passed down through generations and shared across countries like Korea, Australia and Malaysia with each carrying a story of their own. Pictured here is Jen's recently received bag from her grandmother. The purse is a vintage Prada, bought the same year she was born and gifted to her on her 20th birthday.
Are you moved by the stories, meaning and history each piece holds? Designer items aren't cheap but the women in Jen's family have proven you can get longevity out of an item with the proper care.
Want to give this look a try?
Sunglasses: MIU MIU.
Sweater: Zara. Also known as a pyjama style overshirt. Try aiming for long line sweaters and jackets, they look chic and trendy versus the regular torso cut.
Shirt: Fendi. If you don't own a time machine, don't fret. Designers such as Fendi always sell simple shirts with their name on it.
Belt: Cartier.
Shorts: H&M. These shorts are a great buy. Their boxy fit is all the rage right now because they can be dressed up and down, shirt tucked in or out. Possibilities: endless.
Bag: Vintage Prada. May hurt dishing out that kind of cash, but Jen's family proves it's worth generations of wear. 
Bracelet: Gucci.