It's a fact: every heartthrob bad-boy, from James Dean to Wolverine, is defined by their leather jacket and blue jeans. Rebel Without a Cause becomes 100 per cent less cool if you imagine Jimmy in a onesie the whole time.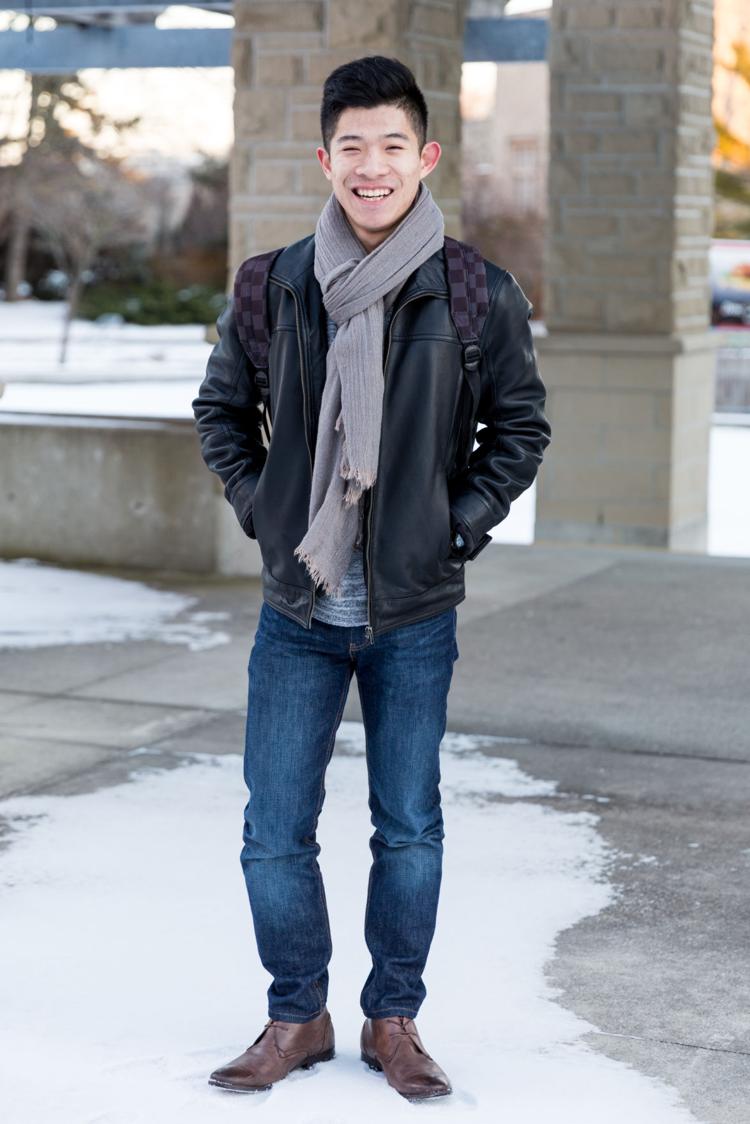 But thanks to the world of mass-manufactured retail, you can be a good student and still wear leather, even this late in the year. Second-year medical sciences student Yiming Lin blends streetwear with semiformal in his warm but stylish outfit.
Lin's jacket is his favourite piece, unsurprisingly, and it's versatile. It's a plain zip-up with a collar, which works well with his outfit — it's easy to overdo it with the bells and whistles. Opt for simplicity and let the leather speak for itself.
It's fairly unusual to wear a scarf with a leather jacket, but it works if they're both weather-appropriate. For example, a thick-knit wool scarf would look out of place, like wearing shorts and a parka, but Lin wears a thin, textured scarf here, so it matches the jacket seasonally. The light grey contrast with the black jacket draws the eye and makes it the centre-piece of his outfit.
Lin's sweater, in a grey marl knit, adds a subtle hint of textural contrast and patterning to the otherwise solid colours. Similarly, his backpack does the same thing in darker neutral shades of purple.
Slim fit blue jeans are a timeless classic and they look fantastic with brown leather shoes. The denim breaks around Lin's knees and ankles, called "stacking," adding some visual interest to the lower half and breaking up the uniformity. It's all a matter of preference; some people want a straight leg all the way down, others want those stacks everywhere.
Finally, Lin has on a sleek pair of brown leather chukkas. These boots are perfect for these early months of winter, before the snow reaches your armpits, because they let you preserve a slim, stylish silhouette while offering ankle-high protection from the weather.
"Dress for your body type," Lin advises. "I'm slender, so I keep my jeans slim, my shoes smaller."
WHERE TO GET IT
Shoes: Steve Madden. If you're brave enough to wear dress shoes out in this weather, be sure you treat them right — salt and snow will wreck leather like nothing else. A weatherproofing spray (different ones for suede and leather, remember!) will help out.
Jeans: Levi's. Slim fit jeans with tapered legs are very in and for good reason. They're perfect for anything from streetwear to business casual and they pair well with brown leather shoes.
Jacket: Danier. Who says you can't look cool in the winter? Leather is a great windbreaker, but not warm by itself — layering is key.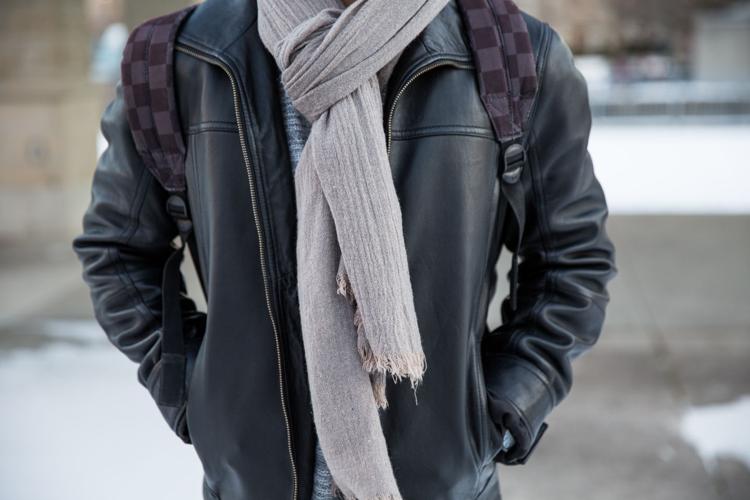 Bag: Herschel. Most err on the side of caution and get a solid, neutral bag, but it can also be used to add some patterning or colour to your outfit. Just make sure it all works together!
Scarf: This is from Lin's parents' business, Orient Silks. Unique pieces are rare in the world of fashion today, so they're always a prize. Plus, you're representing family, fam.