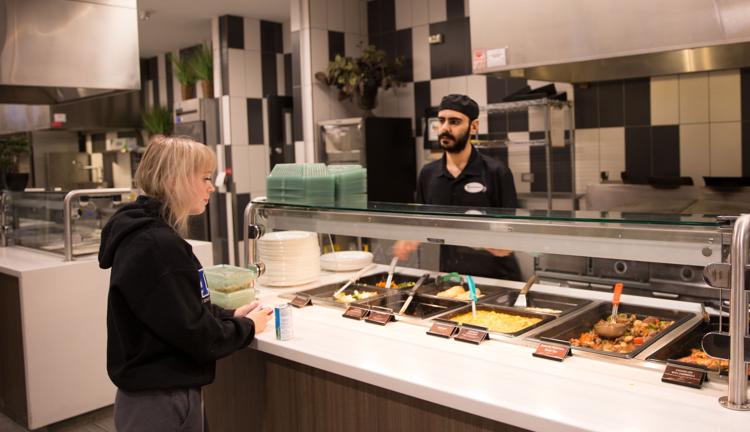 First-year medical sciences student Alexander Allegro sits with a group of friends in Saugeen-Maitland Hall's renovated cafeteria, sifting through couscous pilaf and cream of broccoli soup. So far during his first-year, he's made friends, enjoyed the independence of living away from home and become accustomed to life in the Western bubble.
However, there is one thing that the first-year dreads each day: coming down to the residence dining hall.
"Most of the time [the selection] is somewhat limited. The menu operates in cycles, and I've just gotten bored of it overtime," says Allegro. "Some options are good, but some I avoid."
According to a recent study conducted by Meal Exchange, a student advocacy group that focuses on food systems in Canadian universities, students are generally dissatisfied with the overall state of food across Ontario campuses.
"We looked at student satisfaction [in relation] to a bunch of different factors surrounding food including local food, sustainable food, healthy options and accessible food on Ontario university campuses," says Merryn Maynard, program coordinator at Meal Exchange. "We found that only one in two students were satisfied with food on their campus."
Maynard and her team have spent the past two years conducting surveys with 2600 students — including 100 Western University students — and campus faculty members across 21 Ontario universities in order to get an idea of what people value regarding food on campus.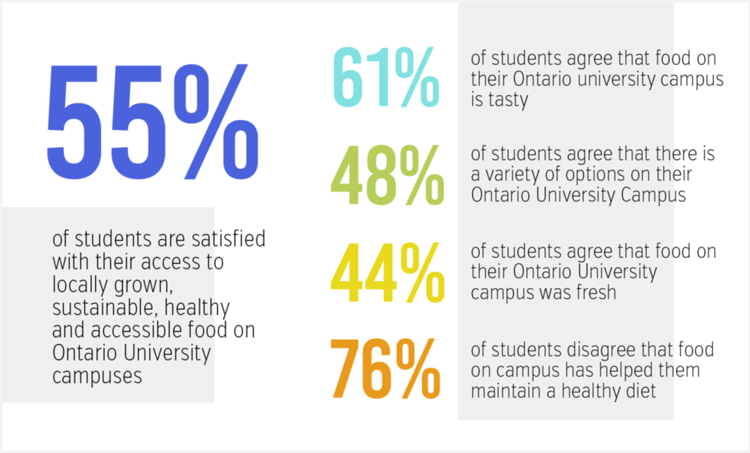 Maintaining a healthy diet on campus 
According to the survey, only one in four students feel as though food on campus supports a healthy diet.
Western's residence cafeterias operate on a six-week meal cycle that includes vegetarian, gluten-free and vegan options. According to first-year engineering student Jade Dekker, the cafeteria in Essex Hall does have a wide variety of options, but she usually steers towards the same meals.
"I feel like they try to fit in all five food categories, but if they can't make it good quality no one's going to want to eat it," says Dekker.
With that in mind, she believes that Western's Hospitality Services should value quality over quantity.
According to Peggy Wakabayashi, interim associate vice-president of Western's Housing and Ancillary Services, each dining hall strives to provide healthy eating options that taste good, but recognize that students also enjoy having comfort foods and snacks as well. 
"I think [the dining hall food] is pretty good considering the amount of people they have to make it for," says first-year criminology student William Mines, who lives in Saugeen-Maitland Hall. "I usually go for the stir fry and the burrito bar."
Residence's including Ontario Hall and Saugeen-Maitland Hall offer more then just hotplates, as they also include a customizable stir-fry bar and burrito bar for students to personalize their meal options. 
Going into the study, the plan was for Maynard and her team to rank the schools from best to worst based on student satisfaction. However, once Meal Exchange had embarked on the report, they realized that issues like a lack of healthy food options seemed to reflect students' opinions across all campuses.
Instead, they wanted to create an example out of schools such as the University of Guelph and Trent University, which are at peak student satisfaction for their locally sourced food products and educational social media initiatives.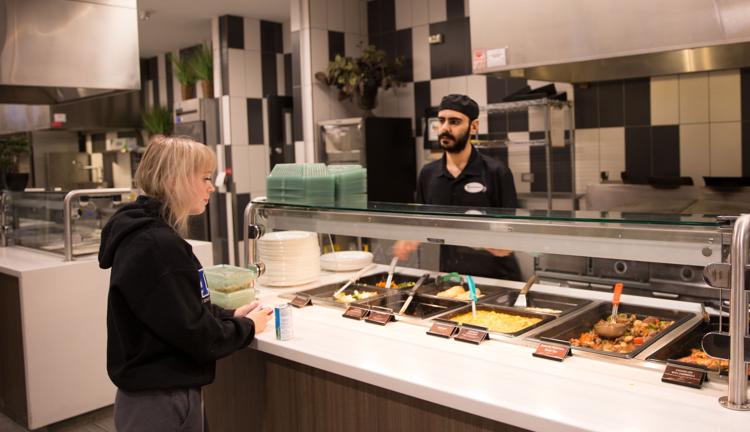 Local is better
Western did not fall completely flat in the report though; the university ranked eighth out of the top 10 campuses that made the list for student satisfaction on locally-grown foods.
According to Wakabayashi, 35 per cent of food at Western's residence dining halls is locally sourced.
"We purchase 100 per cent of our turkeys from Hayter's Farm in Dashwood, Ontario; our breads and buns are from International Bakery, a London-based wholesale bakery; our pasta and other Italian-inspired offerings are supplied by another London based partner, Capo Food," Wakabayashi says in an email.
According to a sustainability report conducted by Utah State University, locally-sourced food options can benefit the community and environment at large, since buying products from London's backyard can reduce food safety risks, support the provincial economy and improve nutrition.
"I think it's definitely important to bring local ingredients in," says EnviroWestern coordinator and fourth-year biology student, Kevin Irving. "Locally grown food on campus is important because it reduces the food miles from importing it from places such as Mexico or California. It also helps the local economy as we are purchasing from farmers in the area."
Local food is important to students across the province, since the report findings show that three in four students feel like local food on campus can increase their access to healthy options.
Looking ahead
Many undergraduates at Western think about food beyond just what is on their plates. According to the Global Healing Centre, food is connected to so many different things within our world: the environment, health, and culture.
That being said, it comes as no surprise that students like Allegro want to live out some of these principles by supporting local and sustainable producers that reflect nutritious values.
"I hope campuses across Ontario realize that in many cases, students are not involved meaningfully in food decisions on campuses, even though food impacts students every single day," says Maynard.
She believes the next step is to get students more involved with food initiatives on campus.
Undergraduates in residence can use the "TxtandTell" to give feedback on their dining experiences.
Although, with students like Allegro and Dekker feeling a strong dissatisfaction towards the cafeteria food in their dining halls, it is clear that Hospitality Services needs to refine the way they communicate with students more actively.
Western University has an incredible amount of power to be an innovative hub for research, and if their mission centres around student success, they should consider refining their options in order to appeal to students' needs: more local food and healthier options.
Inclusive and meaningful conversations seem to be the first step in creating a more nutritious experience for students. With a more refined meal cycle that appeals to student satisfaction, Hospitality Services can finally flip the switch to ensure student success.