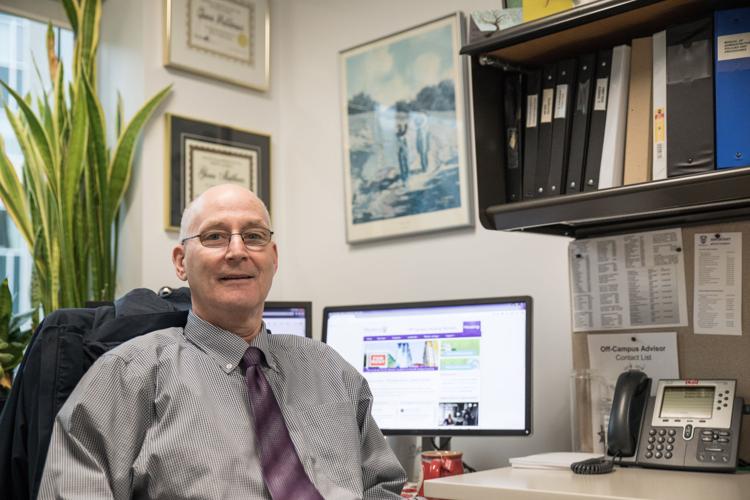 Glenn Matthews is the face behind Western University's off-campus housing. In fact, the housing mediation officer has deep roots with the university — Glenn has seen the community evolve for almost 40 years.
Glenn first came to Western as a student. He arrived in 1978, pursuing a double degree in public administration and political science. After being a residence advisor at Saugeen-Maitland Hall during his undergrad, Glenn transitioned into a residence manager position after graduation in 1982. He worked with the residence for six-and-a-half years before he moved into his current role in 1989.
Although work keeps him busy, outside of the job, Glenn is a sports enthusiast. He's an avid golfer and curler, a former hockey player and a huge fan of the Toronto Blue Jays.
"Since day one, I've always been a fan. I've gone to see the Blue Jays play in every stadium," said Glenn.
Glenn could say every stadium and more. To date, he's seen the Blue Jays play in 43 different stadiums. However, Major League Baseball is only played in 30 existing stadiums, meaning Glenn has seen the Jays play in stadiums that no longer exist. 
Talking about his time at Western, Glenn says that part of what motivates him as a mediation officer is his desire to help and engage students. Student life has always been important to Glenn, dating back to his third year as an undergraduate student. That year, Glenn worked as a residence advisor and became friends with a group of individuals on his floor. At the time, he didn't know that this would be the same group that he celebrates Homecoming with every year. 
"They're at the point where everybody is talking about retirement, which makes me feel old," said Glenn humorously.  
While reflecting on his time serving students through housing mediation, Glenn shared one of the most important lessons he's learned: patience.
"Because we're in a 'helping field,' you may want to rush to a solution, but you have to sit back and listen to everything," Glenn says. "Sometimes the real concerns don't come out in an initial discussion. You have to dig a little deeper and listen for other things that might be there."
Glenn says he's also faced many challenges when it comes to housing mediation.
"One of the things we try to work on are pitfalls that students generally go through each year," says Glenn. "It's a matter of trying to get across to students about what they need to be aware of when going out and renting in the off-campus world."
However, getting the message across to the many thousands of students who live off-campus is never easy for Glenn and his team. He says off-campus housing will get the message out anyway they can, using social media, like Snapchat or email.  
One of Glenn's proudest achievements so far is the creation of the off-campus advisor program, a group consisting of student employees who offer housing mediation services to students living in the community. The program has been running for 18 years and, to date, has won two provincial awards. 
"When a student comes back after they've dealt with a difficult situation, and they have thanked you because you've helped them with a problem, … I don't think there's anything better than that satisfaction," Glenn says.