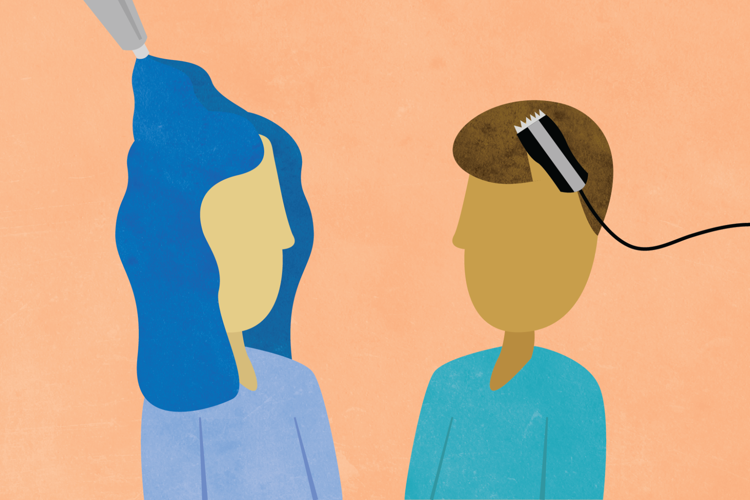 Three-year-old Charlotte loves waffles, tap dancing and the colour pink, and she would love nothing more than to go to Disneyland to meet her favourite princesses in real life. Charlotte also suffers from chronic lung disease.
This year, the Faculty of Health Science Students' Council's Dream Team will participate in Make-A-Wish's Go Blue! Go Bald! event. The Dream Team is made up of a group of inspiring students who work alongside Make-A-Wish to raise money for kids with life-threatening medical conditions. 
From Feb. 26 to March 2, students from different student councils across campus will dye their hair blue or shave their head to show support and help grant Charlotte's wish.
At the end of the month, the Go Blue Committee will have a Go Blue! Go Bald! awareness week booth in the University Community Centre and the Health Sciences Building to help fundraise and spread awareness for the fundraiser. The booth will have a wish fountain to collect donations, as well as bracelets, games and prizes. The event also has its own Snapchat filters to help raise awareness.
In addition to the awareness week booth, there will also be an inter-council competition during Go Blue! Go Bald!, in which 10 different councils will compete to see who can raise the most money throughout the week. Participants include the FHSSC Dream Team and the health sciences soph team. In total, each team needs to raise a minimum of $50 in student donations in order to be included in the competition. All the money raised will go to funding Charlotte's wish.
Those participating in the event will be wearing "Ask me about my blue hair" buttons as a way to start conversations about the fundraiser. Each team will receive a kit, which includes blue hair dye and blue hair extensions for the less brave. There will also be free haircuts offered at the end of the week for those who might choose to go bald.
"Let Charlotte's name and her story resonate with you, because every dime makes her time with us more and more special," says Mark Rukavina, a third-year kinesiology student and member of the health sciences soph team.
Julia Lenjosek, vice-president volunteer coordinator of Dream Team and fourth-year kinesiology student, has been a member of the team for the past two years, and before that, she was a volunteer for the Dream Team. She joined the Dream Team after seeing all the good Make-A-Wish had done. 
"We usually have speakers come in and talk about, not only the experience that the child gets from it, but also the entire family's experience," says Lenjosek. "It's amazing to know that you really get to make that terrible experience that the children are going through just a little better."
Rukavina shares in the excitement of how widespread the event is across campus. 
"I think we're most excited to see the amount of support from a diverse group of students, since causes like this can inspire anyone — all prejudices aside." says Rukavina.
There is a real person at the end of everything Make-A-Wish does, and this fundraiser to help grant Charlotte's wish is a perfect example of that.               
Find the Go Blue committee in the UCC on Feb. 26 and March 2 and in HSB on Feb. 27 and March 1 to learn how you can donate towards Charlotte's wish.