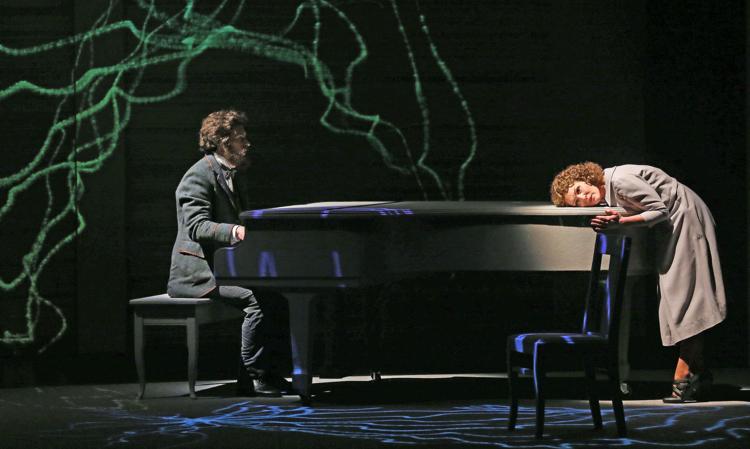 London's Grand Theatre is home to a world premier with Canadian playwright Trina Davies' latest show, "Silence."
Premiering on Jan. 19, this is the first production to be a part of the Grand Theatre's COMPASS New Play Development Program.
This development aims to produce new content specific to Canadian heritage for the Grand Theatre. By premiering new shows, the company hopes to bring a renewed sense of engagement to the theatre community in London.
"Silence" follows the true love story of inventor Alexander Graham Bell (played by Graham Cuthbertson) and his wife, Mabel Hubbard (played by Tara Rosling), who is deaf. Both Bell's mother (played by Catherine Joell MacKinnon) and wife are a part of the Deaf and hard of hearing community, so the actors use sign language as part of their communication. The story is told through Mabel's perspective and plays with the idea of sound and varying degrees of deafness.
The idea, that stemmed from late dramaturge Iris Turcott, sent playwright Davies to read all about the Canadian inventor. The Grand Theatre dedicates the premiere to the London born dramaturge. In a press release for the Grand Theatre, Davies explains that through her research she became interested in Mabel as a character: "She was an extraordinary person who captured my admiration and imagination."
Davies uses this idea of deafness to pose a question of connection and communication, "So much of what is understood has nothing to do with the words that are used but is communicated in a look, a touch, a gesture, the positioning of a shoulder. How do we connect? How do we stay connected?"
"Silence" discusses different ideas of communication. The beginning of the second act features a scene in which Mabel, who gradually gains her deafness, places her head on the end of a piano in order to hear Alexander play a classical Chopin piece. The audience experiences the music as Mabel would; the audience hears the noise it becomes when she removes her ear from the instrument.
In his director's notes, director Peter Hinton explains that this is not a play about disability.
"When Mabel Hubbard gained her deafness, she discovered in herself untapped resources and skills, and a creativity and power that many women of her social class and standing never would," Hinton states. "Perhaps it was this genius that Alec [Graham Bell] fell in love with."
The cast features actors who are members of the Deaf and hard of hearing community. These actors add authenticity to the performance that aims to tell the stories "from the perspective of people who are not part of the majority" as Davies states. Actors are supported by American sign language to English interpreters Rosalie Vissers and Jude Thomas.
The Grand Theatre features ASL interpreted performances on Wednesday, Jan. 24 and Sunday, Jan. 28. Open caption performances are also available Friday, Jan. 19 and Saturday, Jan. 20. Open caption shows feature a screen and real-time captions of dialogue and sound effects for those who are hard of hearing. The Grand Theatre provides these services and other accessibility accommodations for shows throughout the year.
English students at Western University taking the English course "Creativity and the Local" worked with the Grand Theatre leading up to the performance. The Grand Theatre is offering English and writing studies students a discounted ticket for the matinee Jan. 24.
The show runs from Jan. 19 to Feb. 3 at the Grand Theatre in London, Ont. More information can be found on the Grand Theatre's website.