Entirely fair trade, organic and plant-based meals at the Ground Up Organic Café make it a triple threat, with a variety of goods attracting vegans and non-vegans alike.
The colourful walls accented with artwork, potted plants and bowls of fresh fruit give the new café an Instagram-worthy aesthetic with an equally colourful menu to match.
Ground Up proves that eating a plant-based diet doesn't mean having to compromise on taste; they serve everything from creamy lattes and loaded breakfast burritos to chili "cheese" potato bowls, rainbow wraps and doughnuts.
"Everything in here is 100 per cent vegan," says owner and Western grad, Steve Loney. He explains that Ground Up, which opened January 12, started thanks to his own journey towards healthy eating and environmental awareness.
"I've always considered myself an environmentalist but I never realized that 50 per cent of my carbon emissions come from the food choices I was making," says Loney. This makes up one of the three pillars that drives Loney and many others to maintain a plant-based lifestyle: personal health, the health of the planet and the health and well-being of animals.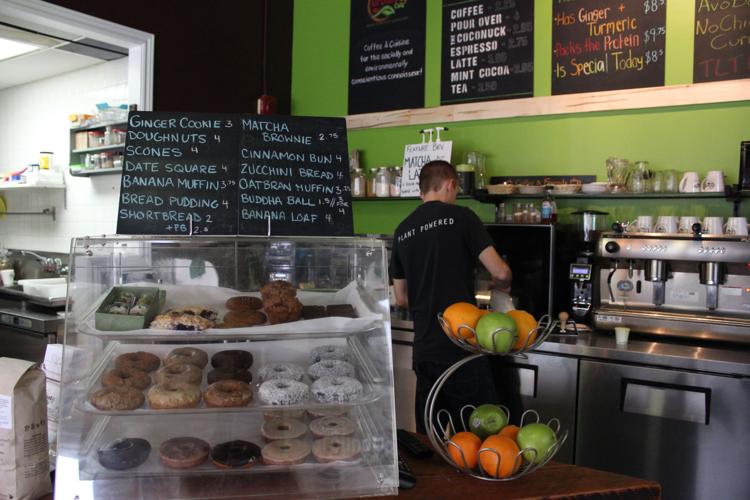 Compassion for all living things is at the root of everything Ground Up does: making smart food choices, reducing waste and sourcing ingredients as locally as possible.
"I believe strongly in the organic process," Loney says. "It's a lot less harmful to farmworkers than traditional farming or industrial farming."
Along with being organically sourced and plant-based, the café restricts processed foods in favour of freshly-made goods from real ingredients.
"Our end goal is creating a delicious meal that is wholesome and full of flavour," says chef Andy Paquet. "The vegan cheese sauce is actually a potato, carrot and cashew base," he says of their popular topping. Ground Up also makes fresh cashew milk, English muffins and guilt-free sweets among their line up of goodies.
Paquet explains that many of their ingredients include healthy fats from nuts, chickpeas and avocados because of their benefits for the brain, body and palette. Acknowledged as the "mastermind" of many of Ground Up's dishes, Paquet works hard to create fresh meal options.
"At the end of the day, we serve healthy food that's affordable, 100 per cent organic and accessible for everybody," says Loney. His goal of making available vegan meal options that are equally enjoyable for non-vegans is coming to fruition.
The Ground Up Cafe is located at 717 Richmond St. It's open Monday to Thursday 7 a.m. to 8 p.m., Friday 7 a.m. to 9 p.m., Saturday 8 a.m. to 6 p.m. and Sunday 9 a.m. to 4 p.m.