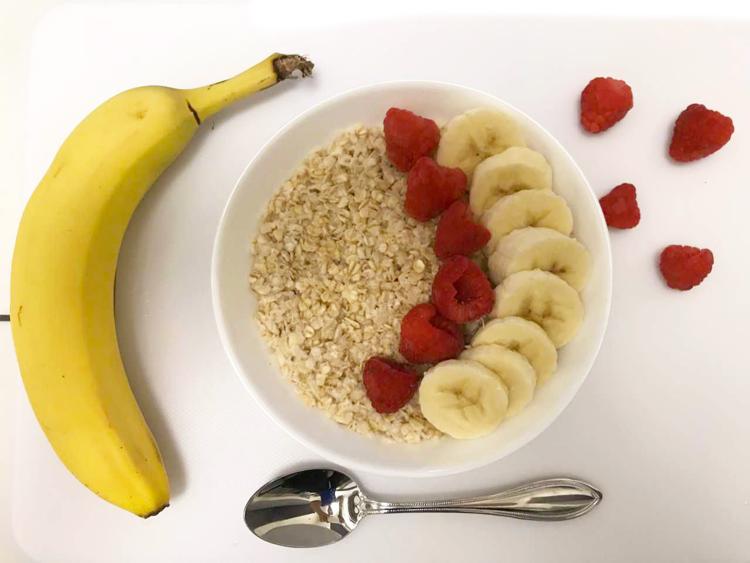 People often warn you of the "freshman 15" in your first year at university, but what they forget to tell you is that it can extend into your upper years if you don't develop healthy eating habits once you're living off-campus.
Eating healthy can be difficult as a busy student, but now that you've moved out of residence and no longer rely on cafeteria food for survival, having a few go-to, healthy and easy recipes will keep your health on track — and save you some money, too.
Breakfast
Oatmeal
Oatmeal is a great source of fibre that will keep you full and energized throughout your morning classes. Plus, it's super easy to make. You can make your oatmeal with hot water or milk and add some extra ingredients to give it flavour. Cinnamon, honey, peanut butter, apples, berries and maple syrup are just a few things you can add to liven up your oatmeal. How does warm, apple cinnamon oatmeal sound? Delicious.
Omelettes
Think about throwing leftover veggies into a pan with some eggs or egg whites to make an omelette. Omelettes are great because they're protein-filled and simple to make. Also, adding veggies to your breakfast in the morning is a great start to a healthy day.
Smoothies
Smoothies are quick meals you can make in a matter of seconds. Fruit-based smoothies with bananas, berries and kiwis, for example, are delicious and will save you from spending money on Booster Juice. Purchase fresh or frozen fruit at your local grocery store to put in your smoothies. You can also include spinach, protein powder, peanut butter, yogurt or milk in your smoothies.  
Lunch
Sandwiches
Sandwiches are another go-to for busy students. All you need is two slices of bread and some toppings: easy enough, right? Ham, veggies, cream cheese, sliced cheese or peanut butter and jelly are just a few of the things you can use to make sandwiches. Consider swapping white bread for whole-wheat or multi-grain bread to make your sandwich that much healthier.
Salads
Boring? They don't have to be. From Greek salad to fruit salad, there are lots of ways to make your greens fun, interesting and, most of all, healthy. You can prep salads for the week at home and pack them in containers. You can also make your own salad dressing with olive oil, lemon and seasonings.
Stir fry
Stir fry is a great way to put your leftovers to good use and pack protein into the meal. You can make the base of your stir fry with rice or noodles and then add your preferred type of protein, whether that be chicken, beef or tofu, anything works. You can also throw in veggies, beans and nuts into the mix. Top off the stir-fry with some low-sodium soy sauce or hot sauce, and you're good to go.
Dinner
Pasta
Pasta might be one of the cheapest meals to make, which is definitely a bonus for a student on a budget. Move away from unhealthy Kraft Dinner and instant-noodles by purchasing low sodium pasta sauce and whole-wheat noodles. You can also use spaghetti squash instead of noodles; it's cheap, healthy and tastes great.
Chili
Chili can be made for vegans, vegetarians or meat-eaters, and it doesn't require too many ingredients besides a few different spices. Some of the few ingredients you'll need to make chili are diced tomatoes, pasta sauce, onion, garlic, olive oil, red kidney beans, veggies and some spices like cumin, cayenne pepper and chili powder. There's lots of room to add new things into your chili, like quinoa or plain Greek yogurt.
Burrito Bowl
Enjoy your burrito bowl from the comfort of home by making it yourself. Some key ingredients to make a burrito bowl are rice, beans, tomatoes, lettuce, cheese and some kind of protein like meat or tofu. The best thing about making burrito bowls at home is that you don't have to pay extra for guacamole.
Having a few healthy recipes in the back of your mind when you start cooking for yourself next school year is a great way to avoid adopting unhealthy eating habits and spending tons of money on delivery services. Healthy eating is important, and it's even better when it's easy.