Many big-name celebrities like the Kardashians are always seen decked out in the latest trends and wearing the most innovative outfits. It is inevitable that we tend to look towards them for inspirations for our everyday looks, whether we like it or not.
We can often feel torn between looking as great as they do and dipping into our savings account. Fear no more: it is possible to look like a million bucks on a student budget.
Jenny Gilbert, second-year criminology student, shows us how she looks fashionable on-campus on a budget. Her favourite fashion icon is the beautiful Gigi Hadid. Jenny can't help but be inspired by Gigi's street style to recreate her looks for less.
Shirt dresses are in. Lately the fashion world has made it acceptable for one to walk out of their house wearing their boyfriend's clothes top to bottom. This loungy casual look has been a girl's safe haven recently, allowing us to ditch the tight, restricting clothing and finally let us be comfortable.
Thigh-high boots make it appropriate to wear shirt dresses in public by creating the illusion that the shirt dress is longer than it may actually be. The high-cut boots cover the majority of the legs thus the reality of 'lack of clothing' is disguised. You may recall that Kourtney Kardashian is notorious for wearing a men's size large sweatshirt and thigh high boots — and yet she pulls it off.  
Jenny's favourite piece is her neck scarf. A silk neck scarf alludes to a luxurious look often seen on your favourite celebrities. The minimalist accessory not only looks expensive but also transforms your outfit from basic to now fashionably different. 
Of course, lastly, throw on your favourite long line coat. You wouldn't look like your favourite celebrity and be able to recreate their street style without statement outerwear. When in doubt, always layer.
All of Jenny's pieces are at an affordable price — if you listen closely you can hear student wallets rejoicing. She advises aspiring re-creators to shop affordably. This entails going through big department stores like Forever 21 and Winners. Shop smart and look around for good deals.
More often than not, stores like Forever 21 get their style inspiration from big designer labels and recreate them at an affordable price. So if you are patient enough and wait it out, that same coat Gigi Hadid wore last month will appear on the rack of your favourite department store — after all, that is the life cycle of fashion.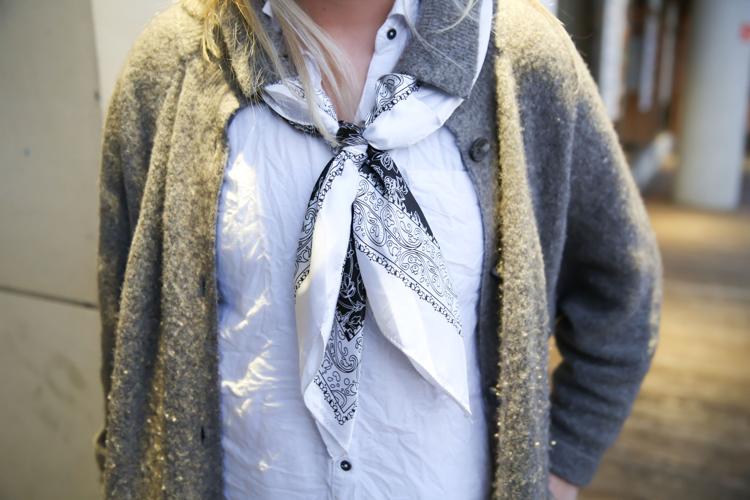 Where to get it:
Boots: Steve Madden. The price may see a little steep despite the fact that a pair of Stuart Wiseman's boots may be $900. Check Aldo or UK Website Public Desire for boots under $100.
Dress: Abercrombie. Relativity cheap priced at under $30, but if you can't justify that for a plain white shirt, look at Forever 21, H&M or even your dad's closet!
Sweater: Aritzia. If you want a well-made coat and are willing to dish out some extra cash for the investment then shop Aritzia. If you are just buying for the look and could care less for quality, shop Zara or even Urban Behaviour.
Scarf: Aldo. You could buy hundreds of Aldo's neck scarves with the money you would spend on one Gucci silk neck scarf.