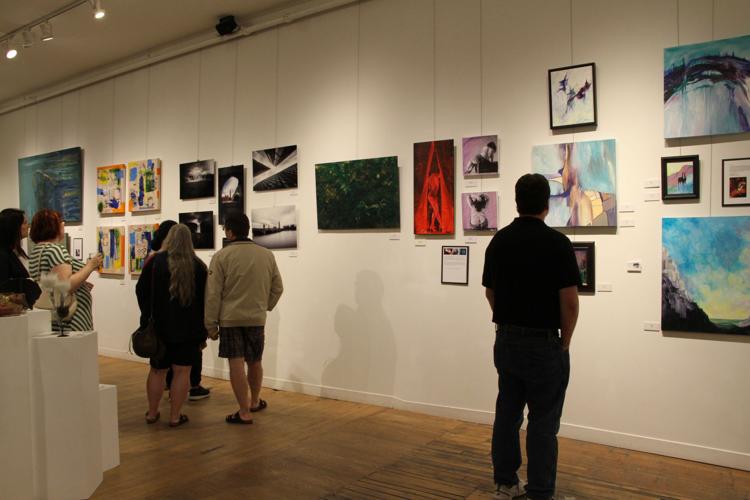 "Diversity to me is colourful," says Faras Gebreyesus.
The VisualFringe volunteer and youth member of the Cross Cultural Learner Centre gestures toward a large painted canvas displayed at the entrance of The Arts Project gallery. It's covered in images of birds, fish and words that gallery visitors have added throughout the VisualFringe opening night.
The participatory painting is meant to spark discussions of diversity. It's a theme that reappears throughout the evening.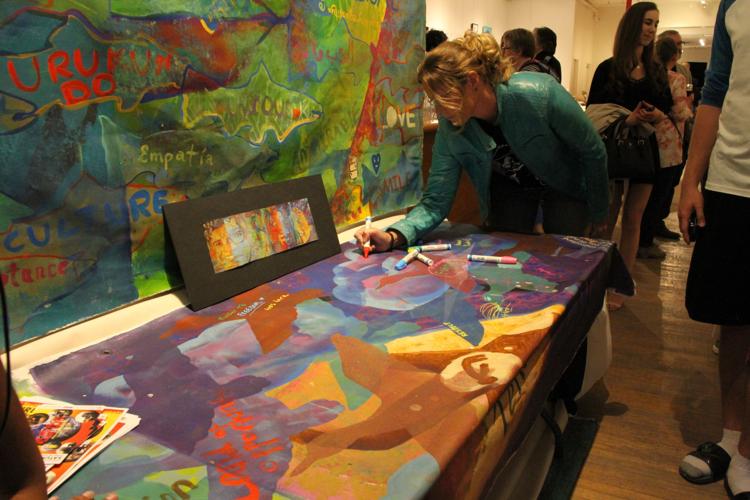 VisualFringe Coordinator Christine Gruenbauer explains that the 23 artists involved in the show were chosen at random. The vast variety of photography, sculptures, drawings and paintings are a testament to the each artists's differences and individual points of view.
"Anyone can enter and we draw names from a hat pretty much," she says. "We don't want to limit any creative expression."
Gruenbauer observes the atmosphere of the event as enthusiastic, interactive and supportive which anyone standing in the room would likely agree with. 
While some of the artists have been involved with Fringe before, for others it's their first time. Joining the mix of emerging and established visual artists involved is artist Jenny May.
It's only May's second time exhibiting her work to the public, but the Fringe community has inspired her to step out of her comfort zone.
"It's been great because it allows you to sort of be a little experimental, and you don't have to be totally perfect," she says. May's mosaics on display use repurposed material to discuss imperfection and create something beautiful out of unwanted items.
May's open-minded approach to art making, alongside the variety of works exhibited in the gallery, reflect the Cross Cultural Learner Centre's diversity painting project — an art project created by roughly 60 immigrant youth at the CCLC and a cornerstone piece of the show.
The Art Project's partnership with the CCLC is a welcomed addition to VisualFringe. The space is transformed not only into a night of art and free food, but into an incubator for meaningful discussion and acceptance.
Cross Cultural Learner Centre youth program coordinator Melanie Schambach explains that the intent of the piece is to invite youth from all backgrounds and cultures to express their stories and voices together through different art mediums.
"The painting has been collecting messages about how people connect to diversity, how people understand diversity and inclusion," Schambach adds.
For Schambach, this means further opportunities for the youth at CCLC to integrate with the London community.
"For me, diversity means being able to walk in the world with equal opportunity, being seen and being heard and being valued," she says.
VisualFringe is on now at The Arts Project until Saturday, June 10.