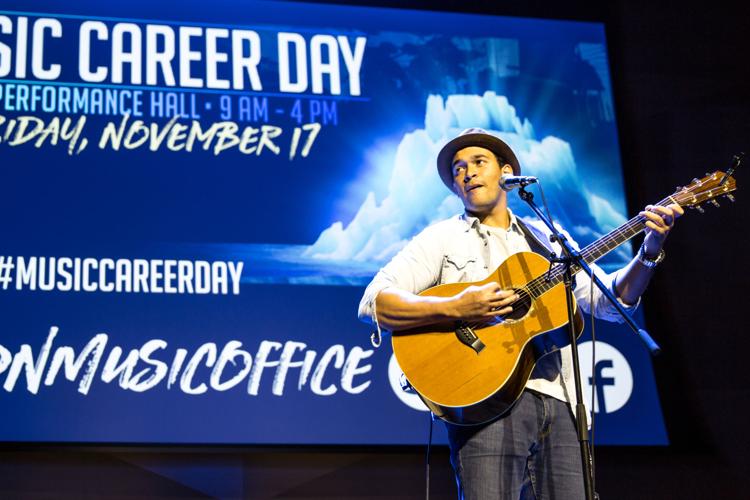 London Music Office hosted its first-ever Music Career Day at Wolf Performance Hall last Friday, highlighting the paths available in the business from a mix of industry veterans.
Looking at the possibilities 
Vel Omazic, executive director of Canada's Music Incubator, set the tone for Music Career Day by emphasizing the idea that the industry is more than just a creative outlet: it's also a business.
The entrepreneur talked about a wide variety of jobs within the industry, putting emphasis on music business managers, graphic designers and content creators, songwriters, music engineers, technicians and merchandise managers, to show there are more opportunities to work in the business than simply by being a performing artist.
"The artist is the tip of the iceberg, but look at all those careers available to you," explained Omazic. "Both on the business side and creative side."
By providing students with this information, Omazic made it clear that making it big in the music industry does not have to be an accident. If one can make a career plan, the possibilities are endless.
"One of the biggest things I took away was music supervision," said Patrick Clark, a third-year popular music student. "It's super lucrative and not a lot of people know about it."
Music marketing for music makers
In the 21st century, every form of business requires promotional campaigns, and each musician should have a strong marketing skills if they want to thrive within the industry.
The event provided students with the opportunity to hear from a panel of some of Canada's most successful music marketers who discussed networking opportunities and strategies for pinpointing a target audience.
"We are looking for artist who are interested in promoting themselves," said J.L. Cotter, marketing coordinator at Dine Alone Records. "You don't want to make people think you're selling out, but that's what you have to do now."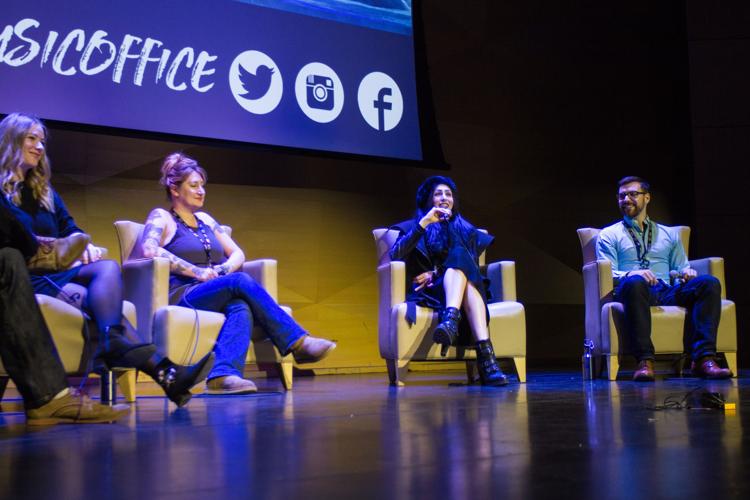 How to make it in song
"I worked basically for free for the first eight months." That's how London DJ and producer Khardiac describes the beginnings of his career as an artist. The first panel of the day emphasized that if you want to make performing music your career, you have to be dedicated above all else.
Every artist needs to stand out to be successful. Manager Matt Powell equates your personal brand to your equity. At the same time, in many people's pursuit of music as a career, an idea that's often lost is that it is a business like any other.
"It's 90 per cent relationships," said Powell. "'Kill or be killed' is so dated. It's much easier to win together than it is to be your own little island." He then encouraged everyone in the audience to shake each other's hand.
There was also plenty of discussion on the changing technological landscape of the industry. Khardiac noted that record sales are generally down due to internet piracy. Dayna Manning, a singer and producer, has begun to reanalyze her business, as her income mostly comes from live shows rather than records.
Music in film, television and radio
If you've ever fallen in love with a song you found flipping through radio stations or watching a movie, then you probably have people like these panelists to thank.
Sean Sutherland of ole publishing and Julia Train of Musicians' Rights Organization of Canada essentially make sure that musicians rightly get all the royalties they deserve. Dondrea Erauw works with Instinct Entertainment to license music in film, TV and other media, while India Corran and RPMpromotion put artists on the radio.
"Everyone is saying radio is dead," said Corran. "But really it's not. If you want the biggest exposure then it's still the best way."
Much like the performance of music, the business side has been changed greatly by digitization. Corran notes that she'll first check the social media of any indie artist that approaches her. Sutherland also spoke about the ever-changing legislation regarding royalties and the opportunities that arise from that.
"YouTube has to pay royalties now. So we created a whole new digital department and the business is just insane. There's new hires every few weeks it seems."
Artist Accelerators put the focus on the nooks and crannies of the music industry, showcasing an alternative route for the passionate hopefuls.
The event also featured performances from Khardiac, Carly Thomas and Chad Price. It seemed many attendees took something away from the event.
"It's really helpful to see the different areas of the music business come together," said Kianah Dames, a third-year media, information and technoculture student. "It was nice to put a face to what I want to do."
It's also looking likely that the day's inaugural Music Career Day won't be the last.
"I'm sure we'll do this again next year. This was the first step," said Cory Crossman, music industry development officer for London. "We'll definitely see it grow."