School can be an intimidating place to debut your boldest pieces no matter how much you love them. Don't silence your inner fashionista any more; wear your statement pieces with confidence by following these easy tips from fourth-year MPI student Monica Scaglione.
Everyone should try to embrace at least one statement piece into their outfit everyday, no matter the occasion. Whether it is a piece of jewelry, a purse or a snazzy pair of shoes, it can make all the difference. Statement pieces separate you from the monotonous repetition campus fashion can fall into. You can start your pursuit by looking for unique pieces when shopping.
Monica preaches, "If you like it, buy it, even if you don't have anywhere to wear it, buy it and you will find an occasion to wear it."   
Monica likes to let her settings inspire her look.  Whether it is her location or the weather, her outfits are always a representation of what's going on around her. This kind of adaptive fashion sense is also how she remains current with what's in. Considering winter is nearly upon on us and temperatures are dropping you will find Monica incorporating more dark tones into all her outfits.
Featured here is Monica's favourite piece and also one of the statement items of her outfit. Evidently her outfit has a lot going on — there's layering, metallics, accessories and several different textures — but it works. She uses consistent themes such as maintaining the dark tones by working with black and gun-metal silver.
This grungy yet chic look is not all that hard to recreate. Start with deciding what your designated statement piece will be for that day. Monica chose her distressed moto-style pants. Build your outfit by pairing simple items like a plain top, such as a turtleneck, to avoid stealing focus from your statement piece. All items, such as your layers and accessories, should compliment the statement piece. Notice how Monica's pieces all flow together, complimenting one another. Individually the pieces may see bold and out there, but together the look blends seamlessly.    
To finish her outfit, Monica throws on a gorgeous Italian-inspired pair of pen-leather Oxford shoes. They have a clean, sophisticated look about them and finish the outfit nicely. Her purse, also Italian inspired, is accessorized with a fun pom-pom accessory attached that matches with her consistent colour scheme. Note that her accessories featured here are inspired and purchased from her travels in Italy which makes the pieces unique. Each piece has an associated memory and a story that follows. Although imitations of the items may exist they will always remain one of a kind. Let your experiences inspire your fashion taste and tell a story as you wear them.
So, thinking of trying this look out?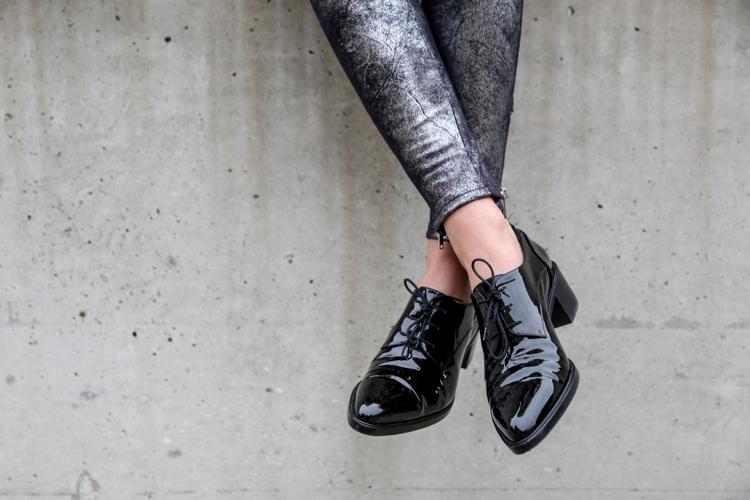 Where to Get It:
Pants: Zara. These pants have so much detailing going on, they will no doubt transform any outfit from being dull to fun. 
Turtle Neck: Mendocino. A simple canvas and a basic must-have piece.
Jacket: Aritzia. This jacket serves the sole purpose of achieving that layering look, it adds dimension and flare.
Top Jacket: Je suis. Thick and textured, balancing the look of the skinny pant leg to make your outfit look not so flat and linear. 
Purse: Patricia Nash. This one-of-a-kind purse is from Italy, but don't fret! You can find a look-alike at Zara where they carry European-inspired looks at an affordable price.
Shoes: Fratelli Rossetti. Oxfords come in many different textures, colours and styles. Find the one best for you; they are an unique looking shoe that can take some getting used to, but paired with the right look you'll be looking fashion forward.