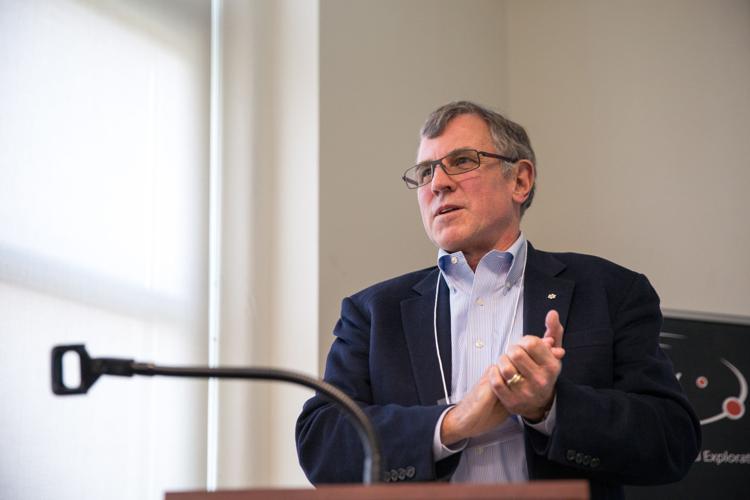 At some point, we've all dreamt about what it would be like to go to space. Just the thought is exhilarating. But retired Canadian astronaut Dave Williams actually knows what it's like to be among the stars.
In 2007, he was the third Canadian to perform a spacewalk which is the time spent outside a spacecraft. But by the end of his flight, he had performed three spacewalks, totalling 17 hours and 47 minutes, which still stands as the longest combined spacewalk by a Canadian.
@AstroDaveMD talks the possibility of life on Mars at @westernuCPSX's #SpaceDay pic.twitter.com/xceWiTTkCy

— Shauna Ruby Valchuk (@shaunavalchuk) April 6, 2018
Williams was the keynote speaker of Centre for Planetary Science and Exploration Western's Space Day on April 6. He is a self-proclaimed exploration scientist; he doesn't believe that he is just a doctor, a neuroscientist or an astronaut, but rather a combination of all three.
Going to space has always been in the back of his mind. It all started when Williams was just seven years old and he dreamt of being an astronaut.
"It's the kind of thing where you sit back and you think, wouldn't it be incredible? Wouldn't it be amazing," Williams says during his keynote speech. "Being an astronaut starts the moment you think about wanting to become an astronaut."  
In 1992, the Canadian Space Agency was making its second round of recruitments for its astronaut training. That's when Williams applied and was hired, alongside Chris Hadfield, Mike McKay and Julie Payette.
After his interstellar career, Williams went on to publish children's books about space exploration.
These books include To Burp or Not to Burp, Go For Liftoff!, Mighty Mission Machines and Destination: Space — all novels that hope to get children into science, technology, engineering and mathematics, without actually using the word STEM. During his speech Williams discussed heavily the importance of educating children about advancement in space exploration since they're the next generation to go to space.
Encouraging a career in space continues after childhood and well into post-secondary. He refers to being an astronaut like "being a graduate student for the best scientists in the world."
But it's not as easy as dreaming.
"It does require patience, persistence, resilience," Williams says. "I remember one time being the only person in the library at 11 p.m. on a Saturday night. If you're willing to commit really, really hard, it's amazing."
In order to get undergraduate students excited about exploration, Williams has helped develop a space physiology course coming to Western.
"What I've learned, in all sincerity, over the course of my career is anything that's worth doing is hard to do," Williams says. 
There may be ups and downs, but to Williams, it's what we do when we're not succeeding that determines if we will succeed. Williams hopes we stop saying "impossible" and start saying "what would it take." 
Dave Williams' autobiography Defying Limits: My Life as an Astronaut, Doctor, and Explorer comes out this fall.