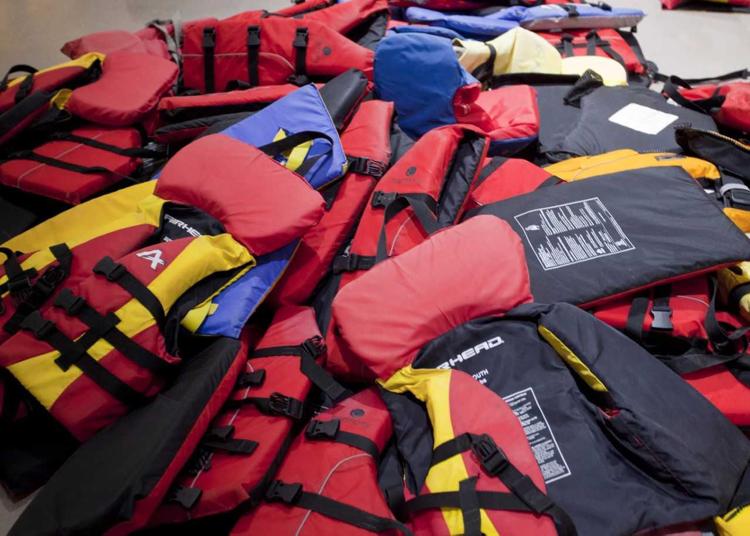 It's easy to forget that we all experience sound differently. "Silence, Pressure, Noise," McIntosh Gallery's newest exhibit, strives to remind us of the factors that impact how we understand our surroundings, focusing on the faculty of hearing.
The exhibit showcases four artists who take a unique approach on the topic of sound and understanding: Christine Sun Kim, Christof Migone, Darrin Martin and Rehab Nazzal. Toronto-based curator Vicky Moufawad-Paul explained that although these artists differ from one another in their approach and use of materials, their works comes together in the gallery to create an immersive exhibition that underscores the subjectivity of sound. 
"I'm interested in the way that we hear, in the way that we communicate and in the way we translate," Moufawad-Paul stated. 
Kim, an artist who has been deaf since birth, explores sound in the context of translation and understanding. For her piece, "Close Readings," the artist invited four of her friends to type captions and sound cues for a 25-minute video. Each person interpreted and captioned the video differently, highlighting the subjectivity of hearing and understanding. "Close Readings" will feature four monitors, each displaying the video with the captions assigned to it.
Martin's piece, "Listening In…"  also revolves around the element of video. Martin's piece is inspired by Charles Graser, a man who lost his hearing as an adult and underwent over a dozen surgeries for cochlear implants. 
"Martin uses Charles Graser's archives; he uses animation, reenactment and an interview with Graser himself to create an immersive environment," explained Moufawad-Paul. "It gets you to think about the problems with articulating personal experiences of sound through spoken word, text or sign language."
Migone's work, "4 Feet and 33 Inches," is an adaptation of a musical piece composed by John Cage titled 4'33" (Four minutes, thirty-three seconds). The original composition was written in three movements, and it instructed musicians to perform silently, neglecting to play any music during all three movements. The goal was to remind audience that any and all sounds can be interpreted as music, reminding audiences to listen to the performers themselves — even their shuffling and coughing.
Migone takes Cage's idea and materializes it in the form of a sculpture, a series of white neon lights that is four feet and 33 inches long. The light renders Cage's composition in two distinct neon forms: the geometric figure of an ellipse and the form of an ellipsis, indicating that something is missing or has yet to come.
Palestinian-born artist Rehab Nazzal uses both audio and visual elements in her piece "Haifa Then and Now." The piece features 200 life jackets scattered across the floor as well as field recordings from Haifa Port: the sound of waves and crashing water resonating throughout the gallery. The installation reflects the disaster that occurred at Haifa Port in 1947 when roughly 72,000 Palestinians were forced to flee the city and take to the sea, but it also encourages audiences to think about the prominent refugee crisis occurring today.
Moufawad-Paul explained that though we have access to the sounds of Haifa Port today and to visual cues that can remind us of it, we will never have access to the audio from 1948, leaving something to be desired.
"There is something lost in translation, as the cliche proclaims, but also many things gained" she stated.
The exhibit will be on display until Jan. 13, 2018.
Editor's note (2:48 p.m.): Moufawad-Paul's statements have been updated to clarify her thoughts on the exhibit.