Brits have been going out for a "cheeky Nando's" for years and while Canadians may never know the true meaning of that expression, the food itself needs no explanation. 
Opening today at Masonville Place's new expansion, Gazette editors got a sneak peak of everything Nando's had to offer. The event saw them serve from a menu inspired by their famila share platter. The food came out in a constant stream, with small samples each time. 
As we snacked on some well-seasoned nuts and others at my table sampled olives (who likes olives?), a separate table was set up to make your own peri-peri sauce. With a mortar and pestle, we combined lemon juice, peppers, salt and a few African bird's eyes chillis. It tasted nothing like the actual sauce and because I was feeling zesty, I added too many chillis and burned my mouth for a minute — but I suppose that was fun.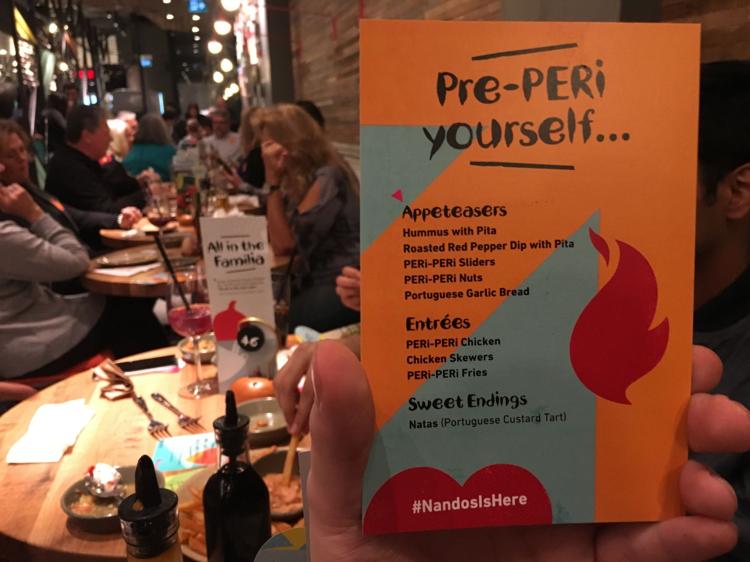 The highlight of the restaurant is the chicken. By itself, it's juicy and rather flavourful. It would be hard to find better chicken made at a chain or fast food restaurant. Of course, you're not meant to eat the chicken plain.
Adding their signature peri-peri sauce is crucial to enjoying Nando's. It comes in five heat levels: lemon and herb, garlic, medium, hot and extra hot. Each one is packed with flavour; a little sweet, a little tart and ripples of spices add to the natural taste of the chicken.
Peri-peri sauce is pretty versatile and works well with most things. I found myself dipping my bread and fries in the sauce. 
Speaking of the sides, the Portuguese garlic bread that we started with was great. While it might be a little buttery for some people, everyone seemed to be a fan. Sure, in the great restaurant bread race, Red Lobster cheddar bay biscuits rein supreme — but what could really knock them off the top?
The restaurant atmosphere plays into the spicy character of Nando's with bright colours sprinkled throughout the accents and fixtures. When I walk into a restaurant, I like when it has a distinct character without going overboard — Nando's fits the bill. 
Nando's fell behind in the drink game though. Their sangria on tap tasted rather strange. At first it tastes like typical sangria but after a few seconds in your palette, the aftertaste comes in strong. Someone identified it as a beer-like taste...in sangria. Truly bizarre.
Speaking of further disappointments, a British friend told me about bottomless frozen yoghurt. How exciting is that? The correct answer is very much so. Sadly, the machine was out-of-order. 
"Didn't it just open?" asked someone at my table. Sad.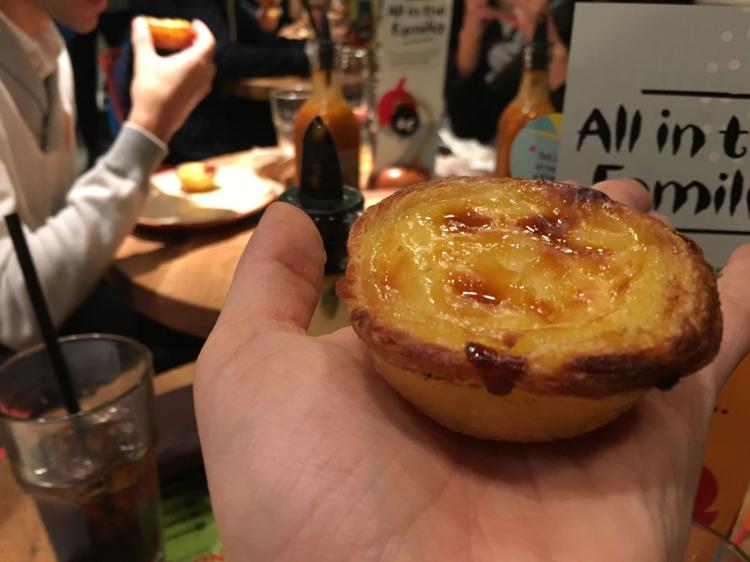 Things picked up in the dessert department when we were treated to natas — a traditional Portuguese custard tart. It was both rich and creamy but the flavours weren't overwhelming like you might find in a particularly decadent brownie. There was crunch, flakiness and light. A fantastic dessert.
Pretty much every piece of food was packed with nuanced flavour. From the chicken to the fries, diners were treated to an enjoyable meal. Of all the chain restaurants in London, Nando's will surely stand out.
Conveniently located for Western students at the mall, Nando's should become the next hip, trendy locale for us to enjoy a bite to eat.