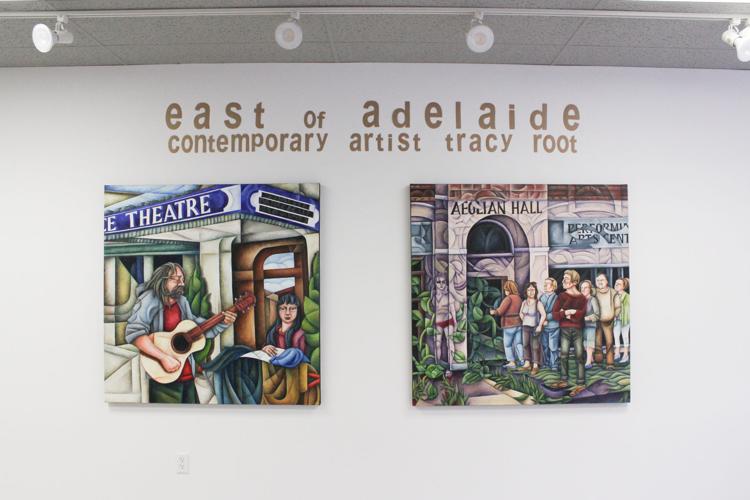 Walking towards the SATELLiTE gallery on Dundas Street, I see the glass doors are covered with sheets of cardboard to conceal its latest exhibition. Inside, Tracy Root juggles a large pink water bottle, her long hair disheveled after focusing on the gallery preparations all day. Hanging from her neck is a blue-toned healing crystal: a gift from her friend for good luck, she says.
The 53-year-old professional contemporary artist is about to debut a body of works that has taken over a year to complete.
"The exhibition is called East of Adelaide," she explains. "I don't like [the area] being called east of Adelaide because it holds a negative connotation, but I did that for a reason." The title is ironic. She explains the Old East Village is close to her heart after living and working there for many years.
The Insta-worthy Mystic Bookshop, The Root Cellar and Palace Theatre are a handful of locations in the OEV artfully depicted in Root's exhibit.
Perhaps one of the more misunderstood areas of London due to its reputation for drug abuse and sex workers, the OEV receives some well-deserved love and attention from Root. While locals and students alike have been privy to the OEV's shady stereotypes, this exhibition seeks to reshape perceptions. 
Root describes her muralistic, representational pieces as windows into the "interesting, eccentric people and buildings" of OEV. It's a visual history of the east of Adelaide area as it currently stands: a crossroads between growing into what Root describes as an "artsy, funky village" and becoming an urban city centre. 
As a student who has been warned not to venture out toward OEV alone, particularly at night, the beauty in Root's paintings is a surprise. The large canvases are packed full of vibrant imagery. Lush English gardens, passionate street musicians and rows of people waiting in line at The Aeolian Hall stand out in Root's unique blend of abstract and representational form.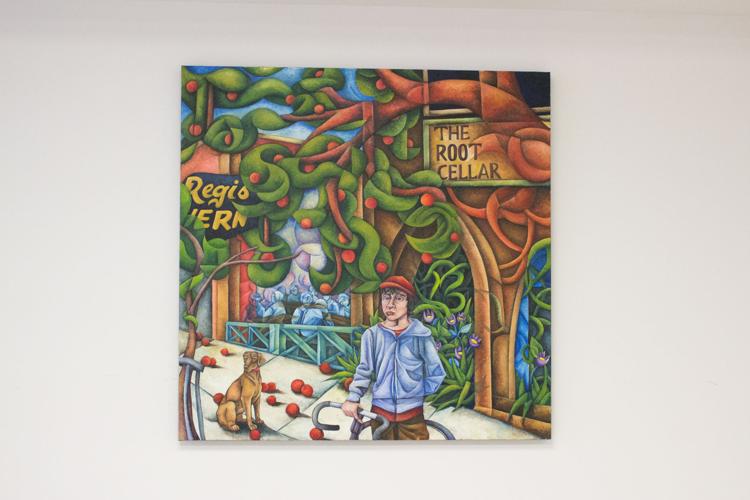 In light of the evolving urban landscape in London, I realize I am looking at a time capsule. 
"I really think in ten years from now you're not gonna recognize it," Root admits.
Root sees the OEV as a misunderstood village of working-class people and shows this through paintings of the unique and the strange aspects of the city. She hopes OEV doesn't lose its eclectic charm to high-rises threatening to overshadow the historical homes and architecture, a concern shared by Londoners attending the opening on Sept. 2.
The East of Adelaide exhibition is a visual testament to taking ownership of stereotypes, rebranding them and communicating them through a compassionate lens.
As students who call London our home away from home, we should be willing to break the mold and experience all avenues this town has to offer.
Giving the OEV a second glance — through art or an afternoon stroll — may be a start.
Tracy Root's exhibition, East of Adelaide, is on display until Sept. 15 at the SATELLiTE gallery on 121 Dundas St. The gallery opens Wednesday to Friday 2 p.m. to 7 p.m. and Saturday 12 p.m. to 5 p.m.