As seasons change and style evolves, trends are ditched and new ones are made, but neutrals seem to always remain.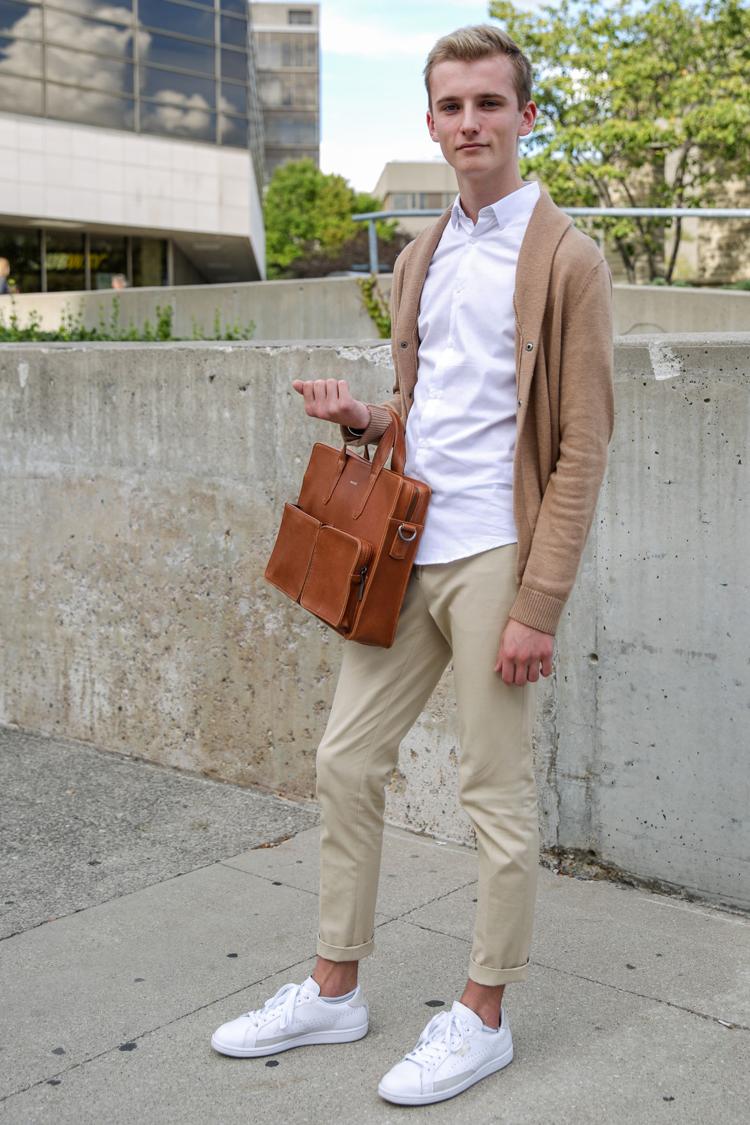 Branden Raué, a third-year international relations student seamlessly executes the all-things-neutral look. Branden is proof that it's totally possible to wear neutrals all year round.
Shades like whites, sand and even camel compliment a variety of skin tones. When the shades come together Branden says they achieve a "simple, neutral and clean" look.
Since neutrals match with an array of shades, if you have trouble pairing items together then this look is for you. Pictured here is a crisp white button up long sleeve and a cardigan draped over top. The cardigan and button up shirt duo achieves that minimalistic look that's all the rage in today's fashion world - cue Yeezy.
More often than not a common mistake is thinking patterns, colours and different textures are needed, but always remember sometimes less is more. Minimalism doesn't take away from the outfit but instead allows the outfit to be appreciated for its clean simplicity.
However, simple can sometimes be bland so in order to avoid being blurred away by the soft colours, focus on the details. Branden sports a pair of tapered dress pants. At first glance the pants seem like they can be worn dressed up, but paired with this combo they are more appropriately integrated into an everyday wear. Remember to not skip on details such as rolling up the pant leg to give it that tapered finish.
Last but not least, we can all agree that a nice bag can make the outfit. From the looks of Branden's bag it is clear he is aware of this as well. Featured in his outfit is this stunning faux leather, vegan friendly, all purpose bag. Held from the handles or tossed over your arm, this bag is not only nice to look at but also filled with compartments to fit all your school essentials.
Want to give this look a try?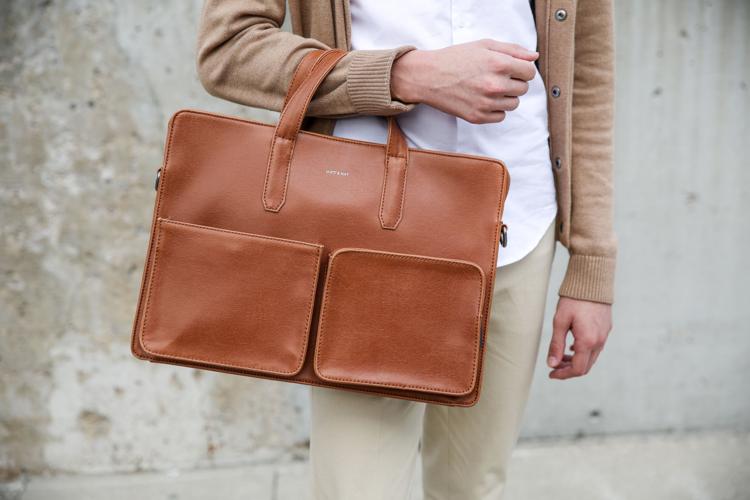 Where to get it:
Shirt: H&M, or anywhere for that matter. A white shirt is a staple and very easy to find.
Pants: Michael Kors. A little on the pricey side but remember these pants are intended for a dressy look and will last many wears.
Sweater: Banana Republic. Remember to stay in the neutrals for outwear to ensure matching isn't a headache.
Shoes: Puma. Sporty shoes such as the Pumas add an edgy-sport look to this clean cut look.
Bag: Mat and Nat. Definitely take the time to check out this brand who make all things leather but remain vegan friendly.