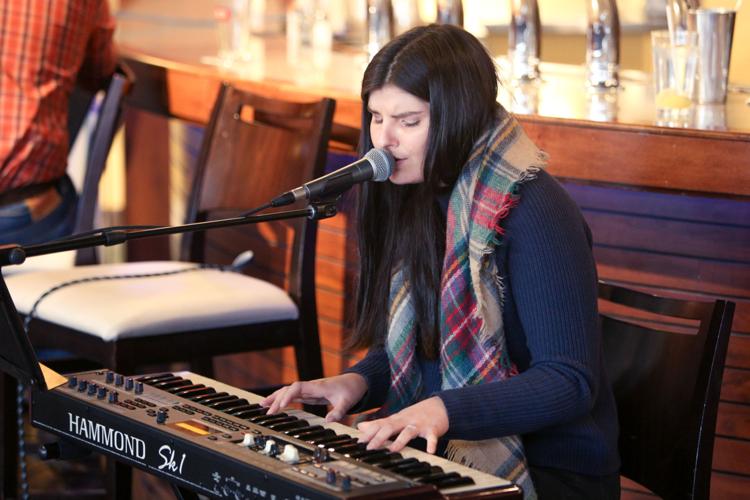 Walk into The Wave on a Friday afternoon, and you'll find it transformed into an in-vogue coffee house reminiscent of a bustling downtown music scene. The already dimmed lighting lends itself to the Greenwich-Village-in-the-'60s atmosphere as customers dine and student musicians ply their trade.
This setup is all thanks to Paulina Zuczek, a third-year popular music studies student who, along with Wave manager Chris Cervoni, set up the weekly series.
Zuczek, an employee at the Wave, says Cervoni had an off-campus musician perform on Fridays last year but always wanted a student-focused day. 
"He didn't have any idea that I sing, but I had an opportunity at USC Charity's Dine in the Dark at the Wave last year," says Zuczek. "He approached me after, and we started right in September."
Many other musicians have approached Zuczek and Cervoni about performing in tandem with Zuczek, and they encourage anyone interested to get in touch. The performance is also paid: $100 for two hours of work. Last Friday's session featured Zuczek on the keyboard and vocals with fourth-year geology student Colin Aerts on his acoustic guitar, showcasing his own laid-back and soulful collection of covers.
"I prefer to do covers here because the crowd prefers things they know," says Zuczek. "I'm the radio. People react to the live music vibe." 
Some of these covers included James Bay's "Hold Back the River," Rihanna's "Love on the Brain," a soulful version of Van Morrison's "Brown-Eyed Girl" and the Zuton's "Valerie." 
In the same musical spirit, she has an album of Polish covers from her heritage up on her website and has been practicing music since she was five. It started with singing in church choirs, encouraged by her musician father, eventually learning piano at age six. The vocal training began when she was 10, but it was only at 13 that she decided music would be her life after singing a song she wrote for her music teacher.
Coming into university, Zuczek started offering vocal and piano lessons when she could. According to her, that mentorship is part of the cycle for those that are classically trained. While she clearly wants her students to feel the same passion as her, she also is against the constant grind, as "music is a free art."
Though the lessons are not full-time, given her various commitments, it's still a part of her overall pull to music and to one day finding a place in the industry.
"I'm not saying I want to be the next Lady Gaga or Taylor Swift," says Zuczek. "But something that can pay the bills and make me happy."
Any interested musicians can contact manager Chris Cervoni at 519-661-2111 x 83007 or email at ccervon@uwo.ca. The performances themselves are on every Friday between 12 and 2 p.m. at the Wave.