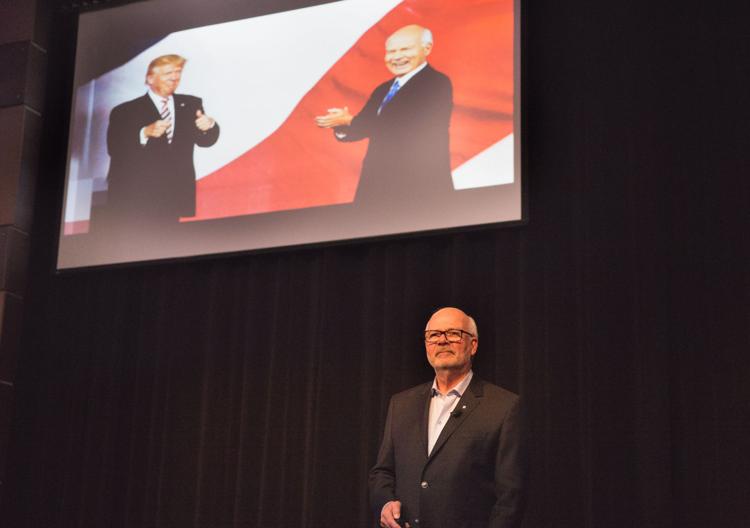 Sunday night, the Mustang Lounge hosted veteran news anchor, Peter Mansbridge. The former host of CBC's The National delivered the keynote speech of Social Science Students' Council's academic conference, Innovation: Confronting Challenges in the 21st Century.
While Mansbridge's talk contained no mention of innovation, he still gave an entertaining and informative speech on his long career in journalism, followed by almost an hour of Q & A.
Mansbridge got his start by way of a job with Transair airline at 19 years old in Churchill, Man. One day he was asked to announce the tickets, despite the airport only having one gate. The CBC's manager of the northern service station was present and, after hearing his voice, approached him for a night shift. He started the next day.
What followed was like a highlight reel of his most impactful moments in a 50-year career. He kept a picture of himself and then-President Obama, days after the inauguration. It was the first foreign interview Obama did. 
"[The picture] reminds me about what happens to somebody in a role like that: the pressure we place upon them," says Mansbridge.
Another important topic was that of Canadian identity, which he related to his visit to Vimy Ridge.
"Remember, 4,000 people died. When I came out of those tunnels, I never felt more human," says Mansbridge. "Sometimes you actually have to go outside your country to appreciate what your country means."
Mansbridge also discussed his time in Sri Lanka after the 2004 tsunami. The National was anchored there for several nights. A little girl approached him and said, "Canada." His interpreter explained that Canadian nurses had given these kids vaccinations at a field hospital. 
"This little girl will never forget Canada. She'll always associate our flag with those nurses." 
The two stories that he considered "turning points" were the fall of the Berlin Wall, where correspondents from all around the world were together and "the world was together," as well as the funeral of Pope John Paul II, whose role Mansbridge said "went beyond the leader of the church."
During the Q & A period, he spoke on everything from his cameo in Zootopia to the onus of citizens and social media companies to combat the spread of fake news to his overwhelming experience during 9/11.
The biggest takeaway was his urging the audience to participate in our democracy. For Mansbridge, that is the only way to see change, especially in issues like indigenous relations. 
"There are far too many questions that I asked in 1968 that I was still asking last year, with the same answers from both leaders."
As a cap to the daylong conference, Mansbridge succeeded. In terms of concrete discussion of the themes of the conference, there was little to go on, but he still left the audience with plenty to take away.