Reduce, reuse, upcycle your clothes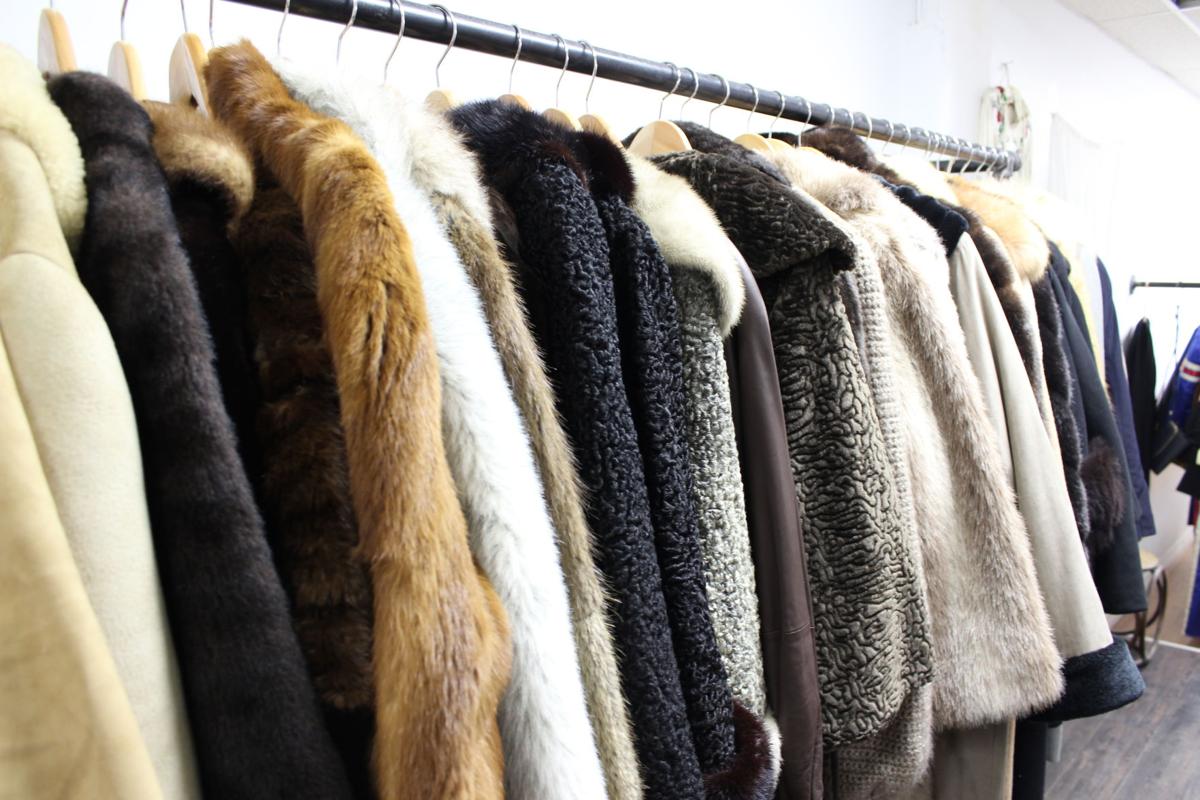 Lauren O'Donnell steps into an altered skirt from the '50s that's lined with green and blue ribbons. She tucks in a white button-up blouse, ties a ribbon in her hair and smiles at her reflection in the mirror. She walks out of the change room of Hamilton's Value Village twirling so much she nearly falls over.
"I've never felt more 'Rosie the Riveter' than when I wear it," she says. "It's just so fun."
This is her favourite outfit, and it was all bought secondhand and altered by her grandmother. By revamping used clothing, O'Donnell was "upcycling" without even realizing it.
For the second-year English student, thrift shopping and upcycling clothing is a means of self-expression and a way to save money. Having worked at Value Village herself, she also feels uncomfortable knowing how much waste clothing generates.
Wastefulness seems to be as much of a student tradition as O-Week. We follow ever-changing fashion trends, grow out of things, or simply decide we don't want something anymore. We then donate or throw them out, and the cycle continues.
But those bags of stained crop tops and shrunken jeans you drop off at Value Village or the new H&M recycling program won't all be given the second life you might expect. The afterlife of most unwanted garments continues to generate buildup in landfills like London's 142-hectare W12A Landfill located south of London. 
"Upcycling" and thrift shopping however, creates a more sustainable alternative which O'Donnell stands by.
Almost without thought, O'Donnell has been upcycling and thrifting just by adopting habits that, to her, made the most sense. But she's not the only one. Students and businesses alike have been adopting these sustainable habits, and the aftermath is creating a trend in unique fashion.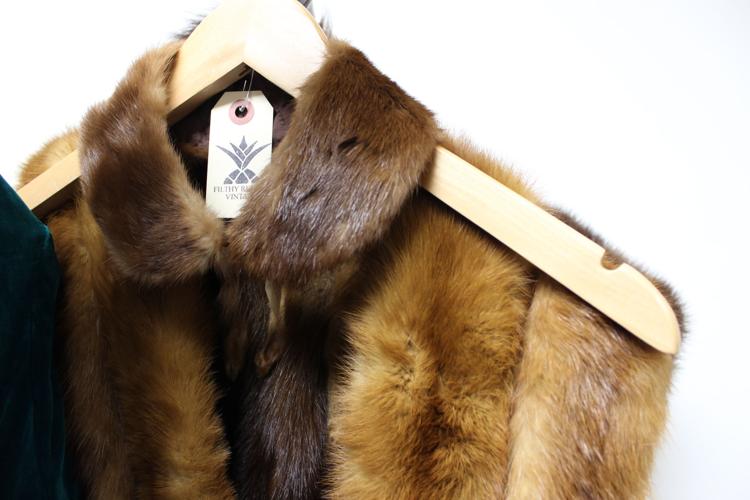 Upcycling 101
Upcycling is a trend that re-imagines thrift shopping by taking unwanted garments and turning them into unique fashion pieces. It's becoming more prevalent in London as well: Within the past four years, thrift and upcycled clothing stores have been popping up and attracting students — like the Filthy Rebena and Plato's Closet.
Creating a fashion trend out of secondhand or upcycled clothing is something that the social venture, Voguabond, is particularly passionate about. Ivey Business School graduate Emily Dixon created the business during her undergrad as a way to "connect fashion-forward consumers to independent designers who are creating one-of-a-kind fashion." 
Over the past two years, Voguabond has paired with local thrift store Filthy Rebena to organize clothing swaps and educate the community. The store is known to take "ugly maxi dresses and cut them into cute cocktail dresses … using the extra fabric to make scrunchies and pillow cases," according to MIT graduate Julia Sobkowitz. 
"Taking something that would otherwise just be wasted, altering it and giving it a new life is a rewarding experience," says Filthy Rebena co-owner Natalie Bradshaw. As more students like O'Donnell have taken on sustainable clothing options as a trend, Bradshaw says that their clientele has grown, with many students from Western showing particular interest. 
Sobkowitz spent her fourth year developing support for the Filthy Rebena on social media and the store has since seen notable growth in its popularity. 
"We're in a climate where vintage and upcycled clothing is very trendy right now," she says.
Like O'Donnell, who claims to thrift shop nine times out of 10, Sobkowitz admits that 90 per cent of her clothing is secondhand.
"I find the fit is really good and the fabric is well made. People used to take a lot more pride in tailoring and craftsmanship, so it's mostly about the quality but also that the pieces are unique."
According to Dixon though, her work developing Voguabond has made her see the need to not only promote sustainable clothing options, but also to re-evaluate the fashion industry as a whole.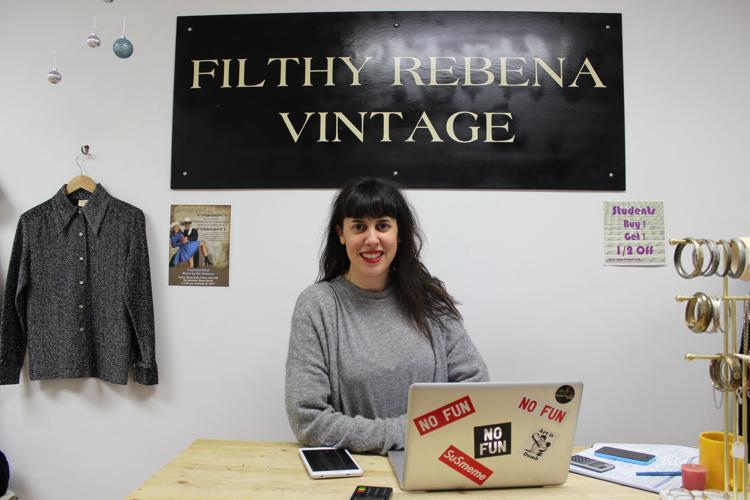 Fast fashion and its effect on the environment
As an Ivey student, Dixon says she never intended on pursuing fashion until she discovered that to make a positive change on the environment, she would need to address one of the big sources of pollution on earth — the fashion industry.
"The whole reason why I wake up and am excited to work on this social enterprise is because of the impact that meaningful fashion can have," she says. Instead of people throwing away an article of clothing, she wants it to be passed on in a sustainable and meaningful way.
Dixon explains how it may seem tempting to browse sales racks at mainstream stores, but in doing so, a shopper is only doing more damage on their wallet and the environment. 
"Because I did work at Value Village, I know that there's a huge amount of waste of clothing which is why I always donate mine when I'm done with them," says O'Donnell. "But I know that a lot of the clothes end up in landfills." 
According to Dixon, people have gotten themselves in a cycle of constantly buying the things they see on others, only to throw them out soon after in pursuit of the next hot trend.
This trend-chasing dilemma of the "fast fashion" industry remains a topic of concern. In light of an ever-changing set of fashions, clothing is of poorer quality, generating more buildup in landfills and using up or polluting natural resources.
O'Donnell admits that leggings from Joe Fresh are one of her "secret favourite things" because they only cost $10. However, she's since realized they don't last as long and aren't as good of quality as thrifted or upcycled clothing.
It is generally understood that recycling, taking shorter showers and reducing the use of plastic water bottles are habitual changes needed to be made for a healthier planet. So why isn't sustainable shopping a part of that mix?
O'Donnell admits that she's not as environmentally conscious as she should be when she shops at places like Joe Fresh, she realizes the implications of the fast fashion industry.
She regretfully recalls trips to the mall; while many second-hand stores advertise their initiatives toward lessening the build up of clothing in landfills, mainstream stores do not. O'Donnell says that for this reason, she doesn't think about the environmental impact of buying fast fashion in a mall until after she gets home.
Nevertheless, it's something that should be top of the mind.
As an example, Dixon notes, "One pair of jeans takes 1,500 gallons of water to produce." The fashion industry also uses a significant amount of the world's pesticide, she added.
Only this is just one part of the puzzle.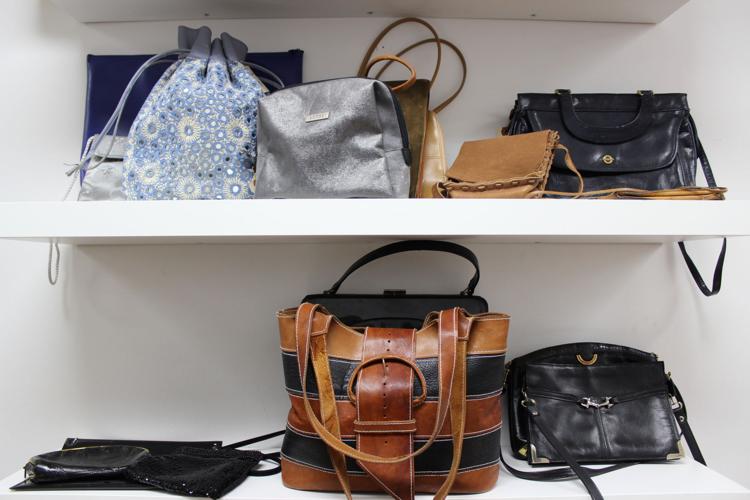 Think before you donate
Working at Value Village, O'Donnell admits that she saw a lot of donated clothing end up as waste rather than being re-sold on the shelves.
According to Dixon, this is the underbelly of donating and recycling programs – like H&M's recent initiative – that many are unaware of. It's a common misconception that your donations will go to someone in need.
ABC News reported that most of what gets donated is being sold by charities to textile recycling firms who transform the clothing into cloth or industrial items. Other excess garments are shipped to third world countries and sold at reduced prices.
"I've spoken to the founder of TenTrees who actually is an Ivey grad too and he has seen the waste firsthand in Haiti," Dixon says. "He's seen the piles and piles of clothing that we send there."
Although this means that some clothing is still being reused, Dixon stresses that this negatively impacts economy in struggling countries. "In a number of African countries, 80 per cent of their labor force in the textile industry has declined," she says. Dixon explains that dumping these countries with our old clothes takes away their jobs. "Their skills in the textile industry have been passed down from generation to generation and we're putting them out of work."
As a result, part of Voguabond's initiatives has included a partnership with a Tanzanian company that incorporates recycled products in their clothing. Dixon says that this is their attempt to both remedy environmental concerns and bring back Tanzanian artwork to the forefront of production. She also recommends becoming educated on the charities you choose to donate your old clothes to, noting that the Salvation Army and church organizations are safe bets. As these groups are generally more local and trustworthy.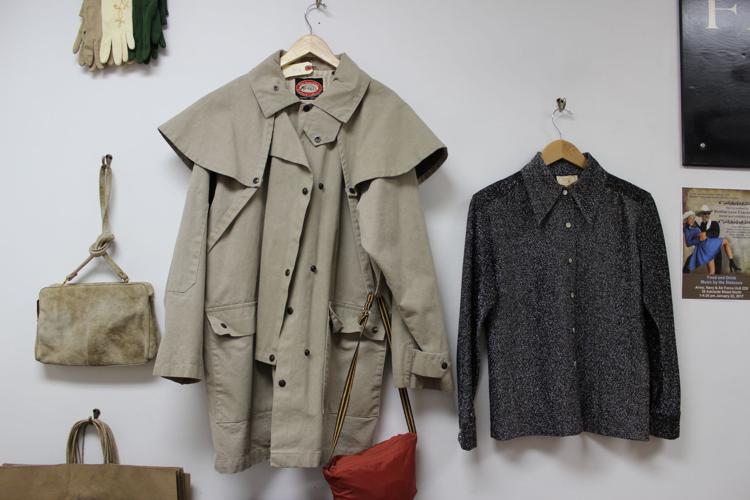 Paving the way for sustainable fashion
O'Donnell predicts that sustainable fashion will continue to grow as this generation embraces upcycling as a popular trend.
"I think at Western there's this stereotype of the Western girl that dresses the exact same as everyone else, but I think a lot of people wear really cool clothes that aren't necessarily keeping with the trend," she says. "Specifically in the arts and humanities faculty."
Voguabond, too, has picked up on the search for unique and ethical clothing options. While they support clothing swaps and secondhand finds, Dixon says that she aims to change the perception of secondhand goods entirely. 
"We have designers now that are quite well known and their clothing is really high quality," she says, hoping to showcase the art that can be made from sustainable fashion.
O'Donnell says that this concept is exciting, and she now aims to buy high quality, upcycled fashions that will last forever. "I want something that doesn't fall apart, doesn't rip easily; something that will last and will look good for years at a time."
A distinct characteristic of upcycled clothing is the story that a repurposed garment tells. When you invest in an upcycled wardrobe, just as O'Donnell has, you're not only investing in cleaner, ethical habits, you're also building a style that is rooted in individuality and timeless appeal.