On Wednesday night, the Taiwanese Association at Western (TAW) transformed the entirety of the Mustang Lounge into a night market featuring a wide variety of foods and games.
As soon as I entered, I paid $15 at the door for a food ticket, which gave me access to three foods of my choice. Naturally, I went straight for the Sharetea's bubble tea. A recent addition to Richmond Row, Sharetea is a popular bubble tea joint that hails from Taiwan. The line was massive, stretching from one end of the night market and around the corner, about 50 people long.
Upon finally escaping the bubble tea line, I made my way to one of the three long tables at the front, which despite it only being the first 10 minutes of the event were also already nearly full.
A club executive came on stage shortly after and introduced himself as the emcee for the night. It was quickly becoming obvious that this event was a lot more than people expected as surprised looks and excitement filled the room.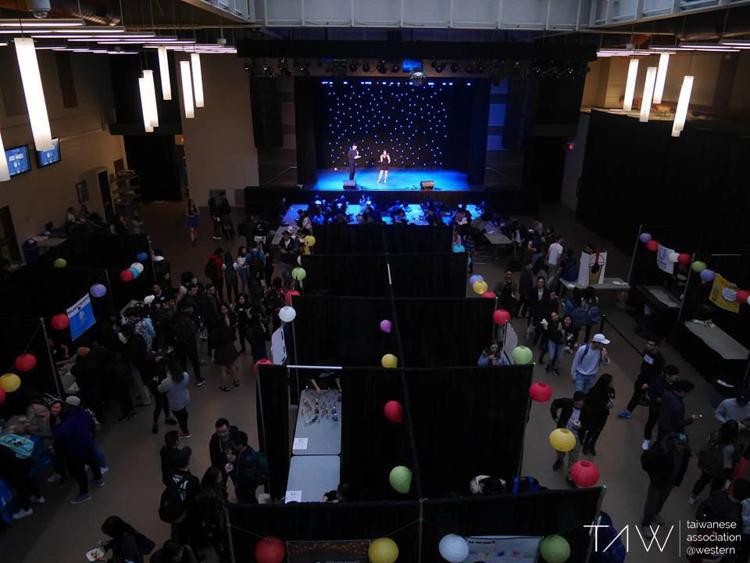 I took the opportunity of the distraction to sneak into the line for popcorn chicken — or, rather, attempt to, as the line was just as long as the one for bubble tea (and it stayed that way until about an hour into the event). As I stood in line, I looked around to see options such as Mapo tofu, shaved ice with mango, a photo booth and more. 
As the night went into its second hour, the lights dimmed, adding to the exciting atmosphere of the event. They also announced that they ran out of bubble tea and would be getting more (they did and the line resumed in the same fashion). 
A dance group got up on stage and the entire Mustang Lounge, full as it was, seemed to pause as everyone's attention turned to watch the spectacle unfold. When it came to an end, the room was filled with intense applause.
When I left at about 8 p.m. the lounge was still full, from the huge bubble tea and popcorn chicken lines to the tables full of people. According to TAW president, Alice Ko-Choi, the event sold around 270 food tickets to guests and had many more attendees who didn't grab food but stayed for the entertainment.