Savanna Lee is Western University's very own creative genius. Not only is this third-year MIT student a walking Vogue cover, she is also an aspiring rapper.
Her style is drastically different every day; one day she rocks army print pants and bold statements, and other days she's pulling off a more feminine and sophisticated look. Most importantly, though, all her pieces are unique, either thrifted or borrowed.
Savanna's style is the essence of her — simple, authentic and just downright cool. Her inspiration, funnily enough, derives mostly from the good ol' fashioned dad style. She loves the aspect of that casual and comfy look. Above all else, she promotes the message of what it means to rock secondhand clothes.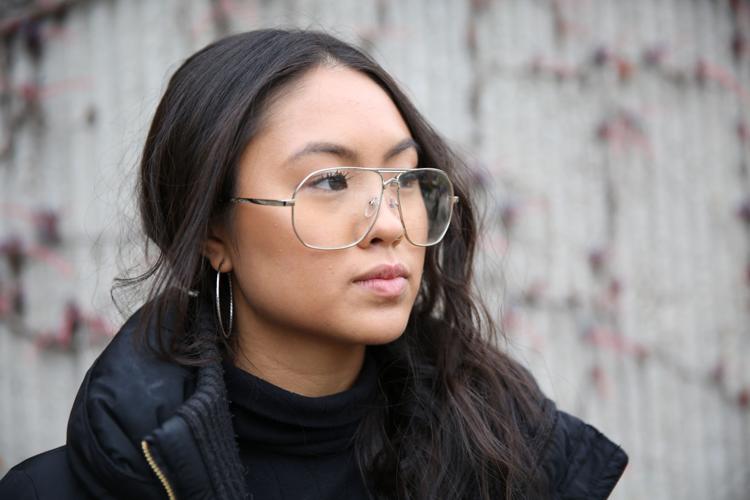 Her style may look difficult to recreate, but Savanna disputes this notion and offers advice on how to achieve her look: Start with a foundation, something simple, but with a 'vibe' in mind. Build on that by adding layers and accessories. Chances are you have things in your closet already; look there first and try to work with them.
Savanna describes this outfit as comfortable and simple but, as you can see, still trendy as ever. Her foundation starts with her flared pants and black turtleneck. Each item seems simple but has a unique touch to them — the flared pant leg with a ribbed texture, for example.
Staying consistent with her comfy mantra, an oversized coat is thrown on top to achieve that cool street style vibe we see popping up in the fashion world.
Where her outfit goes from simple and casual to fashion forward is in her accessories. She rocks a '70s-looking vintage pair of large frame glasses accompanied by midsize silver hoops. Both items are assumed by many to be left in the past, but not for Savanna. By adding these two items she automatically incorporates a trendy yet different look.
Want to try this look? Savanna encourages everyone to push boundaries against fashion rules, be explorative with your style and, most importantly, to be open to shopping at different places. Support local businesses in your city and check out stores outside of the mainstream.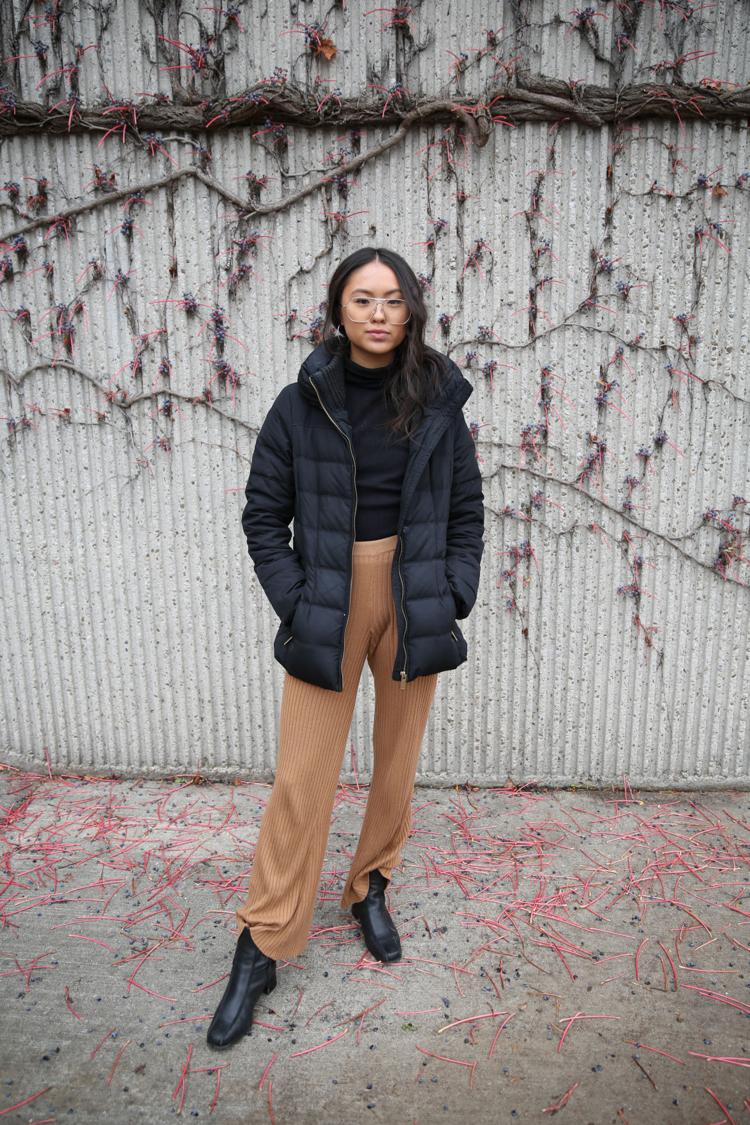 Shirt: Value Village. Although a black turtleneck can be purchased from big box stores like H&M, try thrifting. Get it for half the price and avoid contributing to overproduction of clothing!
Jacket: Zara. Staples such as these are easy to find at Zara and they are relatively affordable too.
Shoes: Value Village.
Earrings: A local jewelry stand. Supporting local business helps them survive and ensures you'll have a one-of-a-kind piece for life.
Glasses: eBay.
Pants: Forever 21. Despite the fact that Savanna advocates for thrifting, she also encourages individuals to look within their closet. These pants were something she already had in her closet, and are definitely too cute to throw out.