Rainy days are mostly hated. They're wet, gloomy and it's assumed that the most practical outfit for days like these is a bright yellow raincoat. Tyler Gowan, second-year criminology student, shows us how he dresses up for those days with a functional but stylish fit to compliment the weather. 
When you break down this very chic yet "businessman dad look" you are left with staple everyday pieces. By pairing these simple items, you can achieve that polished, modern formal look with ease. Once completed, this look will give you the ability to attend class in the afternoon and rush over to dinner at 7 p.m., fitting seamlessly into each setting. 
Starting with the basics, Tyler wears a black turtleneck and ash grey jeans. Simple enough, and easy to recreate. Black turtlenecks have been around for decades; you can wear it under a suit, on its own or wear it like Tyler does under his coat. If you don't have one yet, look into purchasing one for yourself — a turtleneck is a classic, not a fad, so you will have ample opportunities to get wear out of it. Grey pants like Tyler's may not be in everyone's closet, but their ability to match with many colours is noteworthy. 
The work comes in when choosing your key statement pieces. Deciding whether to look formal or casual is all in the jacket and shoes. Note that you can throw on a blazer and dress shoes on this outfit to dress it up, or a trench and chelsea boot like Tyler did and achieve that everyday look. A long-line black trench coat is not only modern,  but also versatile, allowing you to throw it on any look. Coats like these are always assumed to come at a price, but you can actually find a well-made coat for an affordable price, so be savvy and shop around before you buy.
Any high-cut boot is in style right now for men — it gives a more structured look to the pant especially when the pants are rolled at the cuff. Tyler's chelsea boot — one of the more well-known high-cut boots — makes this outfit more casual but still stylish. 
As you can tell, Tyler loves his accessories. From his belt, to his scarf and of course his stunning backpack, he is decked out in lavish accessories that unfortunately come at a price. However, it's important to remember that looking fashionable does not mean you have to spend a ton of money on designer labels. If you are on a budget, always try shop for items that imitate that expensive chic look.
Want to give this look a try? Tyler suggests using the app Lookbook for inspiration, and to always remember that less is more.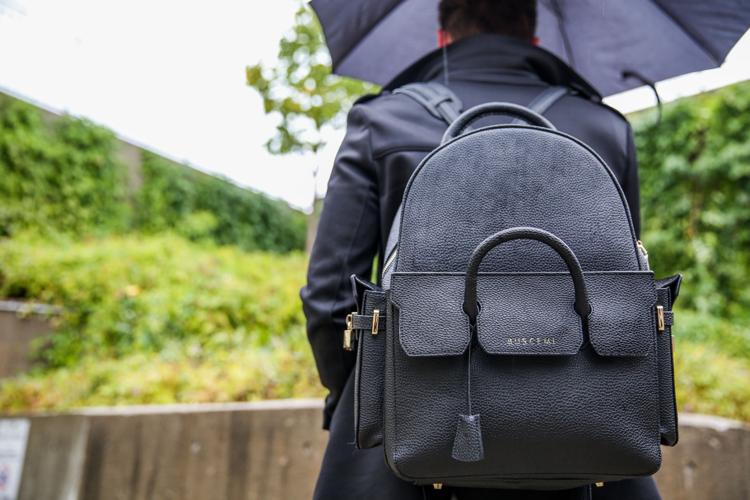 Where you can shop:
Turtleneck: TopMan. Buy yourself one, you won't regret it!
Pants: Levi. These jeans are actually really stretchy, so you'll look — and feel — good.
Chelsea boots: TopMan. These boots come in several different styles, textures and colours so choose the most versatile pair that will work best for you and your style.
Belt: Hermes.
Scarf: Louis Vuitton.  
Jacket: Zara. Remember it's the look that matters not the price, so check places like Zara or Forever 21 for an expensive yet affordable look.
Bag: Buscemi PHD bag.