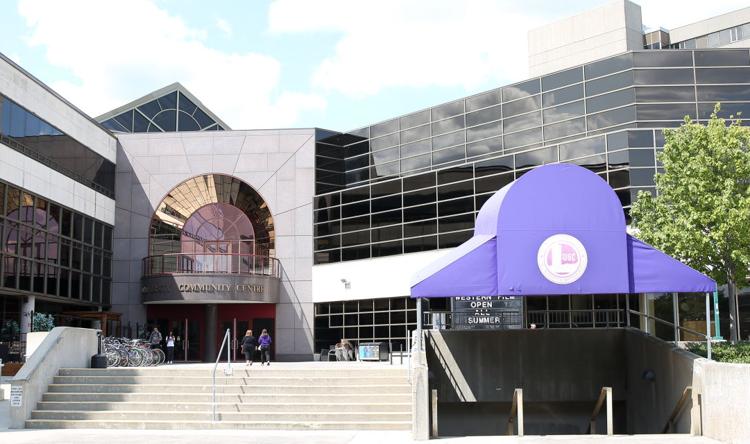 Welcome frosh to Western University! Whether you've visited it yet or not, the University Community Centre will become one of the most familiar places on campus for you. The UCC is loaded with all kinds of services that can help make your life easier. Take a stroll through the virtual tour and familiarize yourself with what's offered in the basement of the UCC.
Virtual tour requires Flash and JavaScript to load. If you're having difficulties, click here to open in a new new window.
The Book Store at Western
The bookstore is your go-to stop for buying new and used course material. You can print out your personalized textbook list in the bookstore or bring your own because it gets very busy in there at the start of the school year. 
Campus Solutions/Cellular Magician
Is your laptop having issues? Does your phone need to be fixed? Head to Campus Solutions to get your electronics repaired by a certified technician.
Campus Computer Store 
Printer running out of ink? Need a new pair of headphones? Need to grab some gaming equipment? Head to the campus computer store to buy your computer accessories, software or hardware products. 
Grocery Checkout
The on-campus grocery store is your most convenient stop for everything from produce and meats to popcorn and ice cream. Choose from a variety of cooking ingredients, and if you're not looking to cook, stock up on some snacks for those all-nighter study sessions.
Pharmacy
Not only a convenient place to pick up your prescriptions, the pharmacy is also a great place to find household supplies. Here you'll find toiletries, cleaning products and other miscellaneous items for practical use.
Chiropractor Clinic
If you're looking for a chiropractor on campus, this is your stop. No referrals are necessary, so feel free to drop by if you have any concerns.
Wellness Education Centre
An absolutely must-know resource for students is the WEC. If you're struggling with any personal wellness issues or just looking for some information, head to WEC and they'll be able to point you in the right direction.
Campus Vision
Come here if you need an eye exam or any other medical eye-care treatments. You can use your USC student health plan here as long as you haven't opted out.
UCC Dental 
The UCC dental office offers a complete dental service including cleanings, x-rays, fillings, whitening and more. This is another location you can reap the benefits of if you're on the student health plan.  
YMCA Child Care
The YMCA offers a selection of services by trained professionals to support children. Enrolling in YMCA full-time childcare also grants children a free membership to YMCA Fitness and Aquatics and grants family members a 25 per cent discount on their membership.
Foot Patrol
Western's Foot Patrol, a service driven by student volunteers, provides safe escorts for students. If you find yourself leaving a late-night class and feel uncomfortable walking back home on your own, Foot Patrol is the place to call. Volunteering for Foot Patrol is a great way to get involved on campus and a fantastic way to meet new people. For more information or to request an escort call 519-661-3650.
Student Health Services
Western's Student Health Services is the most convenient resource for medical care related issues. If you need to see a doctor, get a flu shot or even take the tuberculosis skin test, this is the place to go. Wait times can be quite long so make sure to book your appointments ahead of time.