On the way back from the rocket festival in Laos, Alex Stelmacovich stumbled upon three kids standing around an abandoned U.S. military airstrip. They were setting up their own toy rocket to be launched.
For the people of Laos, the rocket festival celebrates the start of the monsoon season. Villagers and townfolk will craft homemade rockets and the one that shoots the highest is said to predict who will yield the best crops.
To Alex, the rockets meant something else. As the sun set behind the Karst mountains, Alex thought the rockets alluded to Laos' history as a highly-bombed country which contrasted sharply with the innocence of the kids in front of him.
"It was this decisive moment, and it all came together," Alex says. The photo Alex captured in the moment became the one he's most proud of: it won a contest and was published in National Geographic.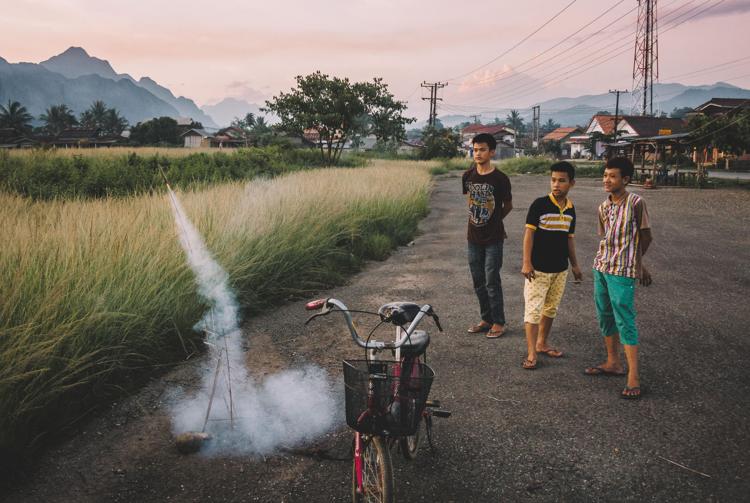 The success of the photo helped Alex realize his raw potential and to start seriously pursuing photography. He had only brought a second-hand camera with him to Laos, but he says it changed his whole life and the way he saw things.
"I went from documenting my trip to actually creating and capturing moments that could communicate experiences better than words ever could," he says.
In the months after his trip to Laos, the fourth-year sociocultural anthropology student became more invested in photography, anthropology and travel. He started to make a career out of it, including teaching himself how to do freelance photography and making anthropology his primary major.
"For a while I felt my creative work wasn't aligned at all with the studies I do in anthropology," he says. "But as time goes on, I think they're linking more. The more projects I undertake in photography, the more I'll be able to link anthropology to those projects and see how it will help me weave together a narrative and a story."
He's had ample opportunities to pursue these kinds of projects. Last July, Alex went to Iceland and the Faroe Islands, capturing the northern hemisphere's midnight suns and weather where clouds, sun and rain would all mix to create "a photographer's paradise."
Nowadays, Alex spends much of his time as a freelance photographer in London and Toronto taking on photo assignments for different publishers. He's starting to successfully combine his three passions of anthropology, travel and photography into a career as an international photo journalist.
While he says he's mostly doing branding work right now, he's focused on learning from the people around him and setting his sights on the horizon.
"I always have different ideas and projects that I'd like to do," he says. "I'm working on a lot of things more local right now... Nothing that I can speak about right now, but there will be some exciting stuff coming up in the next few months."