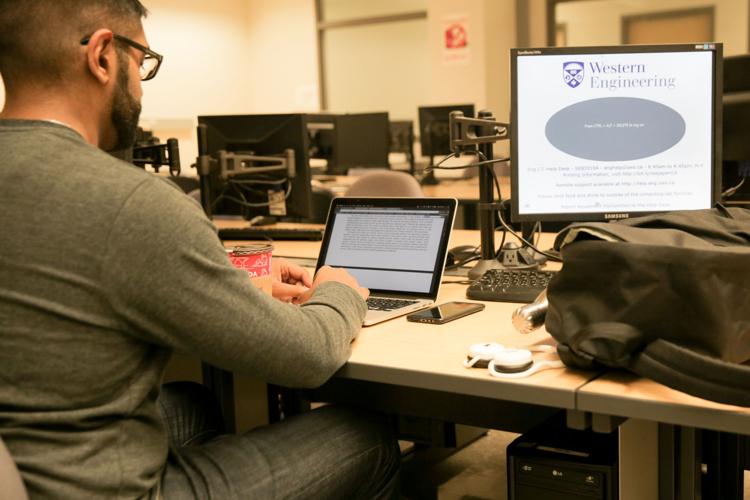 It's midnight. You're hunched over a desk full of textbooks and papers as the faint smell of coffee lingers in the background.
This is how many engineering students, like Tanner Behrend, have spent countless nights.  
"The program can definitely be tough," says Behrend, a first-year engineering student. "It's a heavy course-load; many of us are taking six or seven courses this semester, and it can be overwhelming at times if you don't know how to handle it properly."
With midterm season here, mental health has been on everyone's minds.
This year, the manager of the Faculty of Engineering's Undergraduate Services, Clare Tattersall, is leading the faculty's new Engineering Resilience Program. It's a wellness program that focuses on promoting effective stress coping methods for engineering students.
Tattersall explains that in past years, there's been increasing demand for student counselling services, with an increase from 2,000 to 10,000 appointments made through Student Health Services related to mental health issues. She hopes that with the creation of this new program, students will be able to find the help they need.
The main philosophy behind the program is what Tattersall calls "positive psychology," a holistic approach to mental health that takes factors such as sleeping habits, diet and exercise into account when leading an overall happier and healthier lifestyle. Often, these are the things that become less prioritized for engineering students as assignments start to pile up, leading to a culture of late-night studying and junk food snacking.
Tattersall says the main objective is to try and change the overall tone and culture within the faculty of engineering.
"We wanted to look at strategies to be more proactive in promoting wellness rather than being reactive to illness," she says. "Basically, we're trying to prevent students from getting to the point where they're really stressed."
The program, based in the engineering faculty's Undergraduate Services Office, plans to host events such as a burnout prevention workshop and pancake breakfasts with the goal of "bringing life and light to the day-to-day functioning of the faculty" as Tattersall puts it.
While many on-campus mental health services such as individual or academic counselling concentrate on the treatment of mental health issues once they've already arisen, the resilience program focuses on prevention.