Each winter, the tears of Western students collect in pools around campus, waiting to transform students' soft leather boots into cracked and crusty clogs.
Of course, I'm kidding. It's true that a trek across Western's frosted grounds does take its toll on my shoes and if I spy blue salt crystals, I swerve. I see other Western students sidestepping, too. Yet despite our collective efforts, salt still peppers the floor of classrooms across campus, corroding our boots. 
So what's the deal? Is all of that salt really necessary?
According to Western's executive director of facilities operations Carmen Bertone, it is. He says the salt de-ices the campus for safety reasons, and he revealed Western students' footwear underwent worse onslaughts in the past.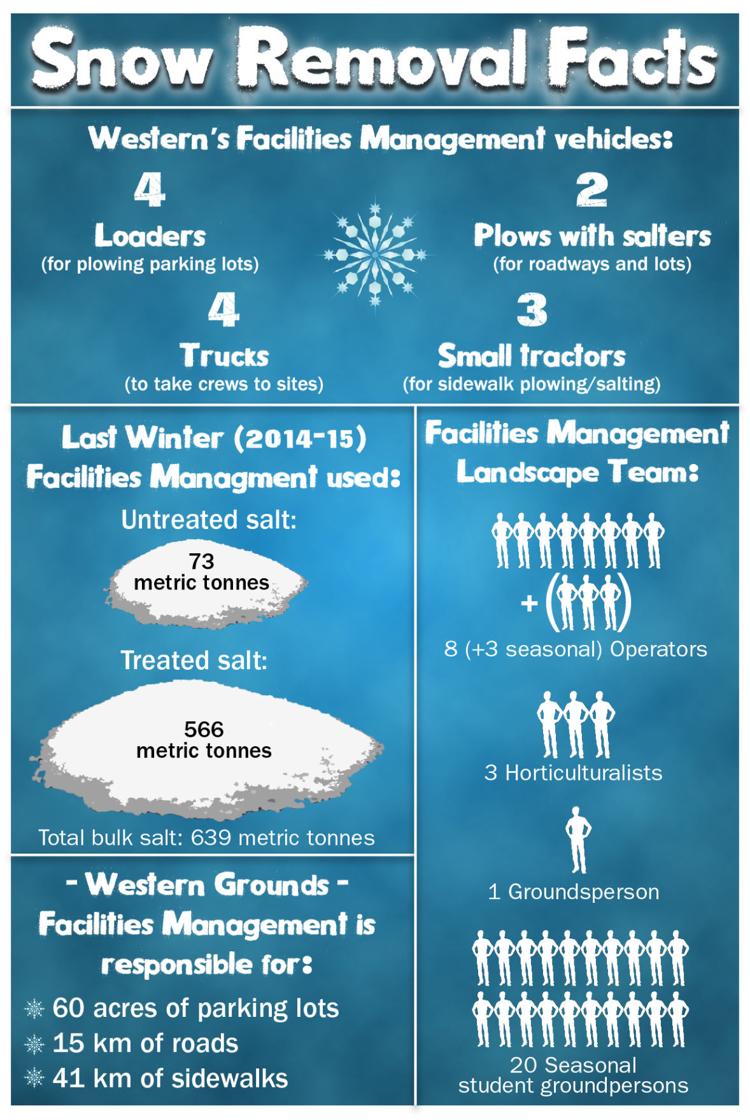 "Years ago, it was thought that the more salt you put down the better off you are, but that's not the case," Bertone says. "You can do a lot of damage to the environment."
Today, Western Facilities Management staff gets "Smart About Salt" training, a not-for-profit educational program that encourages sustainable winter salting practices.
How about sand?                                                       
In addition to salt, sand can be used to reduce accidental slips and trips, but apparently it's not as effective, and boots splattered with mud stains are no better than those decorated with briny lines.
"The sand can make quite a mess," Bertone explains. "Our equipment is calibrated to dispense salt and do it in a balanced approach that's environmentally friendly, yet taking into account the safety of our Western community."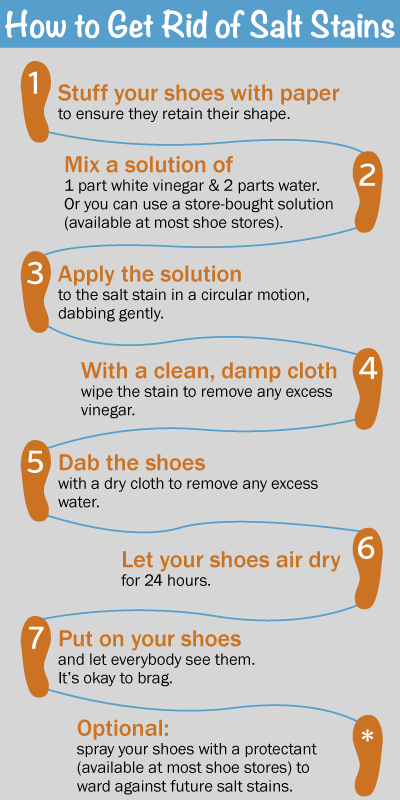 The blue salt you see sprinkled around Western is treated salt that activates at freezing temperatures "in the heart of winter." Untreated salt lacks the blue-tinge, but doesn't work well below -10 C. Sidewalks are dusted with bagged salt that's a magnesium chloride product.
Salting Western takes a small army
Last year, Western used a whopping 639 metric tonnes of total bulk salt to melt ice around Western, and can use anywhere from between a few hundred tonnes to over a thousand tonnes of salt depending on the winter season.
"Every morning and night, we have 60 acres of parking lots, 15 kilometers of roads, 41 kilometers of sidewalks and many, many steps across campus that we are responsible to keep clean so that our campus community is safe," Bertone says.
The Western FM's landscape services team that is responsible for snow and ice removal includes eight full-year and three seasonal operators, three horticulturalists, one groundsperson and 20 seasonal groundspersons who are typically students.
It's a 24-hours-per-day, seven-days-per-week operation with a team operating on standby from Oct. 15 to April 15, each year.
"We're very proud of the work that we do," Bertone says. "We're very much service orientated and have the best interests of the Western community at heart, trying to keep everyone safe while at the same time, again, protecting our environment."