Cash for courses: The unauthorized market for spots in full courses at Western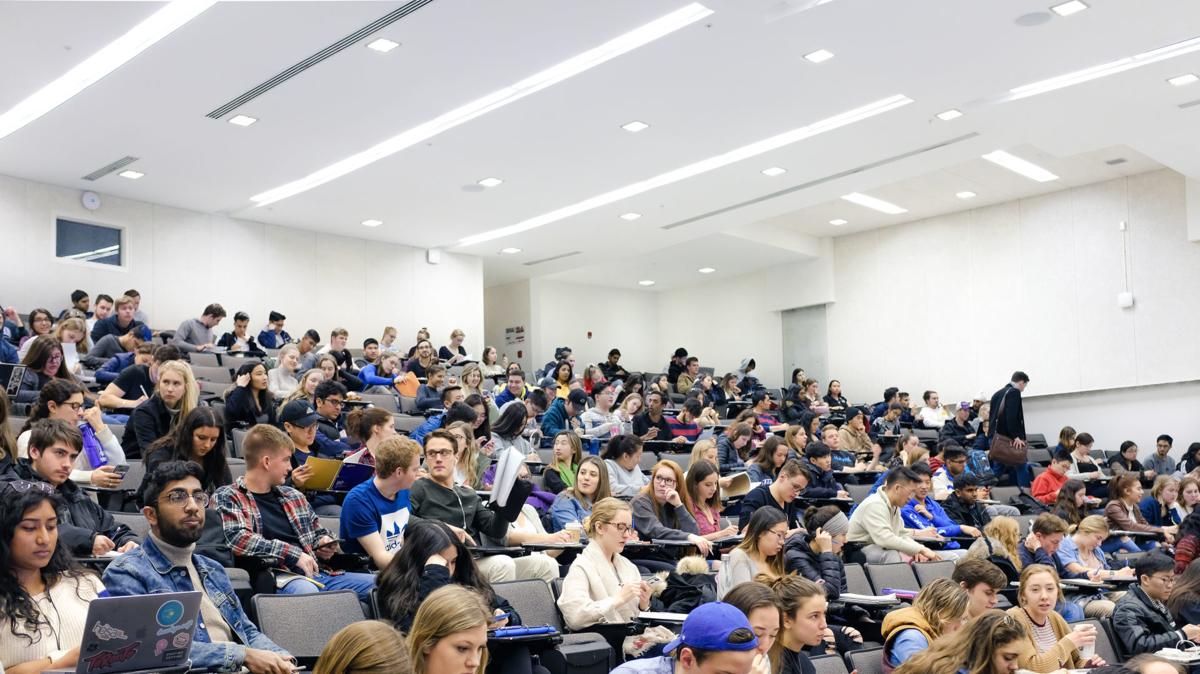 Would you pay $100 for a spot in a full course at Western? Some students certainly would. 
Last semester, second-year science student Alejandro Ghalili sold his spot in Geography of Tourism.
He made the decision to switch out of the class after reading the course syllabus.
"Personally, I'm not a very good person for tests," Ghalili said. "I decided I wouldn't be able to enjoy the course fully, so I decided to sell my spot."
Ghalili posted in the "'Must Knows' for courses at UWO" Facebook group, a group with over 16,000 members. He originally asked for $90 for his spot. Ghalili said he chose the price based on similar posts, where prices ranged from $20 to over $100, depending on factors like popularity and course length.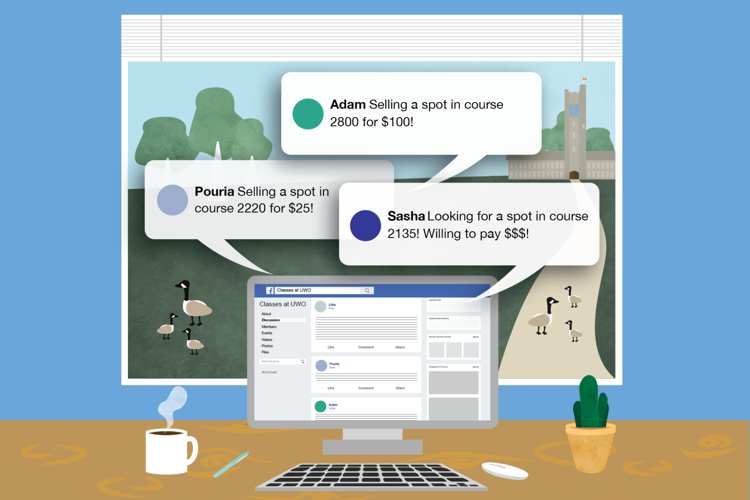 Eventually, Ghalili found a geography student who was willing to pay $35. They met in Weldon Library where Ghalili dropped the course on Student Centre, allowing the buyer to immediately sign up for it. Once the enrolment was complete, the student e-transferred Ghalili the money.
"Spending money is inevitable in terms of your education," Ghalili said. He doesn't think it's unethical for students to sell course spots. Instead, Ghalili said that students are only working with the system and taking advantage of the opportunity to make some money.
"Education is the most important thing that you can spend money on, so why not splurge on that instead of getting a frappuccino from Starbucks?" he said.
Ghalili is far from the only student active in the unofficial online market for course spots at Western. Between Nov. 15, 2017 and Jan. 26, 2018, students made 98 posts offering to buy or sell a course seat in the Facebook group. The market's scale is also difficult to determine because students tend to delete posts on social media after completing a transaction, leaving no trace behind.
Based on the Facebook group, the majority of the in-demand courses are science or business courses. In particular, courses known to be easy in terms of workload or grading — otherwise known as bird courses — are often most desirable. As student demand for these courses exceeds supply, some students seize the opportunity to buy or sell a seat. With many students in fierce competition, the exchange can be well worth it by potentially boosting one's GPA. 
However, bird courses aren't the the only courses sold, and some students are frustrated with the need to exchange cash for courses in the first place.
This semester, Ryan*, a second-year business student, was one of the students willing to pay for a spot in a course. During the two days before the course add or drop deadline, he was constantly refreshing Western's Student Centre hoping for a spot to open in an economics course.
"As the hours were approaching the deadline, a friend told me I should just post on Facebook and ask to pay for a spot," Ryan said. "I thought it wouldn't be a bad idea because I had nothing to lose."
Unfortunately, Ryan received no offers, and the deadline passed.
"I do think it's sad that students have to resort to [buying and selling courses]," Ryan said. "Maybe it speaks to things that need to be done differently in terms of course registration."
There are several reasons why the unauthorized course market is flourishing at Western, and they're closely tied to the way the university conducts course registration.  
Western chemistry professor Felix Lee has taught a highly sought summer school organic chemistry course for the last 13 years. Like most of the university's undergraduate courses, summer school organic chemistry registration gives priority to upper-year students. In general, Western's course registration is set up so that fourth-years register first, followed by third-years, and finally second-years. First-year students add their courses separately before other students. 
However, when upper-year students take advantage of their priority to secure a spot which they can later sell to desperate first-year students, Lee said it defeats the purpose of priority registration. 
"For a university student to take advantage of a loophole and also financially benefit from it is not very ethical and against any principle of integrity," he said. Lee added that, contrary to popular belief, summer students taking organic chemistry do not receive better grades than those who take the course during the school year.    
While the university acknowledges the unauthorized market, it has done little to prevent it. Currently, there are no repercussions for students who take spots in courses with the intention of selling them.
John Doerksen, vice provost of academic programs, said he was aware of the phenomenon happening at other schools before realizing it was also happening at Western. 
"It certainly is not an ethical action or behaviour," Doerksen said. "It is obviously a practice that is not in line with how we would expect and how we would hope that our students would behave."
Doerksen explained the issue doesn't extend to all courses. For some classes, students can only register if they are in a specific module. This constraint eliminates the opportunity for students to buy and sell spots for those courses.
"We will continue to keep our eyes and ears open for other ways to help mitigate [the issue] while trying to keep our registration process as student-friendly as possible," Doerksen said.
As Doerksen mentioned, the market isn't specific to Western. Other universities have also reported students buying and selling course spots. For example, this was an issue at the University of Toronto, but it has been mitigated with wait-lists. While not a perfect defence, it allows students to add themselves to a wait-list when a course becomes full. If there are any changes to the course's enrolment, each student will be automatically moved up in the wait-list.
Science student senator Kelvin Zhou said Western needs to rethink its course enrolment system, and he said it's something the university is exploring. Specifically, they're looking at the feasibility of implementing online wait-lists for courses. Before that happens, the university would need to consult its IT department, the Registrar's Office and possibly other schools that already use the course wait-list system. 
"Right now, if you can't get into a course, all you're left doing is refreshing, refreshing, refreshing," said Zhou. "That's a huge waste of time and not mentally healthy."
In particular, Zhou said buying and selling of course spots negatively affects students who are not able to afford the "hidden fees" of course enrolment. It's a system that puts students with financial need at a disadvantage.
Financial need or not, course registration turned bidding wars can pressure students to put a lot on the line.
Mary*, a third-year medical sciences student, knows this first hand. Mary needed to enrol in a specific science course this semester to qualify for a place in her desired module for fourth year. Faced with a fully booked course, she desperately turned to Facebook to see whether a student would be willing to drop the course for her.
The first time Mary posted seeking a spot, she didn't offer to pay. No one messaged her. More desperate the second time, she posted that she was willing to pay $150. Four people got in touch. Eventually, however, she decided that being in a course was not worth the hefty price tag.
"I found it unfair that people resort to this and that I had to resort to it because no one was replying to me otherwise," Mary said. "I don't think it's right because there's already so much money being put into education, and this is, in a way, unnecessary."
*Names have been changed at the request of the individuals to protect their privacy.