Features
Ethical Beauty
Purdy Natural is capitalizing on consumer trends in buying ethically and locally made cosmetic products
In her kitchen, Roxanna Purdy, owner of Purdy Natural, opens watermelon-sized jars of coconut oil, jugs of goat's milk and glasses of olive oil infused with herbs. Only she's not preparing ingredients for a night of baking at home, she's making a bar of soap on site at her local shop. Producing natural, ethically sourced goods has become a family craft that's grown over the last six years.
The purple and turquoise Mount Pleasant Ave. storefront's windows are lined with flower boxes and a welcoming chalkboard sign to draw you in. Walking inside feels as though you've entered a treasure-trove. Luxurious scents, cosmetics and rich soaps and creams are piled high and organized tastefully along the walls, completely filling up the store.
But it's behind a black curtain in the back of the room where all the magic happens.
Rolling up her sleeves at a counter not unlike one found at home, Purdy makes her popular soaps – and all products – from scratch. She combines shea butter and goat's milk with coconut and olive oil as a base for the vanilla, mint, honey or lavender blends of essential oils, used to enhance the scent.
Purdy then works the mixture into a mould, yielding log-like beams of soap ready to be sliced and packaged — but not before adding the last ingredient that appears on each of their product labels: love.
"Our products are made here on site … with ingredients from the earth," explains Purdy.
The ingredients used in Purdy Natural products differ from regular cosmetics in that they are entirely organic and handmade. "When you come here, you're guaranteed that you're using a healthy product that's safe for you," Purdy says.
"Our bodies react better to those [natural ingredients] because that's what we recognize," she continues. "Our bodies connect with that nature aspect. We do not recognize synthetics, that's why we develop allergies to them."

Purdy says some chemicals found in soaps get absorbed into your bloodstream.
"People think, 'Okay, well it's just a tiny little bit of chemical,' but over a long period of time in your life, you just become a consumer of chemicals," she says. "We're seeing a sicker society as a result."
According to a consumer survey by the David Suzuki Foundation, 80 per cent of popular Canadian cosmetics contain at least one of the infamous "dirty dozen" chemicals, such as formaldehyde-releasing preservatives and triclosan.
Rod Duclos, associate professor of marketing in the Ivey School of Business, agrees with the concern surrounding said additives to skin products.
"In my opinion, consumers should definitely be wary of the dirty dozen," he says. "And since chemical-free alternatives already exist on the market, why not switch to potentially safer cosmetics?"
While chemicals are printed on ingredient labels, there are also many preservatives that are not. In fact, fragrance recipes are considered trade secrets, so manufacturers are not required to disclose fragrance chemicals in the list of ingredients.
The E.U seems to be more conscientious about providing consumers with safer products. Europe has banned 1,372 cosmetics ingredients, while the U.S. has only banned 10.
"The 'principle of precaution' is more entrenched in European countries than in North America," Duclos explains.
It may be in companies' best interests to invest in more ethical products and manufacturing since consumers are becoming more sensitive to the products they use and how they're made. June Cotte, an associate marketing professor and faculty director of research at the Ivey School of Business, says more and more consumers have been gravitating towards ethical products in recent years.
"Broadly speaking, there has been a trend where more people are looking for socially conscious products and often they're looking for environmental issues because it's been so top of mind for so many years now," says Cotte. "So they're looking for less packaging, they're looking for less waste, recyclable containers, things like that."
Ethical shopping is a kind of activist consumerism against cosmetic companies with shady practices.
"Buying ethically" refers to purchasing products that are not tested on animals. These items are typically made using natural ingredients and are fair-trade, meaning producers of goods in developing countries are paid fairly.
"None of our products are tested on animals. We 'test' them on our families and friends," Purdy jokes.
Companies like Purdy Natural are capitalizing on a trend of consumers buying ethically, and, increasingly, locally.
When fourth-year political science student Meagan Lobzun changed her shopping habits to support the local economy, she didn't realize it would lead to a passion for buying cruelty-free cosmetics as well.
"I discovered that when I was avidly looking for locally made things, most of them were ethical products," she admits.
Leanna Seaman, an executive of Western University's Vegan Society, believes animal testing is an outdated practice in the beauty industry.
"You can't actually transfer results from animal testing to humans," Seaman says. "So I think it's just outdated – there's no reason for it."
Finding ethical products in the beauty aisle is becoming easier in recent years but non-ethical companies still dominate.
First-year English student Nashita Syed reveals many of her friends don't like to admit they buy products that have been tested on animals, but they continue to do so anyway. This is reflected in Cotte's research, who found consumers are willing to "talk the talk" and acknowledge buying ethically is best, but not everyone is willing to "walk the walk."
"What my research has shown is that the percentage of people who say they will intend to buy those products — safe from animal testing or free from animal testing — is much higher than the percentage of people who actually do," says Cotte. "So intentions are higher than behaviour."
Syed says she does her best to buy ethical cosmetics but finds it difficult to find products due to the limited options available.
"As a person of colour, it's often difficult to find shades that match me properly," she explains. "I've noticed that most brands that have an extensive range of foundation shades often test on animals, but I end up buying from them anyway." 
Popular cosmetic brands certainly take the cake for availability, but that's partly because ethical companies are being overshadowed by established mainstream products.
"Finding these safer cosmetics on the shelves of retailers can be hard because the companies manufacturing vegan cosmetics tend to be smaller in size," Duclos says. "It's hard for them to exist when you're outdone by large corporations on just about every marketing metric."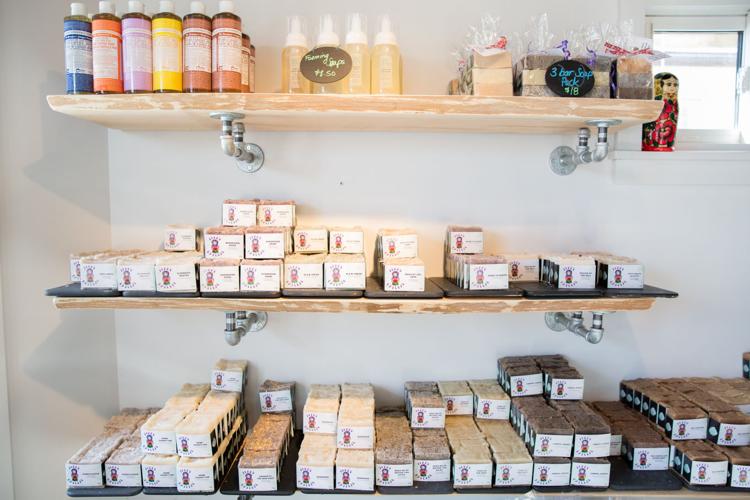 Well-known cruelty-free brands Lush and The Body Shop embody much of what ethical consumers are looking for.
The two companies support animal rights movements, the use of natural ingredients and create partnerships with producers in developing countries. These companies are recognized animal rights organizations such as People for the Ethical Treatment of Animals and Leaping Bunny.
Visiting local outlets is one of many increasing ways to shop ethically and have a healthier beauty regimen. With stores like Purdy Natural taking a stand against large cosmetic companies and their unethical practices, it is up to consumers to decide where they will spend their money.