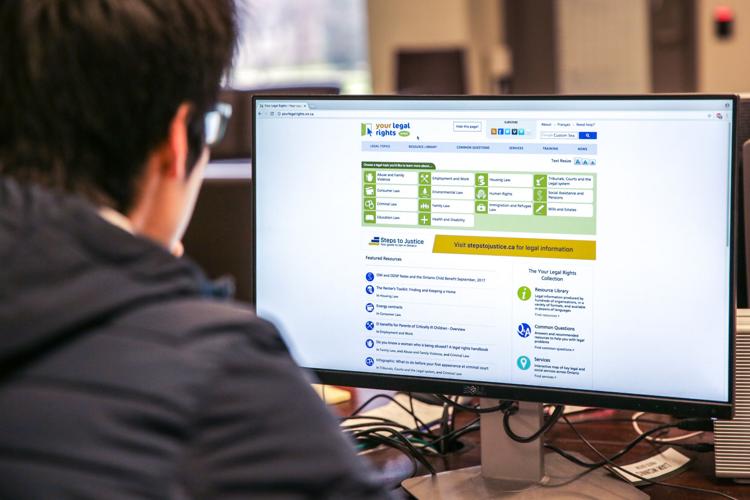 With most of Western University's students living off-campus, it's inevitable that some will run into legal disputes with their landlords.
While hiring legal representation can be pricey for students on a tight budget, the Faculty of Law's Community Legal Services offers free legal advice and representation for Western and Fanshawe College students regarding tenant-landlord conflicts.
Lawyers at the clinic supervise law students who perform the legal work and represent the clients at boards, tribunals and courts. At any given time, the clinic is working on 250 to 300 cases, and 25 per cent are housing-related issues.
The CLS clinic is funded by Legal Aid Ontario and student fees. The clinic represents tenants at the Landlord and Tenant Board as well as in housing negotiations.
"I would say probably 25 per cent of our caseloads are students," said Margaret Capes, one of the lawyers who supervise the students at CLS. "The rest are members of the general public whose incomes and assets are below a certain level to qualify for legal aid services."
According to Capes, the most common student complaint involves maintenance and repair issues. When students initially move into a new place that is deemed uninhabitable, such as places with malfunctioning utilities, mold or bugs, the lawyers at the clinic assist in negotiations between the landlord and tenant. If matters do not get resolved, the case is brought to the Landlord and Tenant Board to be litigated.
"In a majority of the cases, we [ask for] some kind of commitment from the landlord to complete the work within a certain period of time," said Capes. "If they are not prepared to do that, then we take the case to the Landlord and Tenant Board, where they hear evidence from both sides."
Capes said that of the total cases last year, approximately half of them went to the board.
However, landlords usually have an incentive to complete the work that the board has ordered them to do. For example, Capes said landlords cannot increase rent for that given year until repair complaints have been resolved. 
From Capes' 30 plus years of experience working with housing legal issues, she thinks that the worst cases involved landlords entering without permission after tenants have expressed maintenance concerns in their housing unit. Entering the tenant property without 24 hours written notice is a direct violation of the Residential Tenancy Act.
"We recommend students go to the Landlord and Tenant Board website because it has a lot of information about what your rights are as a tenant," said Capes. "I think if student tenants knew a little bit more about their rights, they'd be more apt in trying to get them enforced."
CLS also welcomes referrals that they get from Housing at Western.
Glenn Matthews, Western's housing mediation officer, explained that the off-campus housing services consist of house-listings services, mediation services and off-campus advisors programs.
Mediation services may help students, neighbours and landlords with roommate issues, landlord-tenant relationships and bylaw questions. The off-campus advisors, which acts as an extension to mediation services, is made up of student staff who deal with immediate problems of living off-campus.
Matthews reported that housing mediation services sees about 2,000 clients per year with students making up 75 per cent of them.
"We encourage [people] to call us because we don't want them to call the police or bylaw enforcement," said Matthews. "We try to give feedback based on a neutral position."
Matthews listed students having trouble paying the rent on time as one of the common conflicts that occurs between tenants and landlords. Oftentimes, these students are waiting for their OSAP payment. In these situations, Matthews encourages students to talk to their landlord and work out a payment plan that works for both parties.
Unlike CLS, housing's mediation services is not overseen by lawyers. Instead, if a legal issue arises, they refer students to consult with lawyers at the CLS clinic.
"The single best thing I can advise people to do is ask the current tenants what the landlord is like," said Matthews. "That's the single best way to avoid a bad landlord."