In the spirit of recent health trends, there has been a focus on healthy alternatives to sugary drinks. For those who are looking for something more exciting than water but less calorie-packed than a venti frappuccino, there lies the happy intermediate of kombucha.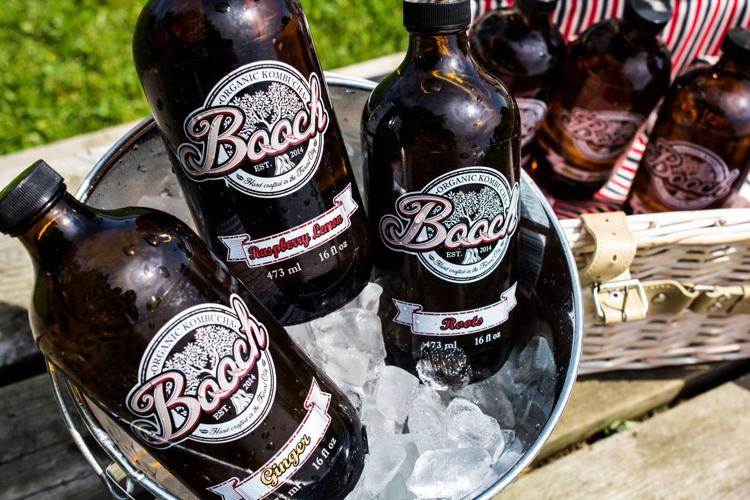 Kombucha is a fermented beverage packed with probiotics, vitamins and antioxidants, similar in nature to yogurt or sauerkraut. The beverage has risen in popularity over the past 15 years, stemming from its array of health benefits.
The drink is made by adding SCOBY — symbiotic culture of bacteria and yeast — to the fermentation process. SCOBY is living bacteria that promotes the production of probiotics and digestive enzymes when consumed.
The drink offers many digestive benefits, which is how second-year health promotion PhD candidate Shawn Slade got started with his kombucha-selling company, Booch, a local London microbrewery with a focus on environmental sustainability.
As a startup between Slade and his fiancée Shannon Kamins, a Western alumna in health sciences, the idea to produce kombucha was a combined effort.
"I've been a personal trainer and a holistic practitioner for over a decade, and my area of specialization was digestion," Slade explains. "My fiancée has celiac disease where she can't eat gluten and she's been able to get a handle on her gut by adding probiotic foods to her diet."
This dual effort of personal experience and professional interaction with clients gave rise to Booch.
"We're really focused on creating community, health promotion, educating people on gut health, as well as educating people on the importance of our local organic food system," says Slade.
While there are companies like RISE who are located in Quebec and ship nationally, Booch supports local farmers, as Slade notes the much larger carbon footprint that mass production leaves behind.
With over 20 retailers in London and the southwestern Ontario area, Booch can be found all over the 519 region. After recently getting into the meal service plan at the University of Waterloo, Slade hopes to get Booch in Western's meal plan system and Grocery Checkout store.
"We started making kombucha through Booch in May this year," says Slade. "We started off at the Covent Garden Market, the outdoor farmers market and we're there every Saturday morning."
Camille Thibodeau, manager at Chil in London, attests to the success of Booch, noting she continually receives positive feedback from customers regarding the product.
"The product we do have always sells out and I'm continuously ordering it," Thibodeau says. "We've been holding it for about two months now and it's something that we want to keep in-store because we sell out every time."
Although there haven't been any scientific studies done specifically on humans, the non-human studies with kombucha have shown it to increase digestive enzymes and overall immunity.
Slade believes his product differs from other kombucha producers because of the final ingredient on the list: positive energy.
"SCOBY is living bacteria, you need to treat it right to get the most out of it," Slade explains. "Since we're such a local microbrewery, we can focus on our product and ensure maximum quality."
This resonates with Organic Works Bakery & Cafe customer service representative Susan Locke, who has heard nothing but positive reviews of Booch at her location.
"Everyone loves it and customers love promoting London," Locke says. "We get orders quite frequently as it keeps selling quickly."
With a local focus and an overwhelmingly positive review, Booch is a healthy alternative to sugary drinks in the London community. So if you're tired of traditional tea, give Booch a try — your gut will thank you for it.