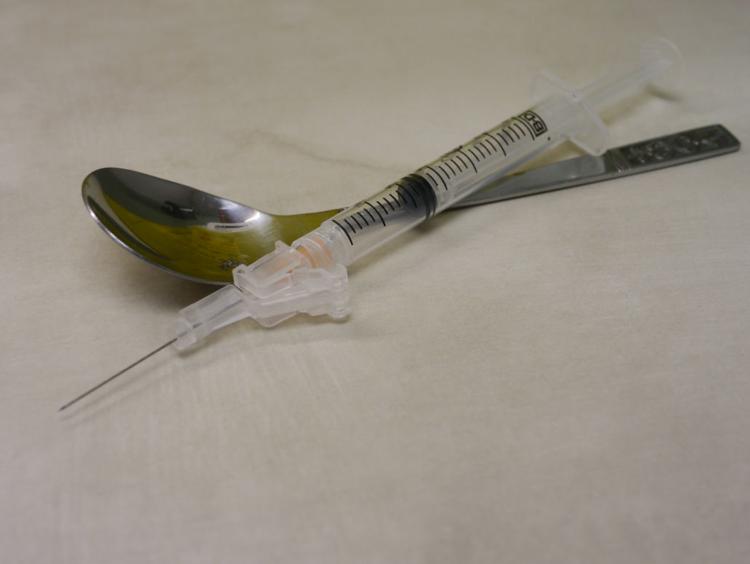 Addiction is an often misunderstood side of drug use, which is concerning as many addictions start in one's youth. In fact, 60 per cent of Canada's illicit drug users are between the ages of 16 and 24, according to Statistics Canada.
London in no exception to this hard truth, as drug use in London is a visible problem — and thriving. 
Psychology of Addictions is a community learning course at Western University taught by Riley Hinson, an associate professor in the department of psychology. Hinson's students get a clear view of London's drug problem, as they are immersed in community addictions services, where they interact with both those delivering and receiving addiction treatment.
"We've been to an AA meeting and met a guy there," recounts fourth-year psychology student Marlee Salisbury. "He was a hockey player, went through some severe trauma and became addicted.... Experiences can often induce people to become addicted."
Groups of students are placed in community organizations such as the Salvation Army Centre of Hope, Addiction Services at Thames Valley and residential treatment facilities. 
Each group is assigned a project that the organization has deemed useful to them. Working with the Centre of Hope's withdrawal management centre's supportive housing for withdrawal patients is just one example of the first-hand experience that a group of students has with addiction services.
The students quickly learned that traumatic experiences, such as physical, emotional and sexual abuse, contribute to the environmental triggers that can make an individual more likely to become addicted.
"Every addiction starts with trauma, and not everyone's trauma is the same. Finding personal trauma and finding ways to deal with it can help treat addiction," says psychology student Melanie Wheatley.
According to Pam Hill, director of clinical services at Addiction Services of Thames Valley in London, "[Addiction] is rarely just about a substance or a behaviour. Addiction is related to all the things that drive [someone] towards an activity that provides some kind of relief or alternate experience." 
Factors such as early childhood traumas, mental illness problems, unstable housing, lack of income, and an incomplete secondary school education are all reasons that increase someone's likelihood of developing a drug addiction to cope.
Homelessness and poverty affect a large portion of London's population, making many vulnerable to developing an addiction.
"I think one thing that has been concrete in all the people we have seen who have addictions are environmental triggers and stress that they don't have any control over, which is something that people don't really perceive as a stereotype of addiction," says Victoria Wiebe, a third-year honours psychology student.
Due to the stereotypes placed on them, those with drug addictions often feel rejected by society. Hinson's students learned that addiction can have many faces.
"There's the idea that the typical addicted person has poor income, poor education and are homeless," says Hinson.
Although such triggers are true for many addicted people, according to Hinson, "only about 5 per cent of alcoholics meet that definition. There are addicted people that are physicians [and] lawyers."
When treating addiction, "we want to make sure that people ... have a sense of belonging, community and a sense of worth. Sometimes that sense of belonging is about personal ... connection with family or friends," says Hill.
Silvana Agterberg, one of Hinson's fourth-year students, noted that a necessity amongst all forms of rehabilitation is a continuum of care. Although London provides a number of rehabilitation services, the continuum of care required is not always there. However, rehabilitation is neither incredibly well-funded, nor cheap.
According to the Health Officer's Council of B.C., for every $95 Canadian government spends on the criminalization of illicit drugs, only $5 is spent on rehabilitation.
"The message is that rehabilitation is good, but prevention is the key," states Hinson. Unfortunately, prevention is also difficult.
"You won't see the fruits of your preventive efforts until years down the line if you're trying to justify the money you're spending as a government," Hinson continues.
According to Robert Solomon, a law professor at Western and the national director of legal policy for MADD Canada, the latest statistics indicate that Canada has up to 109,000 police-reported drug offences in Canada.
Of those, a significant number are dealt away by a warning or referral for treatment. For those charged with possession of an illicit drug, a significant number of the charges are withdrawn.
However, Solomon reveals that some addicted people may feed their addiction by participating in the drug trade, through trafficking, dealing or selling. Criminal activity and drug addiction go hand-in-hand.
"I think there would be a benefit, not necessarily to legalize, but to remove the criminal sanctions for various drugs; not to create a legal source of supply, but have a program of diversion," says Solomon. "So, begin putting more eggs in the treatment basket."