Unawareness leads to on-campus racism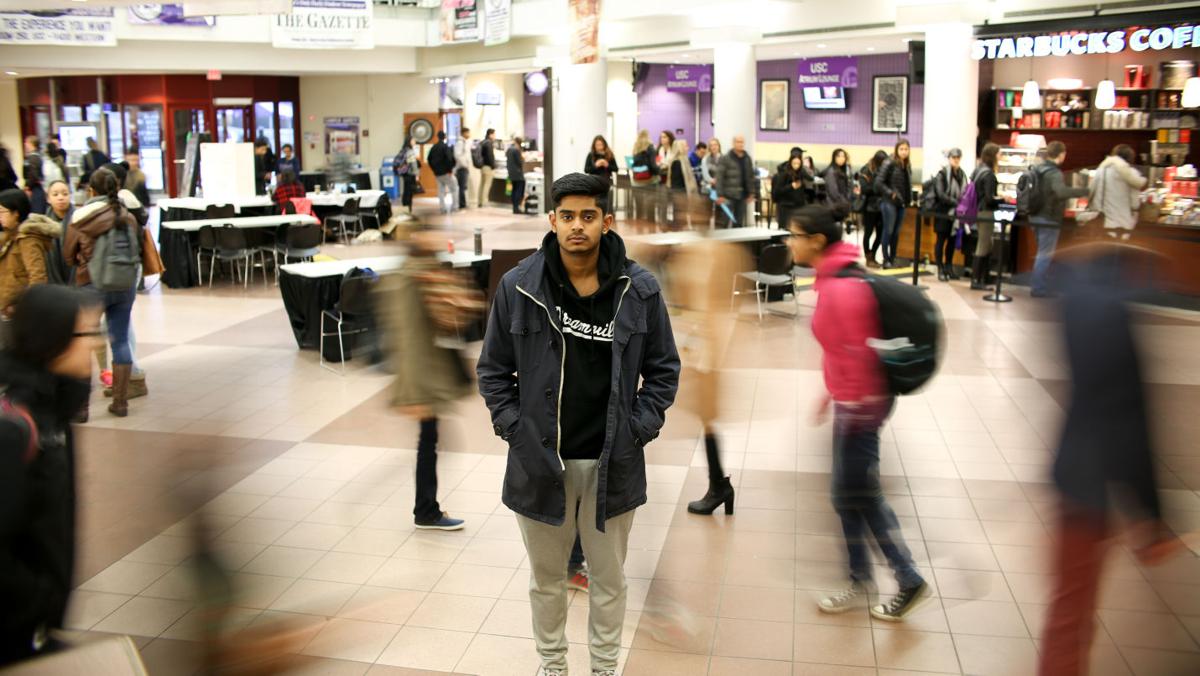 Welcome to Western University.
A school known for its beautiful campus, academics and partying. Unbeknownst to many, it's also host to an underground culture of racism. Housing a growing population of international students, our university has a wealth of students with different cultural backgrounds, nationalities and religions from around the world and within the nation. However, despite university policies, the campus environment is a space where students can be racist to others without repercussions.
A culture of racism
"The reason I came to Western is because they have a zero tolerance policy: any kind of racist, sexist and homophobic remarks would not be tolerated; students would be expelled, suspended or punished and I've never seen that happen on campus," says alumna Eternity Martis, who wrote a column published in Vice this summer entitled, "London, Ontario was a racist asshole to me".
Martis, a freelance journalist, documented her experiences while attending Western and instantly, her article went viral.
Her piece expressed her concerns while attending Western; she was shocked by the racially insensitive atmosphere allowed on campus. The article describes multiple racist stories during her time at Western – one of them being an altercation with a student calling her boyfriend a "nigger" and proceeding to fight her — and an outpouring of shared experiences and solidarity followed on social media.
"A lot of people who tweeted at me were from London and they were saying that they were really sorry this happened, what can [they] do as an ally to help," says Martis. "Some were also saying that they went to Western 10 years ago and nothing has changed."
The reception of her story led Martis to write a follow up piece, calling out the lack of response from Western after city councillors like Mohammed Salih, Maureen Cassidy and Harold Usher reached out to her.
Black Students' Association president Ika Washi can attest to this as she praises Martis' article for finally exposing what happens on Western's campus.
"I couldn't help but agree with everything that she said," says Washi. "It was really interesting to see her put everything I was feeling for the last few years on paper after being in London. To see the feedback from that too I was like, 'oh my gosh I'm not the only one not feeling comfortable at Western and, furthermore, London.' "
Martis and Washi are disappointed in the lack of action taken by the University, considering they perceive there to be widespread racist behaviours on campus. They believe this fosters a polarizing environment for students of colour. Microaggressive comments also leak onto students' Facebook timelines, as is the case with the infamous Western USecrets page.
The USecrets Facebook page has many posts that fuel discriminatory discussions online. While it is a student run group, director of media and community relations Keith Marnoch assures that Western does not associate themselves with this page. He states that Western only controls the media sites linked on their website and do not monitor external sources unless it is brought to their attention.
"It's difficult when it's not ours; it's difficult when it's anonymous. We're not trying to wipe our hands but it can often be difficult to intervene in a meaningful way," he says. "I would stress if people are seeing material that's not what they believe should be out there, then they need to report it to a service that those sites are existing on."
University Students' Council vice-president internal Alex Benac acknowledges that USecrets is a disturbing place where negative conversations occur and regrettably says it's still a part of the Western experience.
Other racist incidents have occurred online, including earlier this year when a tweet from Western's weight room Twitter account said, "fuck all n--gers." The tweet was quickly removed, the weight room condemned the tweet and the person responsible for the tweet was removed from campus by Campus Police. John Carson, the director of Campus Police, declined to comment on the tweet case but he explains that every incident reported is taken seriously.
"If there is such behaviour that is so egregious we may trespass that person from the campus for up to 10 days while the investigation is being conducted," says Carson.
Martis explains that this tweet attacked an entire group on campus and was shocked that such behaviours still occur after leaving Western. She is happy she exposed the culture on campus.
Resources that are available on campus
Larissa Bartlett, director of Western's Equity and Human Services, says Western did reach out to Martis and provided her with resources available to address her concerns. She went on to say that it is unfortunate that most of these experiences go unreported to her office. Failure to report is apparent, considering annual reports released by the Equity and Human Rights Services often show a low case rate on racial discrimination; the 2014 report listed only 17 of the 74 cases of discrimination reported dealt with race.
Bartlett recognizes that there are situations that occur outside of her office that aren't always brought to her attention.
Benac recommends students reach out to the USC for direction of where to go for such problems.
He begins by referring students to Equity and Human Rights Services since their office specializes in discriminatory cases for all students, staff and faculty members. Students can fill out an incident form on their website and then expect an email within the following days, offering additional help.
Bartlett explains their practice invites students back in after they were supported to assure they do not get stuck in the "proverbial revolving door." This process leads to meetings regarding the situations and where to seek help rather than addressing the victim's attacker.
As an alternate source to Equity and Human Rights Services, the USC's Ethnocultural Support Services holds weekly office hours at the Peer Support Centre for students suffering from prejudice and discrimination. In addition, they are planning to start monthly anti-oppression seminars in January to add to their growing awareness program.
Benac also suggests students start discussions regarding these issues on campus. Acknowledging that societal inequalities leak into Western, he mentions that university should be a place to open up a dialogue so everyone's experiences can be heard.
"Some of the racially charged issues that we have on campus essentially come down to a lack of communication and a lack of understanding on a number of things," he continues. "In that regard, finding the right place and time to initiate a conversation where everyone is comfortable and everyone comes to the table as equal partners creates a learning opportunity."
These conversations are exemplified with awareness programs Benac praises. Recognizing the USC's responsibility to create spaces for these dialogues, Benac talks about the success of Ethnocultural Support Services' "My Culture is Not A Costume" campaign. He also mentions their upcoming event, Change Camp, saying that's another great resource on campus.
The problems with the current resources
It is apparent that there are USC and Western services available for students to address their problems, however, there are few cases reported on campus.
This begs the question: why do students attack their peers and think it's okay? Why do students internalize their issues and not come forward with their stories? Are students unaware of the services provided on campus?
Women's studies professor Erica Lawson talks about the unawareness of students who make comments to their friends in a social space. She explains that every situation is contextual and often times students fear ruining the fun when they take a comment too seriously.
"If racists comments are made in the context of a joke, you might feel like you're not being a good sport so you feel uncomfortable. It might put you into a socially awkward position of disrupting what is a fun moment among peers," Lawson says.
Other students involved in the conversation may fail to interject as a result of the bystander effect: individuals who do not offer any means to help a victim during these situations.
When students do intervene, offenders usually say they are colourblind, an excuse Lawson defines as denying hostile intent towards a racialized student. Lawson explains colourblindness assumes that we live in a post-racial society where we are all equal beings and are not defined by colour.
However, she says this is not a legitimate excuse since, "if you make a racist comment towards somebody of a particular race, it's deeply problematic to say that race did not inform that comment. Of course it did and that's why you said it and you're not prepared to acknowledge it; that's how colorblindness works. There is a kind of built in deniability in making these kinds of comments."
"There might be a sense that they don't want to complain or make it into a big deal. It might feel better just telling a friend or family member and just leaving it at that," Lawson adds.
"If racists comments are made in the context of a joke, you might feel like you're not being a good sport so you feel uncomfortable. It might put you into a socially awkward position of disrupting what is a fun moment among peers." - Women's studies professor Erica Lawson
Angel Leung, a third-year women's studies student of Chinese descent, questions the effectiveness of the programs available on campus as well.
"I don't know how effective [the USC and Western's services are] considering I'm so emotionally and personally involved with these kinds of political discussions and I don't even feel like they're something I can access. I kind of remember them as an afterthought and not a main avenue that I could seek justice on campus," she says.
She continues by saying if anything were to happen to her she would just internalize the experience and not address it through institutional means. Equity and Human Rights services only reach out to the victims and not the attackers, which she believes does not solve the problem because they can only offer an apology and no results.
One service Leung praises is the presence of the Ethnocultural Support Services on campus. She has seen several of their campaigns online and commends them on their effort, however, she believes they should include on-campus leaders in the discussion when formulating these programs.
Washi agrees.
"The only reason I would get a heads up is if one of my team members are on these campaigns, other than that we hear nothing from the University until something goes wrong," she says. "This could totally be avoidable if you just reached out to us … we're here to be an educational and awareness group when it comes to racism, discrimination or anything."
Benac understands that resources should be relayed more but reiterates that everything has room to improve and awareness programs are always a top priority for him, especially with respect to microaggressive experiences from other students.
What to do about it
Western, like many universities, has several programs and services aimed at making campus a safe and inclusive environment for all members of their community. Some of Western's initiatives include Equity and Human Rights Services, Services for Students with Disabilities, President's Committee on the Safety of Women on Campus and a Sexual Violence Prevention and Education committee but none that specifically specializes in racial violence. What's left behind is a continuing problem of racist behaviour since students do not know how to address their concerns. This is a particularly pressing issue for Western because of its rapid growth in international students over the past five years.
Other Canadian universities with established international growth and diverse student populations have implemented committees, initiatives and executives to oversee acceptance and anti-racism policies, campaigns and programs.
The University of British Columbia, for example, has an associate vice-president of equity and inclusion who is in charge of maintaining "respect, civility [and] diversity" on campus. They've also established an advisory committee to the provost on equity and diversity that looks towards "advancing equity and diversity within the university." That's in addition to an intercultural understanding initiative to foster an inclusive environment for its increasingly diverse faculty, staff and students.
The University of Toronto offers similar resources with their anti-racism and cultural diversity office. This office works across all three campuses and "promotes an equitable and inclusive campus community, free from discrimination or harassment based on race, ancestry, place of origin, colour, ethnic origin, citizenship and/or creed."
McMaster University's president's advisory committee on building an inclusive environment has the Elephant in the Room initiative that intends on fostering a strong anti-racist and inclusive community at the university through a 20-minute documentary.
These programs allocate a specific office where anti-racist behaviours are reported. They also have overseeing bodies that facilitate inclusion and respect on campus.
Considering Western's nine per cent growth of international students, services offering the same support listed above can offer students resources to confront their attackers. Awareness programs for Equity and Human Rights Services would also benefit students with their current issues.
Adding anti-racist and inclusive resources has the potential to stop confusion and can provide a space for ethnic minorities to address and resolve their aggressive experiences on campus.
"I don't know how serious this school is but they need to make themselves known and more accountable because their programs are not working right now," Martis says. "We just have to keep doing what we're doing and holding people accountable and put policies in place that we aren't just saying we're going to do but follow through with."
Comments are closed for this article. You can contribute your feedback through a letter to the editor here.