Chakmagate
A leader under fire and an institution in crisis
Last spring, the University faced the biggest crisis it has seen in years as faculty, staff and students openly debated the state of the University and called on the president to resign. This the story of what went wrong (and right) and how things have changed since then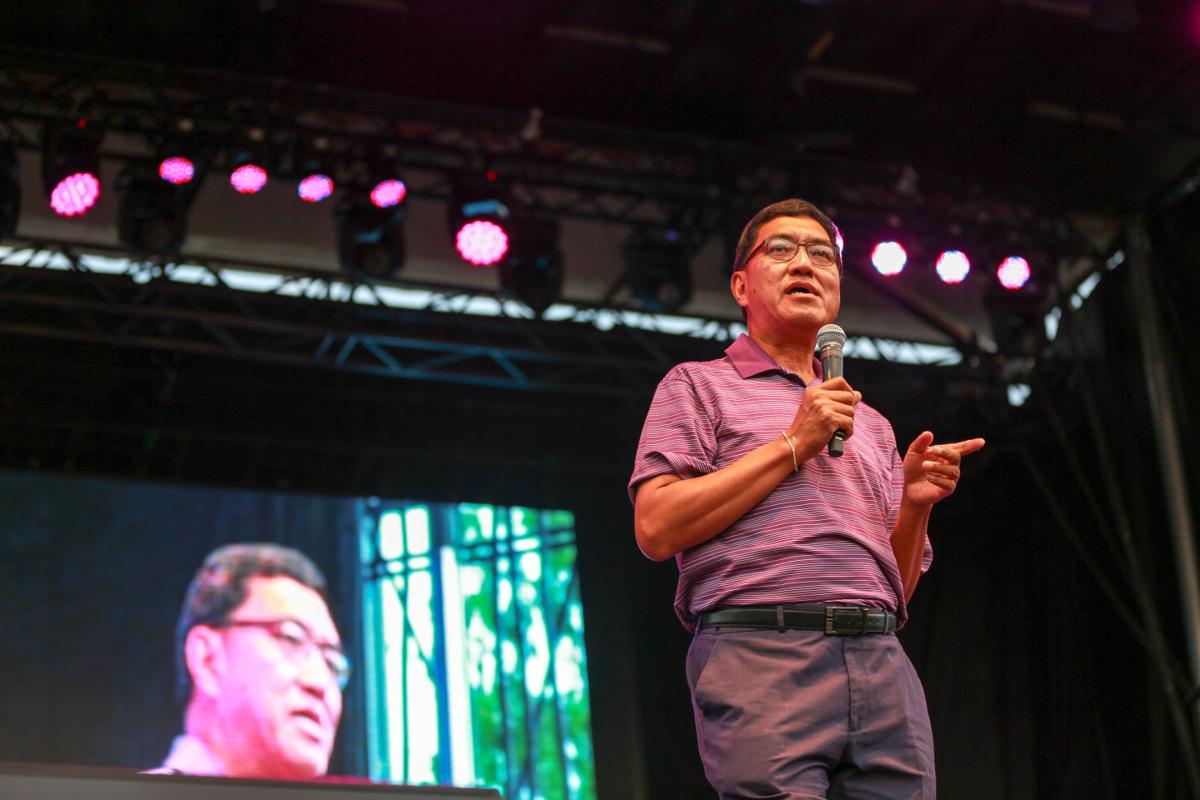 "What's really happened here is that the salary controversy has been the match that's gone into the bucket full of gasoline."
If there is one quote to sum up the biggest crisis Western University has ever seen, that's it.
It was a spring day on Apr. 10, 2015 and hundreds gathered inside the BMO Auditorium at the Ivey School of Business for, of all things, a Senate meeting. Normally a sleepy, observer-less affair, this meeting was moved to the larger venue in anticipation of a crowd. It would be the first of two emotional and tense Senate meetings in two weeks that debated the cash payment awarded to President Amit Chakma for not taking a year of administrative leave, doubling his annual salary disclosed on the Sunshine List for 2014.
The speaker was Andrew Nelson, an anthropology professor at Western for 20 years. He was only one of dozens of faculty, staff, students and alumni to openly criticize Chakma and other senior administrators at Western for their handling of not only the double pay but wider problems facing the university: budget cuts, increased class sizes, funding cuts, STEM research prioritized at the expense of arts and humanities, the corporatization of the university, the list goes on.
The meeting was exactly two weeks after the Sunshine List was released and followed an unprecedented level of dissent and activism from campus. There was not a person who wasn't talking about Chakma's pay. Outside of the University, the single question people were asking was: what the hell is going on at Western?
---
Act One: The calm before the storm
Amit Chakma, a 50-year-old chemical engineer, began his first term as president and vice-chancellor of the University of Western Ontario on July 1, 2009. He was recruited from his previous post of provost at the University of Waterloo, where he had been for eight years. Having grown up from humble beginnings in southeastern Bangladesh, becoming president of Western represented the pinnacle of his career.
"The story of my family is one of many examples of the strength of the human spirit. It is in many ways the story of so many – past and present – who have come to Canada with dreams, ambitions and a determination to build better futures," Chakma said on Oct. 23, 2009 when he was officially installed. "I assume Western's presidency with boundless hope and unbridled optimism."
Chakma was also the image of a new kind of Western. He was an outsider after 15 years of leadership from Paul Davenport. And he was not only a visible minority, but an immigrant, one of just a handful who have been able to move up the ranks at a university in Canada.
"When I met [Dr. Chakma,] I quickly realized this person is the next generation of university leadership," Robert Birgeneau, chancellor of the University of California, Berkeley, and former president of the University of Toronto told the Globe and Mail in 2009, shortly after Chakma began his first term. "He was the kind of dynamic, ambitious leader who could take a Canadian institution to the next level."
In his first five years, he traveled extensively to try to establish Western as a global destination for education, research — and donations.
Chakma's arrival in July 2009 was accompanied by a wider turnover in leadership at Western. A year later, a new provost, Janice Deakin, was named. Two new vice-presidents, John Capone (October 2012) and Kelly Cole (January 2014) were also named, making four of the five most powerful administrators at Western new. In addition, between 2009 and 2013, eight new deans of 11 at Western were appointed.
The first major — and controversial — move Chakma made as president was a rebranding of the University to that of "Western University" in late January 2012. Reaction to the new brand was mixed — some people were confused and many alumni were outraged and said they would no longer be donating to the university. The branding stuck, however, and today's students don't know anything but "Western University".
Chakma's first five and a half years at Western were filled with high praise and high profile awards and appointments, notably chairing the federal government's advisory panel on Canada's international education strategy in 2012.
Chakma's performance was so good, he was renewed for a second term in November 2012, over a year and half before his first term ended in June 2014. He was also awarded a $44,000 bonus by the Board of Governors in 2014 for meeting key institutional metrics.
While the Board of Governors could not have been happier with Chakma's performance, there were signs of tension between the various stakeholders at Western and administration. Very little was said publicly, but behind the scenes many were questioning the decision-making process of the senior administration.
---
Act Two: A crisis of Navigator proportions
Chakma and his colleagues in senior administration were able to brush off any and all criticism until March 27, 2015. That's the day the Sunshine List came out and it's the day that everything changed for those at the University.
Coming in as the fourth highest salary in the province was a surprising name: Amit Chakma.
At $924,000.04, he made over double his annual salary in 2014 due to a clause in his contract that allowed him to receive a cash equivalent if he did not take a year of administrative leave at the end of his first term.
The University initially said this was a necessary payment in order to have stability in leadership at a critical time for the university and that it was "mutually agreed" that Chakma would not take the year of administrative leave he was entitled to.
The backlash was swift and damning: this was an unacceptable payment and a sign of how out of touch administration at Western was with what was happening on the ground.
I talked to nearly a dozen faculty, staff and students for this story, some on the record and others who wished to remain anonymous so they could speak more freely. I reached out to a whole lot more — 28 people in total — but many declined or were otherwise unavailable. President Amit Chakma, provost Janice Deakin and chair of the Board of Governors, Hanny Hassan, declined to comment through the Western media relations director.
The Sunshine List caught almost everyone by surprise. According to sources, senior administrators, including Deakin, found out the day before the list came out but most others on the day of.
Just days later, when it became clear the president's compensation might do lasting damage both internally and externally, Chakma announced late on Apr. 1 that he would be voluntarily refunding the $440,000 cash payment.
"Although contractually sanctioned, in hindsight, I should have carried over my administrative leave to the end of my current term," he said.
We found out later that the University had also hired Navigator, a leading crisis management firm, on April 1 to help their communication strategy.
The Board of Governors also announced it was going to do an independent review of Chakma's contract, conducted by retired Justice Stephen Goudge.
Chakma concluded his statement with "I hope the above actions will allow us to move forward."
But that hope quickly evaporated as it became clear things were just getting started.
Two of the biggest campus unions voted overwhelmingly in favour of non-confidence motions in Chakma. A petition calling for non-confidence in Chakma garnered over 5,600 signatures within just a few days. Stories came out about Chakma's past salary history, including previous years where he was being paid by both Western and Waterloo at the same time. The issue even made its way to Queen's Park in the form of a private member's bill.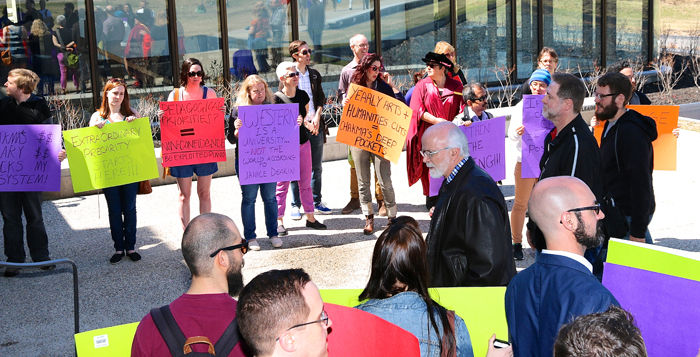 On April 9, Chakma issued an apology in a sympathetic article published in Western News, but still declined any interviews with external media.
"It is difficult to express how truly sorry I am for the lack of judgement I showed," Chakma said.
By the time the first Senate meeting rolled around the next day, not a soul on campus wasn't talking about Chakma's pay and the ensuing scandal. Whereas many students probably couldn't name the president before, now halls were filled with discussion and debate on whether or not taking the money was the right thing to do and whether executive compensation was too high.
But there were some voices notably absent: that of Chakma and his fellow senior administration. They all refused media interviews and public appearances were few and far between. The board, too, fell silent, leaving many wondering what exactly was going on at the upper echelons of the university. One faculty member recently described senior administration to me as having a "meltdown". Others thought there might have been anger within administration for the position Chakma put them in, and that it might have been a situation where everyone was for themselves as they didn't know what would happen.
We might never know the true answer for why senior administration didn't speak out in favour of Chakma, but in interviews he has done since, there are indications administrators were mostly unaware of the widespread discontent and were caught off-guard by the number of critics and the breadth of issues raised.
At the special, climatic meeting of Senate on April 17 — attended by hundreds — there were just two decisions for senators to make: whether they had confidence in Chakma's leadership and Shah's. Of 21 speakers that day, 10 spoke in favour and 10 spoke against the Chakma motion, with one saying she would abstain.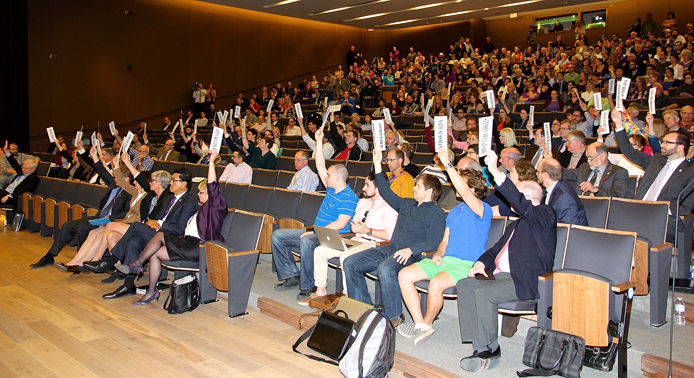 The most telling indicator that this crisis was about more than just the president's compensation was when Schulich dean Michael Strong — who has a higher annual salary than Chakma — got up to express his frustrations and concerns with the current budget system.
"We have a university that is polarizing itself. We have a university that is moving into haves and have nots," Strong said. "We are going to be looked at and the question is going to be asked, 'how did you get past this? How did you move forward? How did you prepare the ground for the change that is inevitable and must come forward with this?' And I think a non-confidence vote here doesn't do that for us."
When the votes were counted, Chakma's motion failed with 49 against, 30 for and 5 abstentions. For Shah, the motion failed with 46 against, 20 for, 21 abstentions.
---
Act three: What happened and what went wrong

Looking back on that time, many of the most vocal critics of the administration have the same general comments. They were pleased with the amount of debate on campus, surprised and grateful at the number of connections they made through email and galvanized by the same general concerns being expressed by so many people.
"I was really proud of how Western handled a very difficult period of time," said senator Jane Toswell. "Lots of other universities have failed at these moments and I thought that the underlying bedrock strength of Western came through."
What made this controversy have a lasting impact was the critical mass it achieved on campus. There has been pushback before on changes, but the administration was always ready and able to brush them off. This time, though, they didn't, and it served as a wake up call for administration. (They also still seem to be somewhat in denial about the whole thing; in rejecting interviews, they have said they consider the whole affair a matter of salary, not of wider governance, budget and research issues at Western.)
Toswell has been one of the most consistent voices on Senate, questioning how decisions are made and how they fit in with the institution as a whole. She was not hopeful that there would be more debate past Chakma's decision to return the money.
"After the announcement of the president's pay and his decision five days later, I thought it would collapse," Toswell said. "I honestly thought I was alone as I had been so many times in the previous two years at Senate in expressing problems … I thought the way in which I had been trying to raise issues in Senate for the previous two years was something that was going to continue to be ignored."
There seems to be a widely held belief that at the time, communication from senior administration was poor, there was no transparency to how decisions are made and what little consultation there was, it was irrelevant to administrators.
"I think the University was expressing unhappiness with a lot of the decisions that had been made by its administration and maybe more about the tone and style than even the decisions," Toswell said. "I think that's what was at the heart of it."
Current UWOFA president Kristin Hoffmann echoed those sentiments.
"What we've seen is people feeling like they're increasingly disengaged from the decision-making and not able to be part of that process and I think that's what came to a head last spring," Hoffmann said. "Finally [there was] that touchstone event where people could say 'enough is enough, I need my voice to be heard' because that's what a university is."
There was a sense of empowerment from the very open debate that occurred. French department chair Jacques Lamarche was a very vocal critic of Chakma and the administration at the time.
"It's the first time in my life that I stood up and said something and it's intimidating. And I realize now, in retrospect, it's not really what you believe that makes you a leader, it's the fact that you stand up and say it," Lamarche said. "That was an eye-opener for me."
"But the real work is not to stand up and talk, it's to actually walk the talk. And this is what I'm trying to do at this level here with my department."
What seems to emerge as a possible cause for the crisis is a major disconnect between what the administration sees their jobs as being and what campus members expect. The major turnover in leadership and vision for that leadership was a dramatic change for those who have been at the University for 10, 20, 30 years. Whereas previous president Paul Davenport was on campus and "everybody knew him," Chakma was brought in to internationalize Western and be externally focused. He has acknowledged he was, in fact, too externally focused in his last 3–4 years at Western and he's shifting back more toward campus.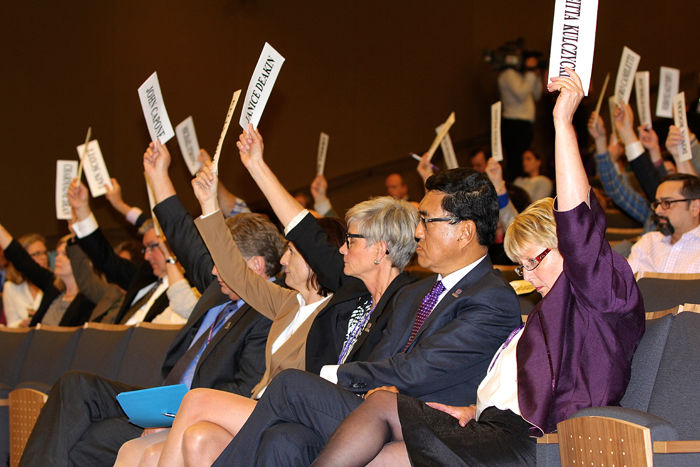 One of the most polarizing figures in all of this is provost Janice Deakin. Many of the issues raised during last spring's crisis did not relate as much to Chakma as to the rest of the administration, particularly her portfolio.
"I think [Chakma] didn't see himself as in charge of the campus, he saw the provost as in charge of the campus," Toswell said. "And that's a different model from the model that we've had here at Western."
Others have said Deakin is not widely liked among some faculties and while Chakma has shown he's serious in listening more to campus, she has not followed. Changes to the research funding models, implemented by the provost early on in her first term, were particularly not well-received, as one faculty member told me "there's nothing that gets faculty upset like alterations to their research funding that they've come to depend upon."
She was described as giving answers to questions more than she's listening to what faculty and others have to say, which is part of what led to disengagement in the first place with senior administration. But at the same time, Deakin is also highly responsive to student concerns. All it took was one student for her to spearhead a change in a contentious academic policy that is currently going through Senate. She's also led two budget town halls, presented more information on the budget earlier to senators and will apparently be showing more of the process behind the budget this upcoming year in the form of making public the planning documents.
---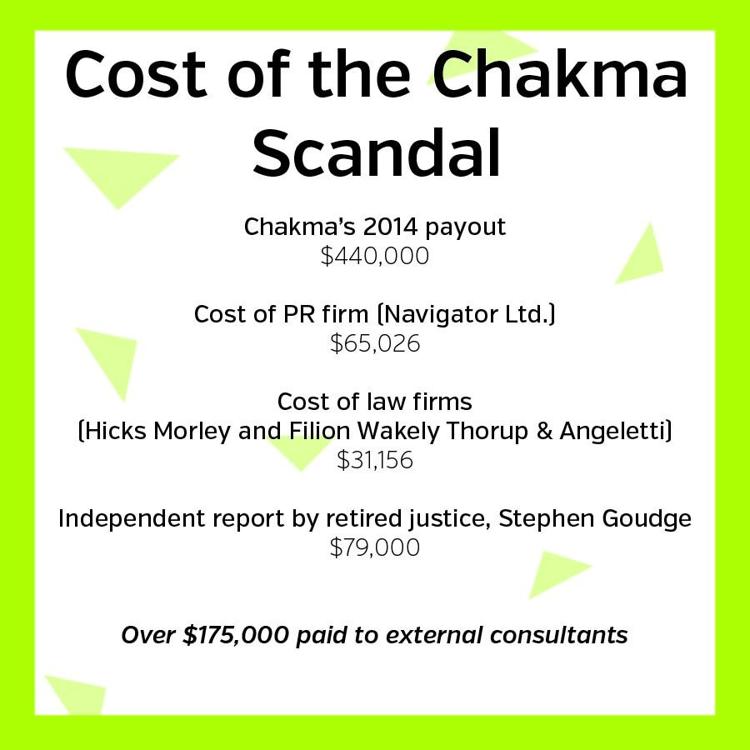 Act four: A leader emerges and the way forward
There's one person who comes away from the crisis being roundly praised for his leadership, and it's a surprising name: Amit Chakma.
He was clearly shocked by the backlash to his pay and not without reason. It was something negotiated years ago, and a clause also in his Waterloo contract. While the controversy took a toll on him and his family, it seems he was intent from early on in the crisis to see it through. Toswell, who's been one of the few outspoken critics of the administration before the crisis, said she was previously invited to Chakma's house on the evening of the special Senate meeting. She called a few days before to see if they still wanted her to come and they said that no matter what happens, you should come.
That evening, after Chakma survived the non-confidence motion, Toswell was at his house and he showed he was serious about listening to his critics.
"At the beginning of the evening, I said to the president 'I meant what I said this afternoon that we need to move forward and if you want to meet with me to talk, I'm available anytime.
"And at the end of the evening, he said 'How about lunch on Monday?' And I said fine and we had lunch on Monday."
That level of engagement has continued past what seems to be a public relations strategy "100-day listening tour" he launched last April. He has followed through on focusing his attention more on campus. People have remarked how much more present he is at events, holding more meetings and even just being visible around campus. He's also started a monthly update letter to update faculty and students on what's going on at the university.
"I give him a huge amount of credit for the fact that he's stayed in touch with the people who spoke against him perhaps more than the people who spoke for him," Toswell said. "He's been working very hard to find out what the issues are on campus."
He has more actively reached out to people on social media, particularly students, on institutional accounts and personal Twitter (@ProfChakma, "Personal reflections of a global citizen and a proud Canadian. Educator and public policy enthusiast") and Facebook pages.
His harshest critics have all acknowledged the work he's put in in being on campus, meeting with them and speaking openly about issues the university faces. In the three times I talked to him since the crisis last year, one thing becomes very clear: he loves Western. He talks in glowing terms about the researchers and students here. As one health sciences professor told me, there "aren't many people" who would work for a year for nothing after what he went through.