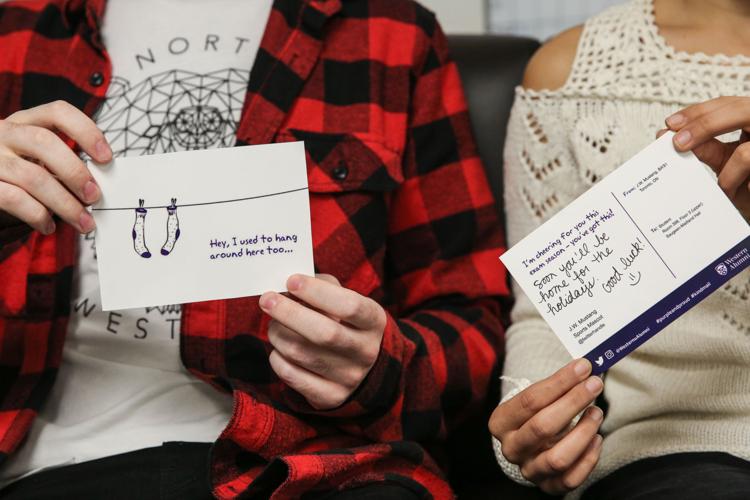 Today is the last day of Western University's Kind Mail campaign, and the university's received over 1,000 messages so far.
The three-day Kind Mail campaign involves Western alumni sending short letters of support and encouragement to first-year students living in their old residence rooms. This is its second year of the campaign, and it runs from Nov. 29 to Dec. 1.
"Our campaign last year went four days, and we reached just over 1,350 postcards," said Meghan Cocurullo, the project leader. "We're approaching that now, so we're going to get a little bit more than that."
Western's alumni department set up a website that allows users to complete a digital postcard, then Western staff handwrote notes and distributed them to residences, right in time for exam season. The postcards were also addressed to off-campus housing and affiliate colleges. 
"One thing that alumni really relate with [is] their residence rooms," said Cocurullo. "They remember exam time as being a time when some students experience heightened levels of stress, … so it feels like a time of the year when acts of kindness are really appreciated."
Many Western alumni have received the project with positivity and enthusiasm. Their motivation to contribute stems from a number of reasons.
"I couldn't help but remember my first final-exam season as a first-year student," said Rachel Miller, a 2015 graduate of the media, information and technoculture program. "I was nervous, stressed, and there were times where I felt alone. When I heard about this initiative, the first thing I thought was: 'I wish they had this program back when I was a first-year student.' Advice from a former Western student would've made my day, and it would've gone a long way."
Miller had three pieces of advice for first-year students: join clubs even if it might scare you, study hard to build your confidence and ask for help if you need it. Other alums, such as Angelica Martinez, a three-time graduate from Western, believes it is important for first-year students to realize that their time at Western is only the beginning.
"There is so much more to uncover about themselves, their career aspirations, the city of London and the difference they can make as Western students," said Martinez. "For me, it is another reminder for students to appreciate the process of evolving while in university."
Cocurullo explained the campaign was shifted one week earlier this year to make sure that students receive the postcards before they complete their exams and go home. Alumni may leave their contact information in the notes, so she is hoping to see some positive social interactions between the alums and first-years as a result of this initiative.
"If alumni are taking the time to write a letter that is filled with notes of good wishes, it can brighten somebody's day," said Hannah Kochuk, a second-year student who received a postcard last year. "Especially if they are away from home for the first time, and they're thinking that there's nobody really out there for them." Kochuk reached out and thanked the alumna who sent her the note in person.
"On Monday morning, our staff here will sort all the cards by residence and by off-campus affiliates," Cocurullo said. "They should hopefully be in the hands of the students by the end of next week at the latest."
You can send in your notes of kindness here before 11:59 pm tonight.