With summer approaching, students are scrambling to land a job. In most cases, taking a look at the available job postings online is their first step in the job search. Under the portfolio of Western's Student Success Centre (SSC), Career Central is an online job board that aims to help Western students and alumni to apply for local and international summer jobs. 
Launched in 2012, Western's Career Central is designed to connect students with job opportunities and programs. Through the website, students can book appointments with career counsellors, attend career workshops and get resumé help. They can also view and apply for jobs.
"We offer a lot of services besides just the job board," said Katrina McIntosh, resource co-ordinator at the SSC. "It's important to us to make sure that students aren't just only going to the job board … we have a whole career services department."
Since its launch and through the HireWesternU campaign that started in 2015, Career Central's online postings have seen a positive trend. In particular, there has been an increase in career placements and internships for Western students and alumni.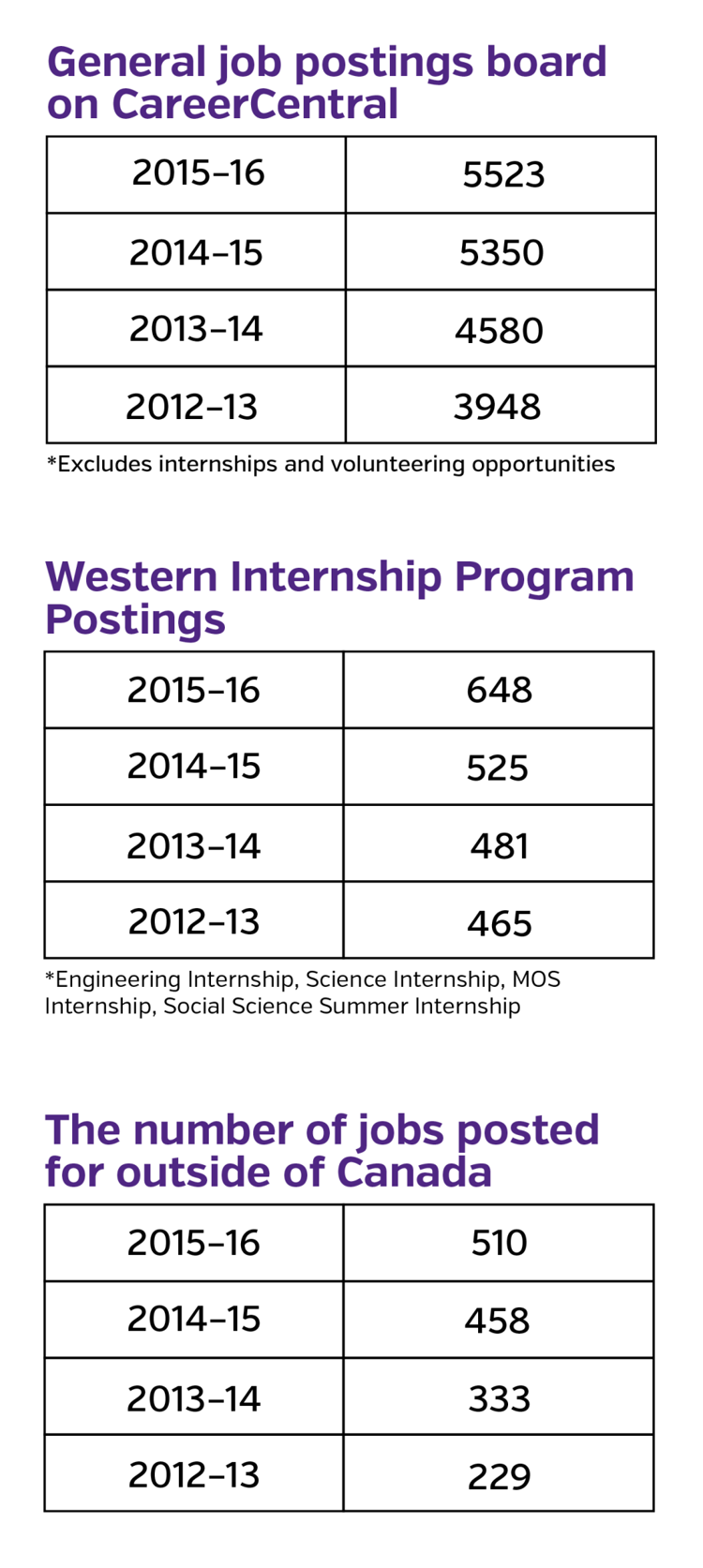 Jeff Watson, associate director of employer relations at the SSC, believes that Career Central is a useful tool for Western students to be connected with employers. By looking through the job board, students can get a real sense of the demands in the job market.
"It's what comes into play from the marketplace so it's a really nice reflection of where the needs are and where the gaps are," said Watson.
According to Watson, many employers on Career Central tend to have good relationships with the University, as they could be either an alumnus or have had good experiences working with Western students. The SSC also actively reaches out to new potential employers based on student feedback.
In line with the Canadian Association of Career Educators and Employers, each employer is taken through a vetting process before allowing them to make an online post. This helps to ensure that the employers meet the required regulations and are not fraudulent businesses.
However, the SSC takes student complaints seriously. Watson acknowledges that there have been instances when an employer on Career Central's job board was found to be involved in fraud.
Earlier in March, Career Central had removed a job posting on their website that was classified as a scam. In an email notifying students who had viewed the posting, they informed students to not deposit any money orders or cheques from the business.

"If there are challenges with the experience, which sometimes happens, they can share that experience with us and we will call the employer and have a consultation with them about the concern that was raised, respecting confidentiality," explained Watson. "Getting their side of the story so that we can work towards an outcome that suits everyone."
Watson stresses that the SSC's utmost priority is to protect the interest and safety of students, making sure that they are not exploited.
Having previously worked at the SSC, Ciara Maynard, fifth-year BMOS student, says that it should be the student's responsibility to thoroughly research the employer and position before applying for a job.
"I would try to go to the company's actual website so I feel more comfortable," advised Maynard. "Use your instinct and be critical of the opportunity, but also be open-minded."
Maynard also thinks that more student input would be useful in order to tailor the job postings on Career Central. She suggests implementing a general student forum to gauge what students are looking for in their careers, which can be used to better facilitate active outreach for employers.
"Right now, a lot of people are looking into entry-level and first-level jobs," said Maynard. "Entry levels are what we're qualified to do and I think summer jobs are great, but it depends on the company's recruiting strategy."
No matter what type of career path, Maynard believes that with hard work, persistence and common sense, anyone can find a job that offers a good work experience. She further encourages students to not discredit the soft skills that they pick up while on the job.