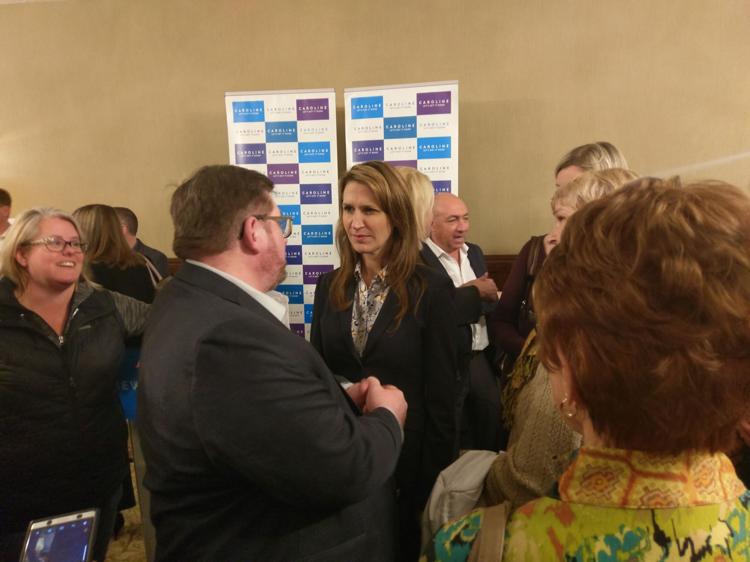 Caroline Mulroney spoke to London Tuesday night and told attendees she is the way forward for a reeling PC party.
The Ontario Progressive Conservative Party's leadership elections are on March 10. The election was called after former leader Patrick Brown resigned following sexual misconduct allegations.
As Mulroney and her competitors have only announced their candidacies in the past few weeks, little data is available to determine a front runner. However, Mulroney has raised seven times more campaign funding than her next highest opponent, Doug Ford. She is also the eldest daughter of former prime minister Brian Mulroney, who served from 1984-93.
Mulroney spoke to an older crowd that surpassed 400 attendees, exceeding campaign officials expectations of 150. In her brief address, she focused on her plan to reform the party and beat current Liberal premier Kathleen Wynne.
She focused on her plan to redefine a party that is currently reckoning with its image in the wake of the Patrick Brown scandal. This includes better vetting for staff and the creation of a position for an interior ethics officer. Continually, she returned to her vision to make the party more trustworthy for its voters.
"She offers a really great vision for Ontario and for the party," said Declan Hodgins, an Ivey student and PC party member who attended the event. "She's a candidate coming at it from a new perspective."
Mulroney spoke with the Gazette briefly after her speech. She said she was adamant on addressing mental health problems within the province.
"There is absolutely a mental health issue amongst young people in Ontario...I am supportive of making a huge investment into [it]," she said.
She added that she would consider better support services for high schools and post-secondary institutions.
In her interview, she also criticized the recently implemented labour reform bill which has raised the minimum wage sharply from $11.60 to $14 this January, with another increase to $15 in 2019.
"It came just in time for an election — I believe they rushed it through," she said. "Businesses are now forced to make major adjustments, and that's what happens when you don't work cooperatively."
In her speech, Mulroney said if she was elected she would be inheriting 15 years of Liberal-run wreckage. She told the Gazette she believes Wynne's labour reform bill is part of it.
"One of the reasons I got into politics is because I didn't like this kind of policy making," she said.